Some of you have been observing where Hive stands on CoinMarketCap and @coingecko. Recently, Hive has been hovering around #100, give or take.

         Some of you might be panicking, asking yourself why you are holding on to this silly place. Some seemed concerned that HIVE is not riding the alt wave like some of the other coins. At the very least, there has been a recent pump, but the price corrected in a short time.
         During this time, I decided to purchase a bit of HIVE anyhow. In fact, about $100 worth to match the coin's position on the market cap listings. Why $100? No reason outside of my monthly purchases on random stuff.

         Not too long ago, @themarkymark challenged people to buy $10 of HIVE with him. It's not an absurd amount of money to spend. Some dozen folks joined in to do the same.
         Now, close your eyes and picture @nathanmars doing his #hive5 stance. Then, pretend him saying something like #ahundredfor100. Can you imagine if people spend $100 to buy some HIVE? Would that be dumb? Or, would that help increase the total vests smaller players hold on the platform? See if Nathan could come up with some catchy phrases for that.
         (It's too bad you can't do hashtags in a format like #100for100 on Twitter, or blog tags for that matter.)
         It's no financial advice, and I hope that doesn't sound like some sort of pump and dump scheme. There are things to do with your HIVE. Whether you spend them on games or increase your influence, there are more than one use cases.
         At the very worst, I have reached my goal of obtaining at least 15K HP on this particular account.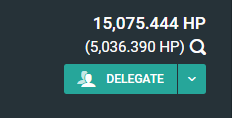 So, I guess it isn't all bad.
Posted Using LeoFinance