In my previous post I mentioned the importance of holding 20 cents as support and price hit it multiple times on low time frame before pushing up. However, the previous range has acted as resistance and rejected it back down a little.
You can view the trading range on the 4 hourly chart and price rejection when trying to get back into the range. We were in the range for over 25 days before breaking lower.
This is the 60 minute chart where you can see the price action at the 20 cent support more closely. The green candle that finally pushed us away from 20 cent support did a low of $0.2001 on Binance for example.
I don't consider support or resistance as a singular point in price but view it more as a zone/area of value but for the purposes of this post we'll just go with 20 cents. In trading there's some +/- as price sometimes takes time to figure out where to reverse from but in technical analysis one tries to be precise as possible.
It took us 16 hours of price action from first test of the support-that long wick down to finally moving up and away from it. That's not to say that the price cannot revisit this area and if it does we could potentially break lower this time around.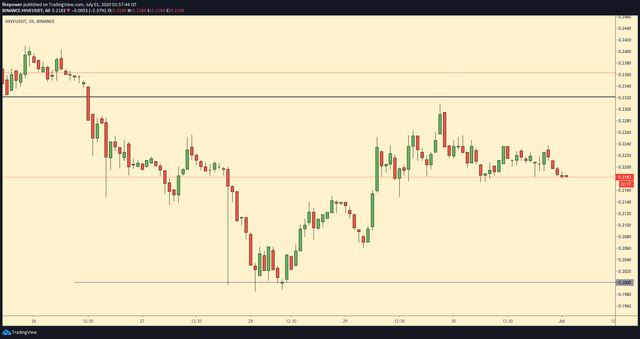 However, we seem to be holding steady above $0.2150 cents at the moment so I'm hoping for another push towards the range and break back into it if the price manages to stay above it. I want to see a show of strength from HIVE which has been missing for a while.
We need these steady, regular upward movements in price for the larger time frame trend to change eventually. Currently HIVE price isn't bullish but that's not to say it can't be. But I prefer to take it from one level to another.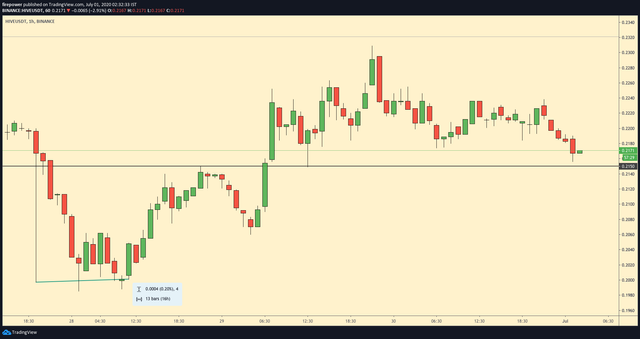 Higher time frame isn't looking great at the moment. I want HIVE to reclaim 30 cents for starters before I would get more bullish.
I also want to see HIVE on exchanges such as FTX, Binance Futures, Coinbase and also Bybit–when they add alt coin USDT perpetual contracts in the near future. Currently you can trade HIVE on margin only on MXC I think. Personally I feel it's important that HIVE is listed on all top exchanges in both spot and futures markets.
Meanwhile, let's see how the price evolves over the course of the next few days. For now im happy that HIVE bounced off 20 cents. But its more important now more than ever to stay above it.
Please note that this post is not financial advice.