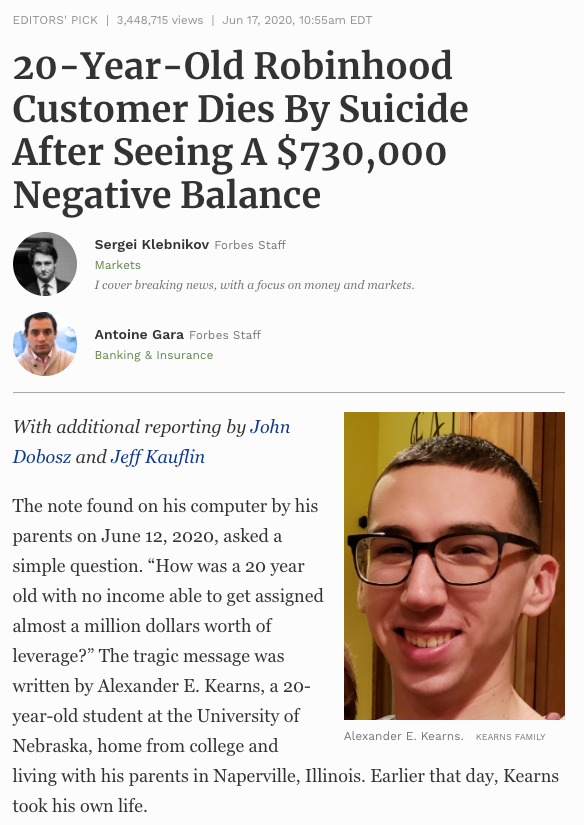 I've been thinking about writing this post ever since I read the Forbes' story on Alexander E. Kearns who died by suicide over a $730,000 negative balance.
According to the report:
Kearns may not have realised that his negative cash balance displaying on his Robinhood home screen was only temporary and would be corrected once the underlying stock was credited to his account. Indeed it's not uncommon for cash and buying power to display negative after the first half of options are processed but before the second options are exercised—even if the portfolio remains positive.
It's possible he might've survived had he waited longer for further confirmation of this negative balance but its so sad that he decided it was time to go. He began trading early in life, so there was more than enough time to learn and grow. Maybe he'd have done well over time and recovered-we'll never know now. I just wish he hadn't taken this decision!
Everyone in crypto including myself by default are traders of speculative markets and it really saddens me to read news like this where traders take their life. It's happened before and likely to happen again but we must be informed as individuals and traders in order to prevent these scenarios.
Even long term investors are basically traders in a market and everyone is at risk when they are opening a position. I thought it would be good to discuss a few things that were on my mind:
We are all retail investors here and speculative markets are extremely hard to trade in general for most people.
It's important to learn technical analysis but money management is the key to stay in the game. Managing our risk takes time to learn and its important to be in position to come back after a loss.
Options and leveraged markets are extremely hard to trade. It's easy to pull the trigger and enter a position but to consistently make money in these markets month after month isn't easy.
Never invest more than you can lose. We hear this all the time but few actually understand the depth of this statement as everyone wants to make huge overnight profits-especially in crypto markets.
If you are facing loss in trading, take it as fees paid to the market to teach you what not to do in the future but don't give up on life itself.
Avoid leveraged markets and options trading early on. Some of these markets are very complex with the way some of the assets are structured and traded. There's ample opportunities in spot/cash markets.
Don't rush into any kind of trading with all your money. Start small and as you win often you can consider scaling up.
Margin trading has allowed anyone to take ridiculous amounts of risk. You must learn to walk before you can run. Quite a few people I know have tried randomly trading futures, options and other complex derivatives and lost money quickly without even understanding the basics first, forget mastering anything.
Just because it's hard it doesn't mean the markets are bad or manipulated or whatever. It means we need to improve our knowledge and skill to deal with whatever comes our way.
Everyone goes through periods of losses in trading. Even the best traders would've had a few major losses. It happens. Don't let that stop you forever and don't force yourself to do something you can't back out of.
It's good to get involved in speculative markets early on in life and trading is a great skill to master. But it takes practice similar to everything else in life before you can be good at it. Profits will come steadily as you keep getting better at this.
Trading is a game of probabilities where preservation of our hard earned money is everything. If you lose it all in one trade there is no going back to the markets. Take it easy.
All of these markets will be here tomorrow. Same opportunities will be there. If you can build your skills in trading you can survive trading in any market over a long period of time.
Majority trading is done by bots running on algorithms. Traders who run them know how to cut emotions out of trading and follow their plan. They are also well capitalised. Rest of the market cannot do this similarly, and successfully early on.
It takes time for most people to remove fear of risk and fear of missing out. Start small so you don't give up easily!
If you are new to Hive or cryptocurrency in general, you are likely to use an exchange as your fiat gateway. You have no option other than trading in and out of these markets. Please don't take huge risks if you decide to try your hand at trading regularly down the road.
Trading is a zero sum game in its purest form. Risk small if its your capital, take even lesser risks if its borrowed capital. It doesn't matter if Bitcoin or any asset is at some specific price. The opportunities to make or lose money are always there irrespective of what price your preferred asset is trading at currently.
Please take care of yourselves and if you have friends or family who are going through a difficult time mentally, try to be there for them.