Direct from the desk of Dane Williams.

Hey team,
After the corrections we've just seen across the crypto market, it's Ethereum that seems to have caught the attention of the LeoFinance community.
Everyone's analysis focuses on a similar support/resistance zone that price has come back to retest, but each goes about actually trading around it a little differently.
Take a look at my top 3 Ethereum analysis blogs on LeoFinance right now:
The fact that each trader has slightly different strategies, but all are looking to do business at this exact same support/resistance zone shows why they're so important.
The basis for all trading strategies, should be starting with higher time frame support/resistance and going from there.
As everyone is watching these zones, liquidity is going to be high and price is going to act efficiently.
Let me now add my view of Ethereum to the list.
---
Ethereum Analysis
As per my simple support/resistance trading strategy, I start looking at higher time frame support/resistance.
In this case, as price pulled back during the correction, it retested the daily zone around the $500 mark.
ETH/USD Daily: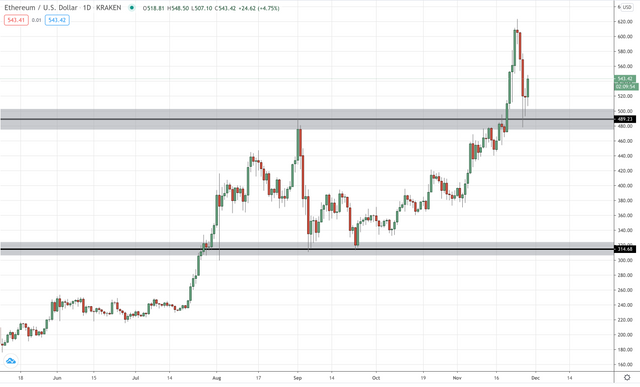 As the zone held, I was looking to play the market from the long side.
But to maximise my risk:reward and get an entry, I zoom into an intraday chart such as an hourly to ensure all timeframes have lined up.
ETH/USD Hourly: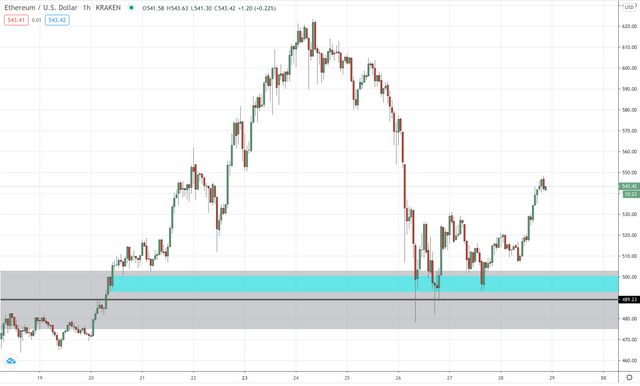 I used the last area of short term resistance before price last broke higher through the daily zone.
It's as simple as drawing a blue box around the last red hourly candle inside the daily zone.
You can see that price traded through the intraday zone, but never closed below it or the daily zone itself.
Depending on how aggressive your stop loss placement was, this is another example of how you can trade my strategy.
---
I'll be back to voting on LeoFinance content soon guys, my VP is back to 70%, woo!
Best of probabilities to you,
Dane.

FOREX BROKR | LeoFinance Blog
Daily market news.

Posted Using LeoFinance Beta