Direct from the desk of Dane Williams.

Hey team,
No posting or curating yesterday as I'm trying to rejig my Hive investment, fully toward LEO. This means delegating my full 50K HP to the leo.voter account and pumping everything I do here back into LEO.
It turns out however, that when you delegate HP, your VP gets smashed. I'm only back up to 28% right now after doing nothing for the last few days and still have another 10K HP to delegate.
Bear with me, I'll be back and active within the LeoFinance community as soon as this is all done.
---
New Hive Blood
With nothing to do on my own account, I have finally managed to convince my Dad to share some of his Astronomy wisdom with the StemGeeks community.
Check out @pfwaus' first post in the community here:

->> AG Carinae - Things That Go Bump In The Night <<-
It's not LeoFinance I know, but if a few of you that cross over would go and drop a comment on that post, it'd be much appreciated.
Hey @taskmaster4450 and @belemo, what do you guys think?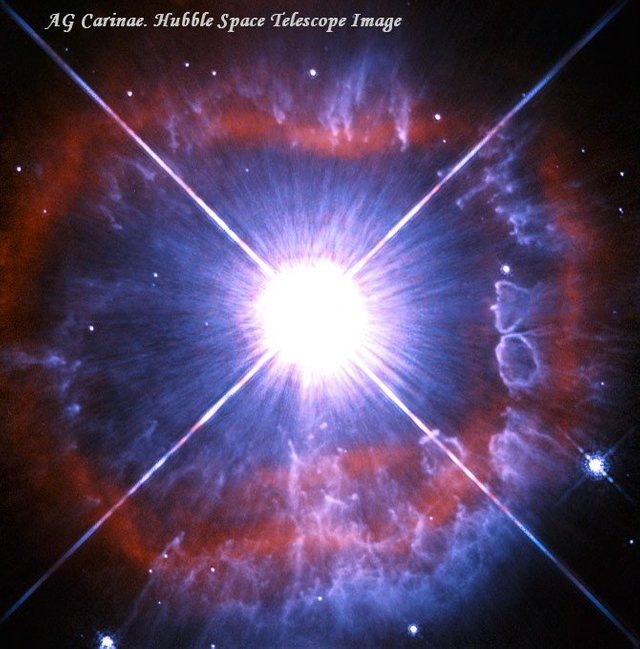 :)
---
Bitcoin Correction
In my last market bites blog, we had Bitcoin pushing all time highs after smashing through the $16,500ish daily resistance zone.
Before we lose our minds at this correction, let's have a look at the price action, starting with the daily.
BTC/USD Daily: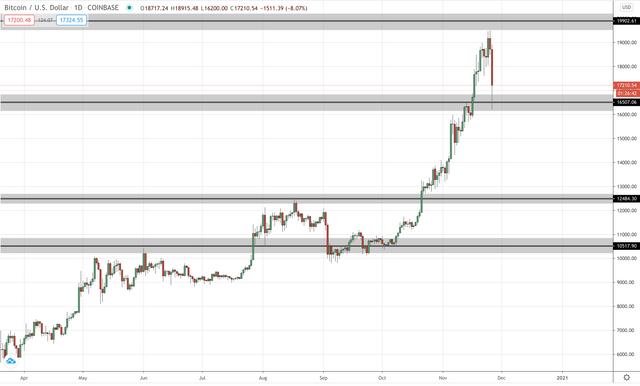 So price rallied hard to test resistance around the all time high $20,000 zone and was rejected.
It's a major, higher time frame resistance zone that everyone on the planet is watching, so it's not totally unexpected.
Sure it was a hard rejection, but most importantly, look where the buyers stepped in and said that was enough.
Yep, exactly at the previous resistance zone we had been watching and trading around last week!
Pretty cool, right?
It really doesn't matter how price moves between major support and resistance zones, we only want to be doing business ON major support and resistance zones.
Now we've pulled back to one such zone, let's zoom into the hourly and have a look at the intraday price action.
BTC/USD Hourly: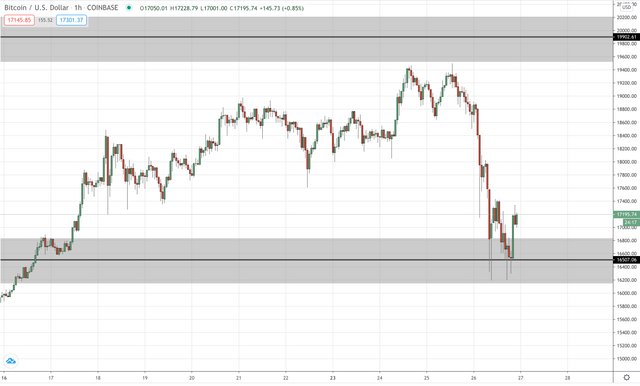 Price
Check out those indecision candles with long wicks down into resistance.
What that's showing is that each time price drops, the buyers step in hard and soak up all the sell orders.
They look a but like dragonfly dojis, don't you think?
Whether they're perfect or not, it doesn't matter - It's some very nice, tradable price action nonetheless.
Best of probabilities to you,
Dane.

FOREX BROKR | LeoFinance Blog
Daily market news.

Posted Using LeoFinance Beta