Regulators hope criminals will use Bitcoin to commit crimes because they will get caught
There are still those that say bitcoin is only used by criminals and for nefarious activities.
Well, I'm here to tell you if they are (they aren't) they are going to be caught sooner or later.
Lets go down that rabbit hole for a moment...
Lets say some drug dealers or human traffickers want to do business in bitcoin.
That's fine and all if they never want to go to fiat.
If they ever want to go from bitcoin to fiat currency, that is where trouble is going to arise.
The vast majority of exchanges are requiring KYC at this point, and the ones that aren't, well they still flag large "suspicious" orders.
This was all revealed by someone who has worked for exchanges and had to work directly with governments, more on that an be seen here:
https://hive.blog/hive-167922/@jrcornel/think-you-re-anonymous-in-crypto-think-again
Basically, the gist of it is that governments and regulators know a heck of a lot more about who owns what in crypto than most believed.
In some instances the "flag threshold" was as low as $5k... you think drug dealers and human traffickers are going to be able to do much crypto to fiat or fiat to crypto with $5k transactions setting of alarms on reports being filed?
Not only that, but lets say they decide to keep everything in crypto, they got the fiat into it a long time ago and have since been going business mostly in crypto, that isn't really possible, but we can pretend for now...
The way bitcoin and most crypto's work is that there is a trail of transactions that are visible to everyone, including regulators. If at any point during that trail one entity is known via an exchange address or something else, they can go back through all the transactions and possibly gain info on the other parties involved.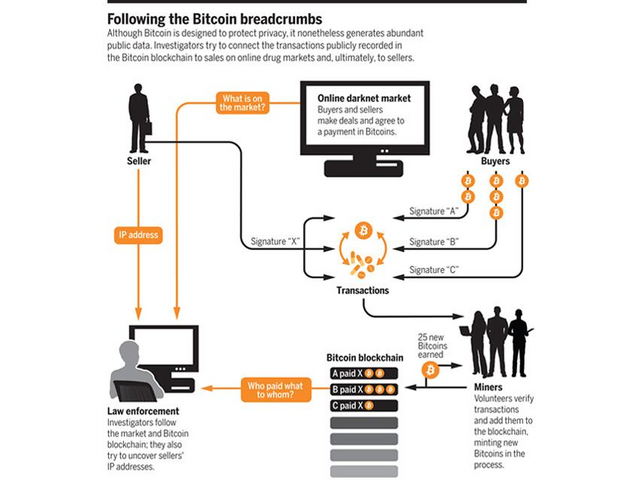 (Source: https://www.sciencemag.org/news/2016/03/why-criminals-cant-hide-behind-bitcoin)
So, not only do they have to be extra careful, they have to be extra careful about anyone they are doing business with...
Oh and btw, this ledger of transactions doesn't disappear after a while, it's there forever.
Why do you think so many people are still freaking out that bought drugs from Silk Road years and years ago but have yet to see any issues from it? There still could be...
Cash works much much better for these types of things.
Which is also probably why we will see cash phased out over the coming years.
When they first looked at bitcoin back in 2012 they realized they don't want to ban it since it is actually easier to catch criminals using bitcoin than it would be criminals using cash.
So, the next time someone tells you criminals are the only ones using bitcoin, tell em that they won't be for long as they will likely get caught.
Plus there are reports talking about something like 1% of all BTC transactions are involved in some sort of illicit activity...
https://cointelegraph.com/news/515-million-in-bitcoin-spent-on-illicit-activity-this-year-representing-1-of-total-btc-activity
Hardly sounds like only criminals are using it...
Stay informed my friends.
-Doc
Posted Using LeoFinance