As expected the FED shifted policy course today and it could have profound effects on bitcoin
In what was signaled well beforehand, Jerome Powell and the FED announced that they would be shifting course form their state duel mandate.
Specifically, instead of targeting 2% inflation, they were going to instead target an "average 2% inflation".
While that may not sound like that much of a difference, it actually could end up being a significant difference down the road.
Normally, when inflation ticks up to about 2% the FED starts shifting monetary policy towards stamping out inflation.
However, today they announced that they would let inflation run hotter than 2% of a "prolonged period of time" if it had been well below 2% for a prolonged period of time.
The reason being is that they don't want to stifle growth too quickly.
This is a lesson learned over the last decade as well as from Japan who have been struggling with low inflation and terrible employment numbers for 2 decades.
This is good news for Bitcoin...
Normally when you think about inflation you think it's a bad thing, and I think many 3rd world countries struggling with hyperinflation would be the first to agree with that statement.
However, the silver lining to that is that inflation can often be a symptom of economic activity and growth.
Stamping it out too aggressively and quickly can be akin to stamping out economic growth too quickly.
And inflation can be especially good for investors...
When there is inflation, everything priced in dollars (or whatever the local currency is) goes up, and that would include stocks, gold, and yes bitcoin.
Interestingly enough, give then fact that this was well telegraphed beforehand and largely expected, I think the market is a bit disappointed that the inflation range mentioned wasn't larger, like the 4% rumored.
And that is likely why the near term reaction may be down for equitie, gold, and bitcoin in the short term: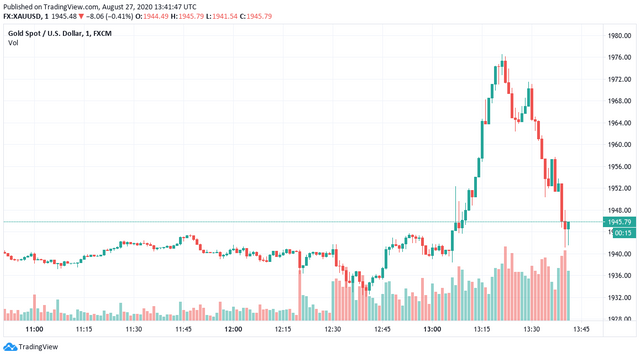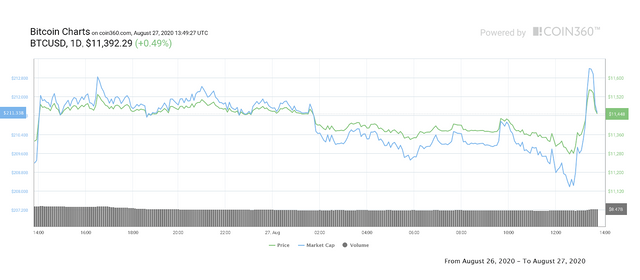 And up for the dollar in the short term: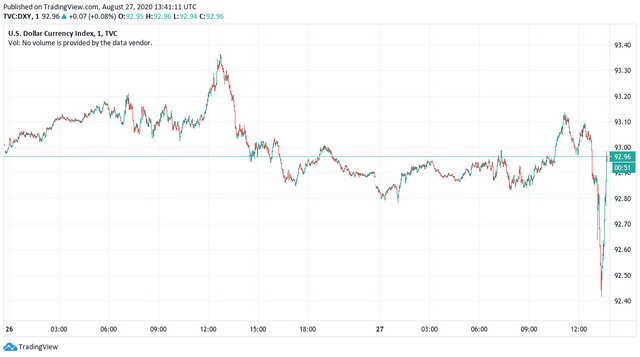 (Source: https://cointelegraph.com/news/bitcoin-price-hits-116k-as-fed-says-it-will-let-inflation-pass-2)
TLDR...
The takaway from this announcement is that the FED is prepared to do whatever it takes to bring the economy back.
They are not going to stamp out a recovery too soon by raising interest rates like has been done in the past.
In the medium term, this is good news for just about all asset classes, bitcoin and crypto included, though the immediate price reaction may be to the downside.
Which means...
BTD!
Stay informed my friends.
-Doc
Posted Using LeoFinance