Our ad program has been steadily growing since it started back in September 2019. In the past few months, we've seen an exponential explosion in ad revenue generated per day. As you can tell from the title of this monthly update, our ad revenue in October accounted for 31% of all ad revenue generated this year.
Last month (September), we generated $555 USD in ad revenue.
This month (October), we generated $713 USD in ad revenue.
In the past year (October 31st, 2019 - October 31st 2020) we generated $2,295 USD.
$713 USD in the past month accounts for 31% of that ad revenue. If you add September + October ($1,268), we generated more than half (55%) of our yearly ad revenue in the past two months alone.
The exponential growth of the ad revenue can be seen in the All-Time Ad Revenue chart. While the program started out tiny, it grew significantly over the past 12 months with a vast majority of that growth happening in the past 3 months with the launch of our new UI and initial launch of WLEO.
As we continue to build the infrastructure of our project: continuous UI development, onboarding with LeoInfra (Metamask and soon Twitter), WLEO V2, exchange listings, etc. we've turned a lot of attention toward marketing in the past week or so. Throughout November, you'll see the launch of a variety of marketing initiatives such as press releases with major crypto news sites, full listings on Coingecko/CMC when WLEO2 launches, a Brave ad campaign and more.
All of these efforts stemming from the core infrastructure all the way up to the outward-facing marketing initiatives are aimed at growing LeoFinance as a resource for crypto & finance content and especially at onboarding new users.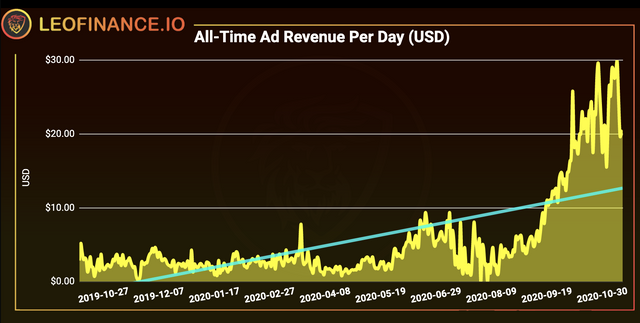 All-Time Ad Revenue (9/24/19 - 10/31/20)
Alexa Ranking and User Growth
Last Month's Alexa Ranking From the September Ad Report: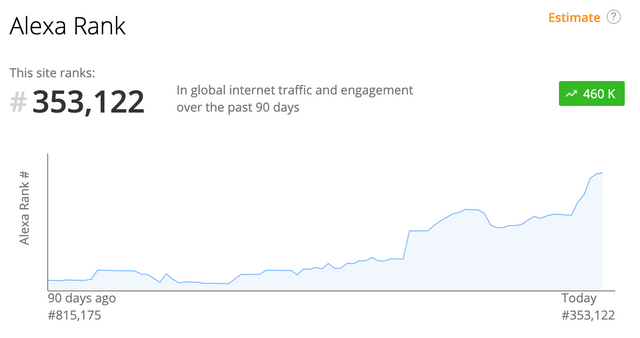 Today's Alexa Ranking: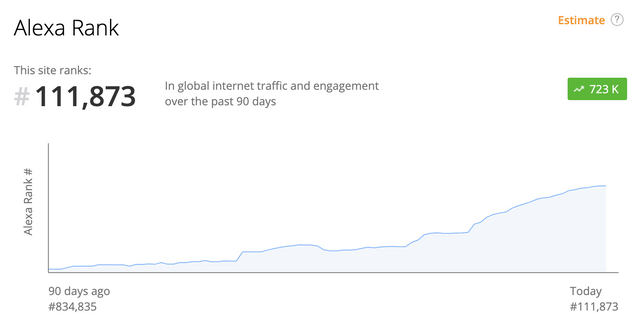 Posts From the LeoFinance.io UI Have Been Steadily Increasing:
Latest leo.stats weekly report
Posts and engagement from our UI are the lifeblood of LeoFinance's growth. We've seen a lot of growth in the time spent on various pages of the LeoFinance.io interface - especially since the launch of our UI that we built from the ground up to serve the Leo community.

Many initiatives have been started by various community members like @taskmaster4450. Other major stakeholders like @onealfa.leo are doing a tremendous job of not only manually curating posts, but also manually curating the comment sections beneath those posts.
As we see this increased level of engagement, we also see growth in the core site metrics for LeoFinance alongside growth in our overall ad revenue.
Impressions and Traffic Flow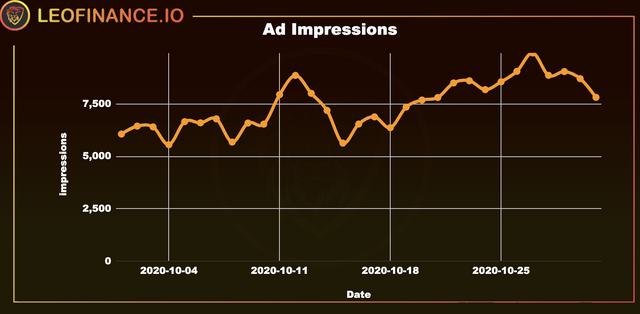 Daily impressions for ads on our site have been steadily increasing. We've also seen some growth in the # of clicks and overall engagement with ad banners on the LeoFinance site which generally help with the CPM that we generate (the amount of ad revenue per impression).
A few interesting things have also been happening with the sources of our ad revenue. The Hive Hard Fork (Eclipse) ended up eclipsing a lot of the APIs, nodes and mechanisms that run the backend of LeoFinance, Hivestats and LeoDex.
This hard fork has casued continual outages over the past several weeks. Sometimes the outages are worse than others but Hivestats has been almost entirely unusable since the hard fork. Many have been asking why Hivestats isn't working and we spent a few days researching the issues. After making sure that we did in fact upgrade everything properly for the fork, we found out that certain history APIs are broken on the Hive side.
There is nothing that we can do on our side to fix this issue. We've been told that it should only take 1-2 more days until thoe history APIs are back online and Hivestats is fixed (along with a few bugs in LeoFinance/LeoDex data displays). Thanks for your patience with us and with Hive during this Hard Fork outage.

With all of these issues, Hivestats has seen a major decline in daily users. This is to be expected since most of the data is either inaccurate or doesn't load at all. Luckily, our users and page views on LeoFinance.io and LeoDex.io have actually been increasing. This means that our ad revenue continues to increase despite the decline in Hivestats users.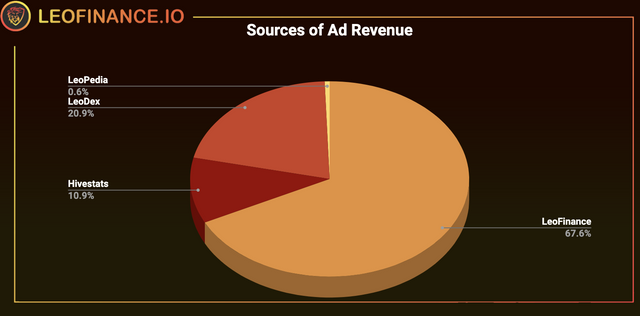 Once these API issues are fixed, we expect Hivestats to make a quick recovery as the userbase is 100% Hivers and most are well aware of the issues caused by the hardfork. In the meantime, LeoFinance and LeoDex are doing a great job in picking up the slack.
Daily Ad Revenue Growth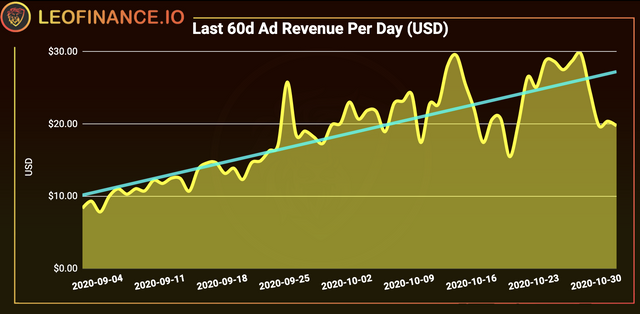 Over the last 60 days, we've seen ~2.5x increase in ad revenue generated per day. Our total numbers for October are showing an incredible level of growth. Keep in mind that the momentum caused by WLEO had stalled out. While our growth slowed down since the attack on WLEO, our growth did not stop.
The momentum of having our core community continually creating content, engaging and also sharing their content on other social media like Twitter/Reddit/Facebook has continued our growth. As WLEO prepares for relauch, we aim to pick up where we left off on that aspect of our project and continue the exponential rise in outside traffic from sites like Coingecko/CoinMarketCap.

October 2020 Ad Revenue Totals
Buying HIVE -> Burning LEO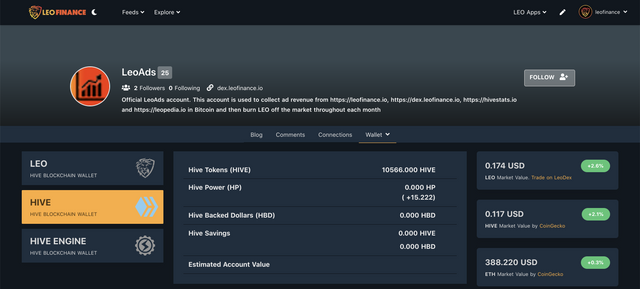 Many already know this, but our Ad revenue is paid out in Bitcoin. With the low HIVE price, this has had a significant impact on the amount of HIVE we can buy with ad revenue. This month, we've bought 6,072 HIVE with our ad revenue. This HIVE has been sent to the @leoads account. There is about 11,000 HIVE and 1,200 LEO in the account at this time. The 11,000 HIVE will continuously buy LEO off the market and then send the total LEO to @null at the end of October.
@jrcornel and a few other users recommended that we try an automatic repurchasing program for the ad revenue. In prior months, our ad revenue was small enough to just set a buy order and wait for it to get filled.
Now that our ad revenue is much more significant - and the price of LEO continues to rise - we need a better program for continually buying LEO so that we can get orders filled and burn the purchased tokens. Today, the automated buyback program has started.
You'll now see orders from @leoads created in random intervals throughout each month with the ad revenue generated. This also saves some time as the management of this account will now be automated for the most part. We'll just send the ad revenue to @leoads and then it will automatically set buy orders on the LEO Hive-Engine market. At the end of each month, the LEO purchased will be sent to @null (burned).
In next month's report, we'll dive into the details of this automated repurchasing program for LeoAd revenue as we collect some data on the performance of the @leoads account.
Roadmap Progress
From now on, each of our official posts will end with a progress update on our new month-to-month roadmap. Follow along as we deliver on the short-term aspects of our roadmaps each month.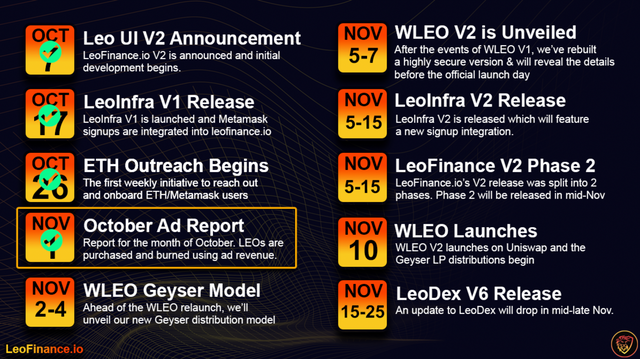 Our next official update (November 2nd-4th) will announce the WLEO Geyser Model that we've created for long-term liquidity provider incentives as we approach the relaunch of WLEO and discuss future pools and exchange listings beyond Uniswap in the months and years to come.

LeoFinance is a blockchain-based social media community for Crypto & Finance content creators. Our tokenized app allows users and creators to engage and share content on the blockchain while earning cryptocurrency rewards.
Follow @leofinance for official updates
Posted Using LeoFinance Beta