What is the flat curve and what's the problem with the non-linear curve?
The five-minute curation window and competitive curation where you try and front run other curators in order to win a kind of reverse auction within the first five minutes to gain the largest curation rewards possible has been a failure. The point of it was to motivate Hive users to look for fresh high-quality content to upvote and reblog for better rewards. It just doesn't work. The whole point of curation is to read a post in order to judge it properly and vote accordingly. Stumbling upon a post during the first few minutes after it is published is pure luck. A manual curator is like a fish on dry land in system like that. It's as if the five-minute window were designed to be exploited by bots.
The positive effects of removing competitive curation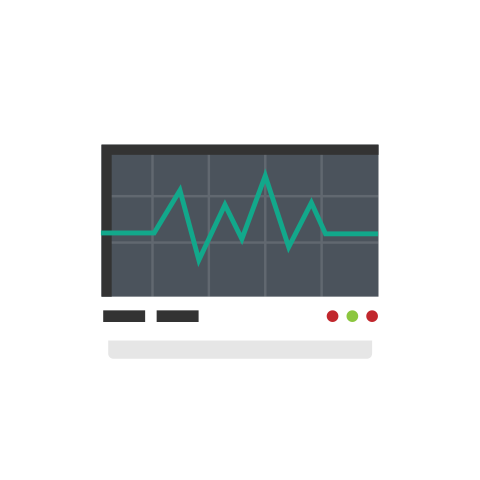 Heart Rate Monitor Flat Icon Vector.svg from Wikimedia Commons by Videoplasty.com, CC-BY-SA 4.0
On LeoFinance, the flat curve does not equal a flatline. Quite the opposite, in fact.
After a week or so of life with the flat curve (=your curation rewards depend only on your stake, voting power and voting percentage used) I have to say that the effects are like a breath of fresh air. Comments are getting upvoted left, right and center. More comments get made and upvoted than since the peak of the last bull run in late 2017/early 2018. This is fantastic because making long-form posts is not everyone's game. There's a lot of value in engagement.
Engagement is key
In fact, you could say that engagement is the very goal of posting. Earning a few pennies or even a few bucks on the odd high-earner per post on posts few people read or ever interact with is unlikely to motivate most people to continue posting. Not that some people's earnings are anything to scoff at. As an example, if someone cranks out 2-3 posts a day and earns $10 per day that would be a living wage in most of the world. Even in a first world country, that would be roughly equivalent to earning an extra average wage earner's monthly salary a year. So long as a content creator would've created that content or something else on some other platforms anyway there really is no downside. The problem is very few users would see that kind of earnings right out of the gate. Not only would most social media users not be able to offer anything worth anywhere near that much but that getting there requires time and a fair bit of consistence.
What would motivate users to be consistent without seeing much in the way of token rewards for a long time? Engagement, of course, and recognition. The very same things that keep people coming back to any social media platform. What the removal of competitive curation does is level the playing field between manual curators and bots and give manual curators to go and read the posts they vote on without suffering a financial penalty for it. Those curators who have significant stake don't like losing money to bot operators, which they no longer have to do.
Content discovery
Content discovery need have anything to do with competing curators. Now that the curve is flat, curation projects can dig up great posts while individual stakeholders have nothing to lose by piling on upvotes on these posts. Content discovery is something that a front end can do on its own, too. Crowdsourcing it to stakeholders is but one way to do it.
Posted Using LeoFinance Beta