Hi Leo-Community,
on of the last posts from @metzli mentioned the AVA coin and reminded me of the fact that I have some experience with that asset. Not only that I hold some AVA on Binance where you can buy it for Bitcoin, BUSD and BNB; I also used TRAVALA.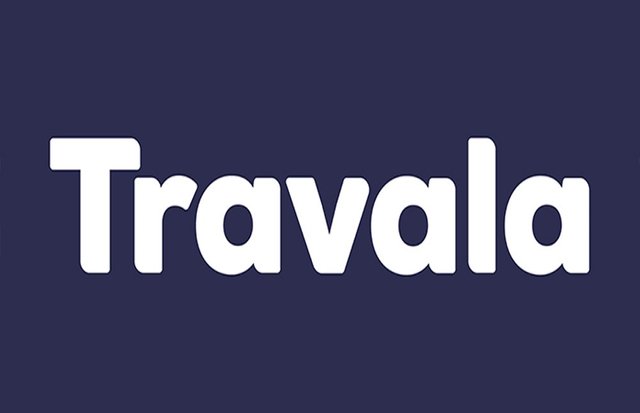 The native cryptocurrency of the platform, AVA can be used for payments, receiving and redeeming loyalty rewards, refunds, and as a store of value, among several other use cases.
But first things first, let's have a look at AVA on Binance where it was listed on 5th of August, after Binance-backed TravelByBit merged with Travala.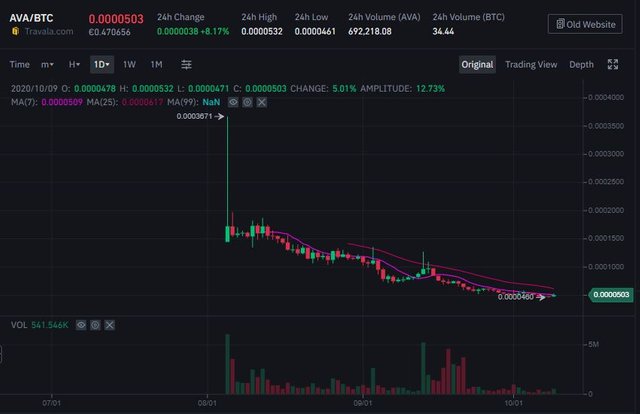 As you can see from the chart, after a first hype when AVA shot to 0.0003671 BTC ($3.73), there was a steady decline and at the time of writing these lines, AVA is worth around 0.000050 BTC ($0.486). This may or may not be due to the trouble the travel-industry is in due to the COVID situation because AVA is the native Token of Travala.com "the world's leading blockchain-based travel booking platform".
At Travala.com, we connect travellers with one of the world's largest selection of incredible places to stay, including everything from hotels, apartments, villas and hostels to 5-star luxury resorts. The Travala.com platform currently offers 2,000,000+ properties covering 90,124 destinations in 230 countries and territories and with prices up to 40% cheaper than mainstream travel booking platforms.
On their Website or on the APP that is available on iOS and Android, you feel instantly reminded on Booking.com and this feeling is more than correct because Travala is displaying the same offers that you find on booking.com. If you book a hotel, it will be approached by booking.com and I really don´t know the business model behind that cooperation or franchise or whatever it is. There is one big advantage for you as a customer and cryptocurrency enthusiast.
We have successfully created a frictionless travel booking experience that incorporates next-generation blockchain technology and tokenised incentives. By introducing cutting edge user experience and multiple cryptocurrencies and traditional payment options alongside benefits tied to our proprietary cryptocurrency AVA, our customers know they are booking with a platform of the future with transparent pricing and backed up by our Best Price Guarantee.
You can pay in crypto and you get rewarded for that in AVA. Of course, you need to do KYC when establishing a wallet on Travala and you can do this via Facebook, WeChat, Google or Binance. By the way if you plan to get a wallet feel free to use the invitation link
After you create an account and make the first booking of €180 or more, we both will earn €23 worth of AVA rewards to your Travala.com wallet after the invitee completes the stay at the property.

So here you have a place where you can spend your hard earn Crypto's for leisure time. The payment options are massive as you can see from the picture below. They accept every relevant crypto (except LEO and HIVE ;-)) but also normal credit cards.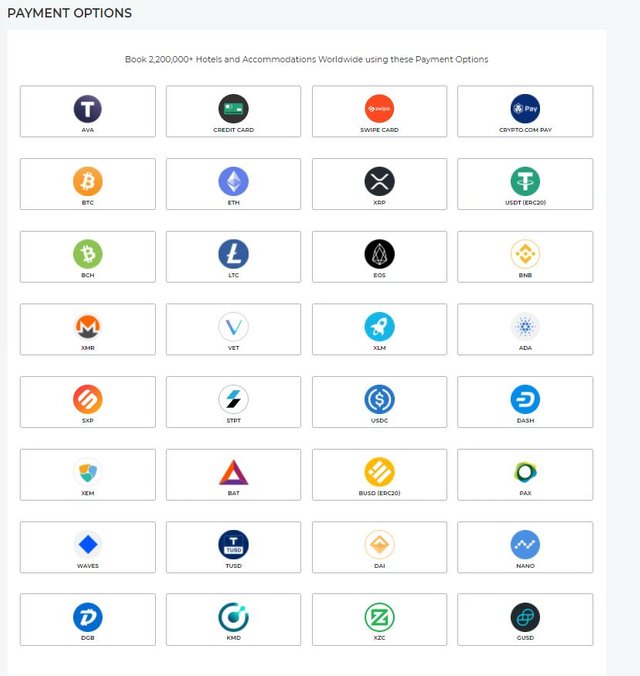 The APP looks clean and professional, with 2Factor-Auth using Google-Authenticator. Account details, bookings, invitations for the refer-a-friend program, the SMART options that I will show you, later on, your Wallet with the balance of AVA, a Travel-Credits section I haven't checked so far and a Wish-List to bookmark travels you like to do in the future. As mentioned above, referring and being referred will get you AVA.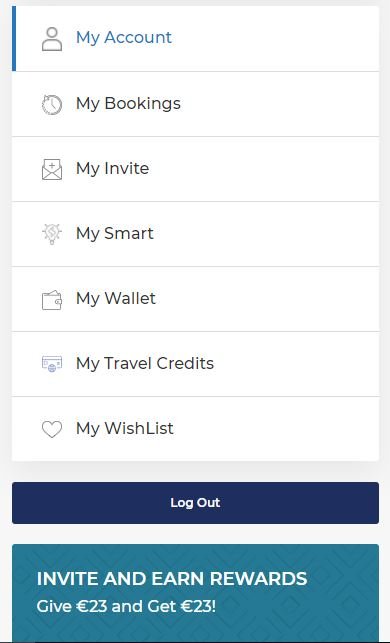 SMART is a payback program utilizing the staking of AVA in your wallet. Depending on the amount you stake, you get different levels of bonus and payback. For 5000 staked AVA (currently $2430) you get 5% discount of your bookings, a 5% loyalty reward, a monthly 1% bonus reward for your staked AVA and an additional §% discount if you pay in AVA only.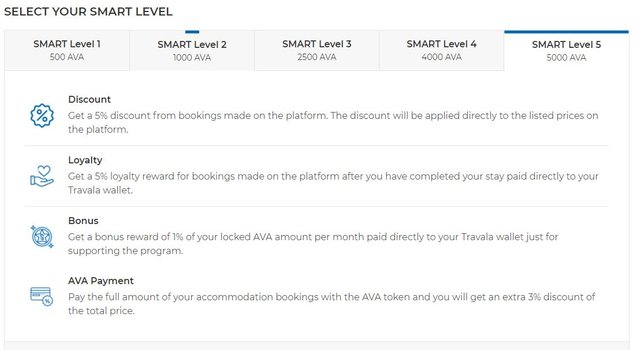 I used the iOS APP for my last holidays and everything worked well. The Hotel got my details and the payment, after my stay the AVA rewards were correctly booked into my wallet. I used a credit card instead of crypto but will give it a try with crypto in one of my next travels. The possibility to buy "something real" with things like BAT, DAI or XMR is really a thing. I haven't transferred my AVA from Binance into my Travala wallet yet, but the staking option looks quite interesting. If you have any questions, use the comment section.
As always - This is @no-advice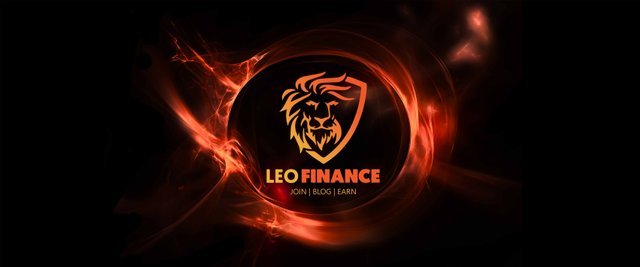 Posted Using LeoFinance Beta