The US stock market is one crazy place and the Tech sector is at the forefront of it all. The current state of society during COVID-19 has turned into an economic boon for parts of the tech sector, and boy does it show in stock prices.
However, an economy that has lost 30+ million jobs and was at a standstill for roughly two months cannot be good for an overall market. Well, atleast that is what logic would tell you.
We are not in that place right now though. Amazon, Netflix and other tech companies are racking in the profits right now and it is pushing the Nasdaq ever higher.
Below is a chart of the Nasdaq 100 (the largest 100 companies in the Nasdaq) and as you can see we got a V shaped recovery in this indices.
Price is just off 3% from the all time highs made 3 months ago.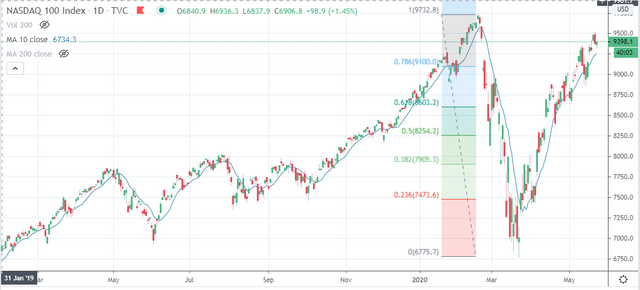 Let this all sink in for a minute. After everything that has happened, the tech-centric Nasadaq is only down only 3% from the all time highs.
I can't help but think there is a great disconnect going on with the markets and reality right now.
Be careful the coming months with the stock market.
Posted Using LeoFinance