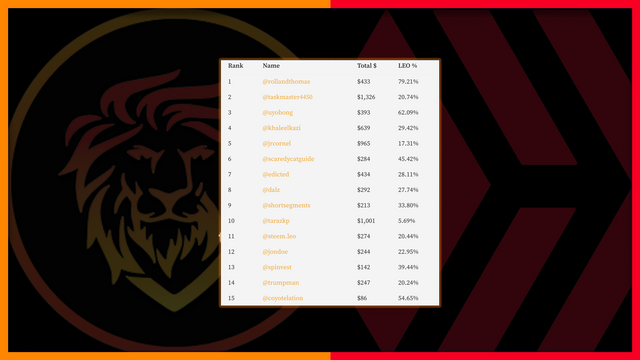 With the creation of the tribe tokens, content creators on Hive now have the ability to earn the base token (HIVE) but also second-layer tribe/community tokens like LEO as well.
Over the past few months, we've introduced a lot of new things and have been pushing updates, developments and an underlying focus on creating sustainable tokenomics with the ad revenue buyback and burns. This has lead to an appreciation in the LEO token price starting from 0.05 HIVE to around 0.16 HIVE where it is currently standing.
One very important effect of this increasing token price is that some authors are making more in LEO than they are in HIVE (though keep in mind that they still earn both LEO and HIVE when they post from our interface. LEO is basically a bonus on top, but now it's starting to look like HIVE is the bonus on top as the value of LEO rewards grow exponentially).
In this report, we will be looking into the top 20 LEO authors and compare their earnings in LEO and HIVE.
We will be looking only at author rewards, both for LEO and HIVE. Curation rewards not included.
Also note that several of the top authors on LEO are also top authors on Hive which makes this top 20 sample set even harder to beat. There are dozens of other content creators who don't make much on Hive and so, they make exponentially more in terms of LEO than they do in terms of HIVE.
Top 20 LEO Authors for June 2020
| Rank | Author | LEO | HIVE |
| --- | --- | --- | --- |
| 1 | @rollandthomas | 7,331 | 367 |
| 2 | @uyobong | 5,214 | 608 |
| 3 | @khaleelkazi | 4,027 | 1,840 |
| 4 | @jrcornel | 3,576 | 3,253 |
| 5 | @taskmaster4450le | 5,889 | 4,286 |
| 6 | @scaredycatguide | 2,768 | 630 |
| 7 | @edicted | 2,617 | 1,270 |
| 8 | @dalz | 1,739 | 862 |
| 9 | @shortsegments | 1,542 | 574 |
| 10 | @tarazkp | 1,228 | 3,849 |
| 11 | @steem.leo | 1,206 | 887 |
| 12 | @jondoe | 1,204 | 767 |
| 13 | @spinvest | 1,197 | 352 |
| 14 | @trumpman | 1,064 | 804 |
| 15 | @coyotelation | 998 | 159 |
| 16 | @nealmcspadden | 853 | 353 |
| 17 | @forexbrokr | 842 | 112 |
| 18 | @spinvest-leo | 818 | 57 |
| 19 | @cryptomaniacsgr | 698 | 86 |
| 20 | @revisesociology | 614 | 1,119 |
HBD rewards are converted to HIVE for simplicity.
This might be a hard for comparison but still it gives some reference point for the amount of tokens earned.
When we convert the token values into dollar values the table looks like this:
The conversion rates for LEO and HIVE are the average price for June 2020, $0.245 for HIVE and $0.047 for LEO.
In the following chart, column 3 shows the total author rewards (HIVE + LEO) in terms of USD. The 4th column shows the % of the total rewards that LEO represents:
Two fun examples from this data set are @tarazkp and @rollandthomas. Taraz is one of the highest paid authors on Hive and LEO is still able to represent over 5% of his author rewards. Not a bad chunk when you compare the rewards pool sizing of LEO vs. Hive. Rolland is an underappreciated HIVE author, so sitting on the other side of the spectrum, his LEO earnings represent a massive 79% chunk of his total earnings on Hive.
If we take a closer look, we can see that 6 out of the 20 top LEO authors are now earning more in LEO than in HIVE. There are also a few others that are on the same level in terms of LEO earnings. For the rest, the LEO earnings still represent a solid % of their total earnings on the Hive blockchain.
Macro Perspective
There are 784 accounts that have earned LEO author rewards in June 2020. The average earnings for all of them is $4.
Keep in mind, however, that there are a lot of accounts in this data set who earn less than $1 and are not necessarily participating actively in LEO/using our https://leofinance.io interface but rather just throwing the tag on some of their posts.
A more accurate way to count this data could be to take the number of accounts who have more than $1 earned from author rewards. If we do this calculation, we get 310 total accounts earning more than $1 in LEO author rewards and their average earnings are $11.
On the Hive side there are 6185 accounts with more than $1 earned in author rewards in June 2020. The average earnings for these accounts is $33.
What this means is that if the price of LEO grows by 3x in relation to HIVE, the average earnings for all authors (over $1) on HIVE and LEO will be the same.
Is This The Future of Hive?
The point of this report is to show off what we believe to be the future of Hive. Many other key influencers and leaders on this blockchain have said the very same thing:
Layer 2 tokens will rule the rewards pool one day. Hive will be a bonus and something that communities use to have RCs and other data-related functionalities on Hive while the users themselves focus on earning second-layer tokens.
This report shows, in our opinion, the growing value of being active in a niche community like LEO. When you're a part of a niche community, you have a far greater ability to stand out and make a difference for the community as compared to the larger sea of competition on Hive. The benefit to Hive is that growing LeoFinance also inherently benefits the Hive ecosystem.
When you do things that benefit the LeoFinance community and LEO token economy - i.e. posting/reading content on https://leofinance.io, sharing LeoFinance content links on social media, creating high-quality and engaging crypto/financial content, etc. - you have a great impact on the future of this community and the underlying platform we're built on (Hive).
The dream is that one day, crypto & finance authors will be drawn to LeoFinance as a means of earning a very real and meaningful income. For some authors on LeoFinance x Hive, this is already a reality.

Bump Your Author % and Join The LEO Community!
LeoFinance is an online community for crypto & finance. We run several projects that are powered by Hive and the LEO token economy:

Report & Data by @dalz
Co-authored by Khal
Posted Using LeoFinance