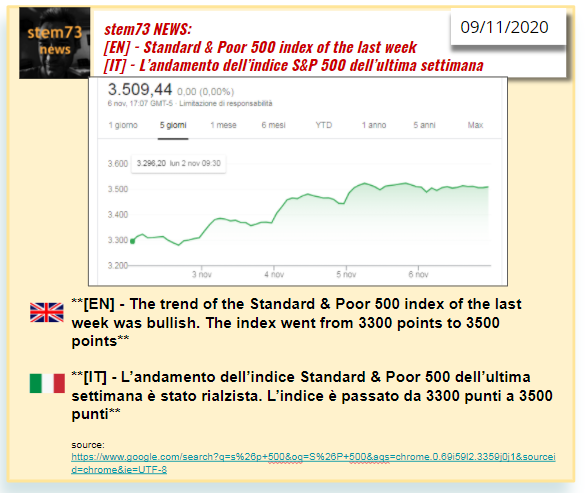 [EN] - The trend of the Standard & Poor 500 index of the last week was bullish. The index went from 3300 points to 3500 points
[IT] - L'andamento dell'indice Standard & Poor 500 dell'ultima settimana è stato rialzista. L'indice è passato da 3300 punti a 3500 punti
source: https://www.google.com/search?q=s%26p+500&oq=S%26P+500&aqs=chrome.0.69i59l2.3359j0j1&sourceid=chrome&ie=UTF-8
[EN] - My opinion
Looking at how the S&P 500 performed in the week of the election competition, we can see how the market reacted to the upside. So no indecision or sideways. During election week for the new US president, the S&P 500 performed well. He made a + 6% in just one week.
[IT] - Considerazioni personali
Andando a vedere come si è comportato l'S&P 500 nella settimana della competizione elettorale, possiamo vedere come il mercato ha reagito al rialzo. Quindi nessuna indecisione o lateralità. Durante la settimana delle elezioni del nuovo presidente degli Stati Uniti, l'S&P 500 ha performato bene. Ha fatto un +6% in una sola settimana.
Posted Using LeoFinance Beta