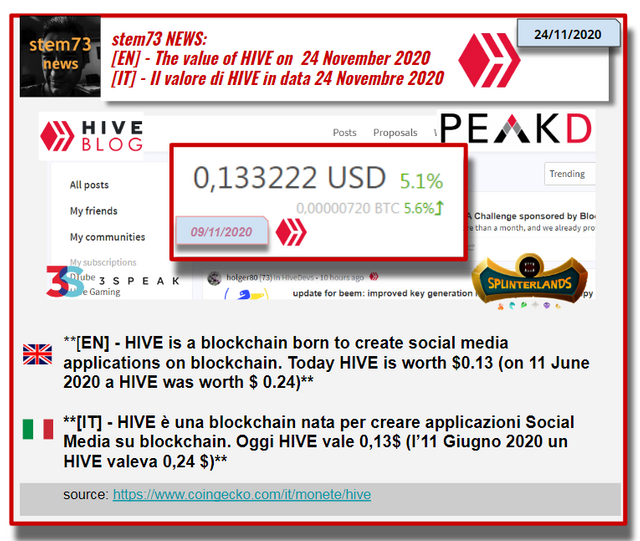 [EN] - HIVE is a blockchain born to create social media applications on blockchain. Today HIVE is worth $0.13 (on 11 June 2020 a HIVE was worth $ 0.24)
[IT] - HIVE è una blockchain nata per creare applicazioni Social Media su blockchain. Oggi HIVE vale 0,13$ (l'11 Giugno 2020 un HIVE valeva 0,24 $)
source: https://www.coingecko.com/it/monete/hive
[EN] - My opinion
HIVE returns to late October levels of $ 0.13. The capitalization value of HIVE today is $ 49.5 million, a few weeks ago it dropped to $ 42 million. Today the capitalization of HIVE is similar to that of Theta Fuel, ARK, MCO, SUN and Energi. In my opinion, the HIVE chart shows that HIVE has bottomed out at $ 0.10. Let's see what happens in the coming weeks. The price could double bottom, or it could rise again and never return to $ 0.10. I think the latter is more likely, but this is just my opinion.
[IT] - Considerazioni personali
HIVE torna ai livelli di fine fine Ottobre che era a 0,13 $. Il valore della capitalizzazione di HIVE oggi è di 49.5 milioni di $, qualche settimana fa era scesa fino a 42 milioni di dollari. Oggi la capitalizzazione di HIVE è simile a quella di Theta Fuel, ARK, MCO, SUN e Energi. Secondo me il grafico di HIVE mostra che HIVE ha raggiunto il fondo a 0,10$. Vediamo cosa accadrà nelle prossime settimane. Il prezzo potrebbe fare un doppio bottom, oppure da qui potrebbe ripartire e non tornare più a 0,10$. Io penso che sia più probabile il secondo caso, ma questa è solo una mia opinione.
Posted Using LeoFinance Beta