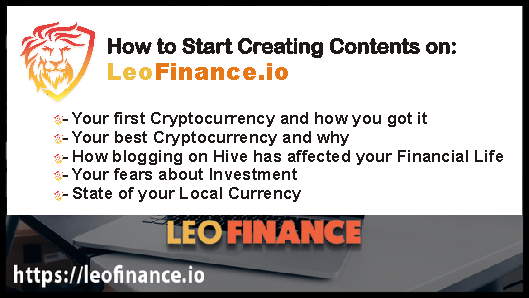 On noticing my recent engagement with the LeoFinance community, a friend got interested (this actually has been the goal- to bring more users to use leofinance.io) and desired to start creating contents here, however, he told me, he got stuck with the right content that will earn community acceptance.
I am pretty sure that everyone is not "writing savvy", yet would love to engage this community. I decided to give out this hint on the kind of posts that would be regarded as acceptable on https://leofinance.io/. I will start with the quite simple options.
---
Head first to read this post on the 3Ws of using LeoFinance
---
I did mention that LeoFinance has dedicate itself to promote "finance" related content which is the core of blockchain features, especially as it relates to cryptocurrencies and this is the core of blockchain technology which aims at financial autonomy for internet users.
The essence of this tutorial series is to present to the teaming masses yet to use Leofinance.io that writing acceptable contents is easy if you get some guide hints.
In this first and introductory episode on "Acceptable contents on LeoFinance", I will be focusing on:
Your first cryptocurrency an how you got it
Your best cryptocurrency and why
How blogging on Hive has affected your financial life
Your fears about investment
State of your local currency
1. Your first cryptocurrency an how you got it
I want you to start with your experiences. How did you get your first cryptocurrency. Tell us the story of what led to what made you create a first cryptocurrency wallet.
2. Your best cryptocurrency and why
You can also share a post on which cryptocurrency is your best (that's if you are earning or hodling many). Is it their value, news prompt, utility, referral system, just tell us.
3. How blogging on Hive has affected your financial life
Posting on leofinance.io is open to everyone who has a Hive account. If you've spent more than seven days on this blockchain, then you should be able to tell us about your earnings. Is it improving or decreasing? Take into consideration your data costs.
4. Your fears about investment
I know many people who would have invested into cryptocurrencies, but the fears of the market volatility won't let them. If you're in this category, share your experience and thoughts to earn LEO
5. State of your local currency
We all use money and we know that this covid pandemic has affected many economies. Tell us the state of your local currency. How many BTC, HIVE or LEO can a unit of your local currency buy? Let us know while you earn LEO.
---
I will personally make sample posts on the above subjects in the coming days. I will be looking out for your great contents and wouldn't mind if you share link in the comments section of this post for curation. Good luck!
Know the LeoFinance Ecosystem
https://leofinance.io is an online community for crypto & finance content creators, powered by Hive and the LEO token economy.
---
Want to Start Earning Hive and LEO Tokens?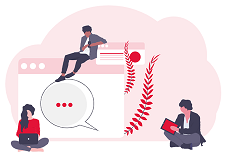 Not got an account yet? Sign up to Hive!
#LeoFinance- A Next-Generation Community for Investors

Join us On Discord --> LeoFinance Discord

Posted Using LeoFinance