At the bottom this of this Ulog, you will contact 'Wode Maya'. Where you decide to be "a diggist" (i.e dig, dig, dig) in your undertaking of this motion, just before you attain bottom-hood, Wode Maya will have begun his meeting towards you, contacting you in return.
If you are about to doubt this, think thrice! It is as difficult as 1, 2, 3!
This is how to contact Wode Maya; this is how to have Wode Maya contact you!
Premise for this Ulog
It is the undertone of a 'legitimate illiterate'.
It contain things about 'Wode Maya' that Wode Maya didn't know about himself, which you'll find out about.
It contains a revelation of the content in the 'no-books'.
The underlying revelation through out the course of this trip carries 'pinpoint elements of Wode Maya'. As you motion through each element, you will begin to appeal to his soft-spot even spiritually, that just before you reach him, he will have undertaken the journey upwards, towards you, contacting you in return.
Start The Maya Trip
---
---
Just don't call him 'short'. He is a village boy and this particular village boy, "an African village boy", is a 'giant man'.
'Man' man!
While surmounting mountainous odds, he carries 'hefty' dreams; the 'dreams of many nations'. He has chosen to; that he may stand tall. He stands tall.
'Yao Ming'? He dunked it through, "no shoes", taking 'Africa to the world' in turn. A very giant undertaking!
A-past he walks, through the expanses, flip flopping it through, that he may ransack its nooks and crannies and reveal its excerpts. He has allowed room for 'his evolution' that he may constitute 'the stories and histories that sparks 'evolution' in others'.
Amidst secular accolades, in the midst of a 'painted world' that is inclined towards 'outer-space', he has stayed 'down-to-earth'. He is a very village boy!
May "rare intel" be revealed by virtue of his walks. May generations-yet-born relish 'earth-hood' as a result of his markings. May Ghana halt because he walked inside it and his presence filled it; "Mr Ghana Baby!".
He is Wode Maya.
---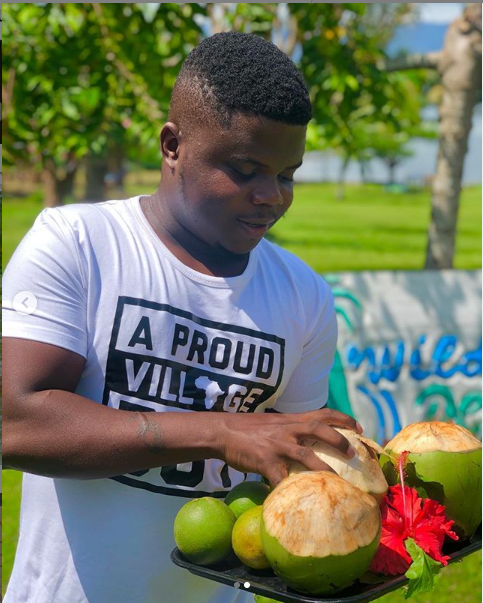 Wode Maya stems from the location of Ghana. He is not a 'coconut head'. He simply desires taking 'Africa to the world'. He knows 'Banku' too!
---
---
'Nobody undertakes those routes'. Well, not anybody just can!
Those routes, the 'Africa-to-the-world' route, requires a conscious undertaking; 'stubborn genes'.
These so-called 'dirt' routes, the 'down-to-earth spaces of mama earth', where 'greatness' lies; requires 'greatness' to undertake.
Stamped deeply-rooted-ly into the midst of this particular 'dirt' routes is the person of 'Wode Maya'.
Alas, there is a rarity in the 'great men' industry. We fix this rarity, we surpass google.
"Aiya Maya". Wode Maya
---
Proceeds from these '15 USD T-shirts' will kick-start a physical hub called 'Macrohard', for 'brother programmers'.
---
---
"Have in subjection the fishes of the sea".
Wode Maya is an entire mandate. Each coconut-tree connives to spare his head, 'whenever coconuts fall'. This isn't conjecture.
He is here! In each nook and cranny, he lurks. He is down-to-earth; he is readying 'the grounds', that when the world begins to leave 'outer-space' to return 'down-to-earth', the grounds are set; "Maya-made".
And the very waters, he has glistened with his stamps; 'aiya maya' stamps.
'Lake Botsomtwi', do chameleon your way into the wake of this particular 'Africa-to-the-world' cause, that people may leave 'outer-space' and return 'down-to-earth'. Otherwise, 'where the world is headed is scary'.
---
---
Yes, you who labels him 'legitimate illiterate', you who is 'bot-like' and 'god'; don't be mistaken, if you entered the jungle with all your 'geek', he will sell you off before you can utter "Wode".
In a good way, he will resell you off to your very self. Your 'sold you' will look at your 'old you' and all you are told and re-told of is, "Maya, i am dust after all".
Then, you will be mingle-able with 'dust', ranking 'great'. You will begin to walk with 'new airs' and it will be 'great airs'. You will have become 'beautifully disruptive' too, fully tapped into your 'human shine', with your very own identity; 'stubborn genes'.
Awake you will become to the words; "I am African".
Note: You can't explain 'Africa' using 'English'. Very spiritual stuff!
---
---
'You in those glamorous skyscrapers', what is your history? Is 'your inside' taller than 'your skyscraper'? Do you really rock that Versace or does it rock you?
Can you walk into a room adorned in rags and make the room halt because you walked in and your presence filled it? Do you know what 'slippers' are and can you flip-flop/safari around 'Africa' in Wode Maya's slippers?
Any real depth in your carriage? Is that 'air' that you cat-walk with 'matter'? Does it have weight and occupy space or is it empty and 'paint'?Can you bear a brother's consequence? Can you forgive me a hundred times? Well, have you done 'time'?
"When you have seen many things, many things become ordinary." @surpassinggoogle
Yes, those 'clean-looking UHD mall-side TV(s)', what do you see upon them? 'Glamorous insight into the under-synthetism and de-sophistication of your eyes'?
Isn't it demeaning that these TV(s) are appearing to generate more colors out of life and nature than your eyes can in 'real life'? Aren't you tired of the 'paint'?
What is in Africa is 'greatness'. @surpassinggoogle
On an 'Aunty Coro' note: "Let Wode Maya cross countries; let him hug the women of Mama Earth, that hearts may talk, that spirits may connect."
---
---
You suddenly know about 'mums'? You can describe 'mothers' using 'words'? 'These particular dictionary words'? 'English'? Think thrice!
"Wake up and go love that woman!"
If you only knew, how much she has bore your arrogance in silence; how many times she has let you win arguments and gone into the room to give way to mountainous tears; how much she has covered up for you and bore 'ages of guilt' because of you; how much she has wished that you gave her gifts, all while incessantly appearing to you as needless.
If you only knew!
You have a brain powerful than super-computers; apply it because of her. Go out there where your mates are, get the goodies and donate it all to her.
If you can't get the goodies for her just yet, intend it, dream it, utter your noble intentions towards her, let her know of her spot in the deeply-rooted aspects of your incessant thoughts!
'Uncle Simple', if you want to play that "i am simple" card aright, buy that tricycle for yourself but buy her skyscrapers instead.
Oh, 'Uncle Simple', no need to be nuts, a Rolls-Royce is simplistic too.
Who said she doesn't want to show off what her son bought her, to her peers?
Who said she doesn't want to be 'prouder of you' or cry 'tears of joy', those instigated by you?
"Dig her bag out, then out-dig that bag and 'a decade of her wish-lists' you shall find, that she hid from you out of her love for you."
Read of her diary and you will see of 'dreams'. She was on her way to 'a mega billion-dollar deal' but she found you, bore YOU instead and stayed mute, like nothing happened!
She loves you like crazy! Must she tell you? Yet, she tells you like crazy!
She didn't have a dime? She will put her shame aside and sought after that dime each time, to leave it your shirt pocket. "Oh, it was magic?" Shut up; all the way up!
'Tadpole crap', if you have grown all the way up to feel that it isn't your responsibility to pamper that woman because you met another 'girly woman' months ago. (Yes, "girly woman"; for a 'woman woman' will spank you and tell you to 'go love your mama'.)
"Love your mum deeply and mean it like crazy!"
Have you heard of "Leggedes Benz"? It is a type of 'moto-car'!
Did you know that Wode Maya bought a 'vehicle' for his mum recently and that he was able to do so because he stuck to driving his 'moto-car'?
Now, would you know the difference between a 'moto-car' and a 'vehicle'?
---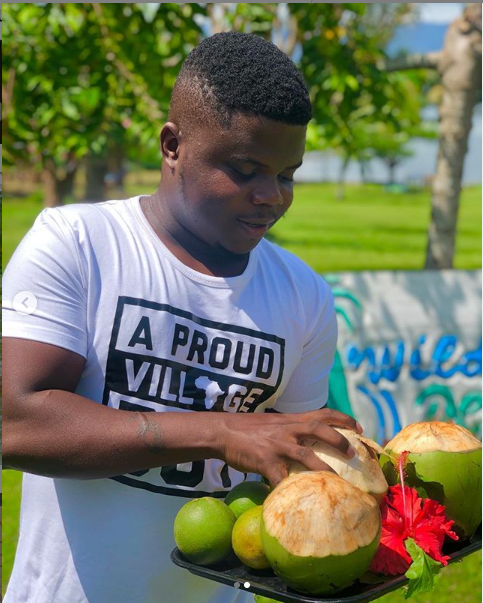 A good question to ask Wode Maya in order to appeal to his soft-spot and garner his attention is, "What is a Leggedes Benz?"
---
And my mum? At her very last breathe as she tapped into her subconsciousness, the entire streets of her 'mind's eye' was filled with her 'kids in limelight'. She prayed their names out as she returned to a language, that wasn't any longer 'English'.
Stop! 'Words'; those 'dictionarily weak words'; 'English'?
Where you love your mum as much as she deserves, can you get to express just how much you love her, using "ENGLISH"? Sufficiently?
Well, except you break down to pop out those particularly 'rare' (even ancient) words and the very exact combo of them. Else, you may need "Patois" or "Yoruba" to speak this 'particular breed of love' out, for you must have needed to connect with 'your very spiritual-side'.
Ask mothers for your 'umbilical cord', they have kept it, they know its curves and your every skin pore, they know its name; they have named each.
---
---
'Be like Maya' and if you lack inspiration, 'be Wode'. Go give your mum 'whispers of good news' now.
Take care of her, compose her a song, title it 'Mr Ghana Baby', air it out into the universe aloud, then in your calm 'Fela' voice, sing it into her ears. May she enjoy one special breathe as a result of you. May she sing in return "Aiya Maya", in the midst of her un-fell tears.
Aiya Maya!
---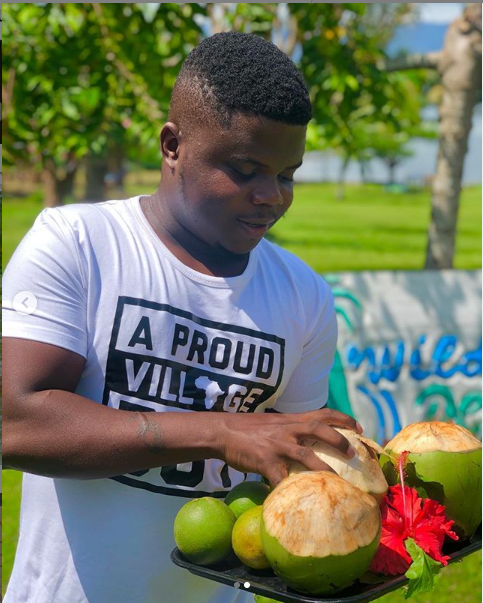 ---
Did you know that 'Wode Maya's mum' is Wode Maya's most prominent fan?
Another way of appealing to Wode Maya's soft-spot in a bid to contact him successfully, is by offering to send his mum some gifts.
---
---
---
Now, if you have surmounted each odd and you still haven't managed to contact Wode Maya successfully; 'add some English into the Math' and try the 'Kenya-route' instead!
'A contoured-route it is' but one of bliss and cushion. It's 'Trudy' way!
Relegate reservations in her space and she will lead you to Wode Maya.
I tell you, 'she will Trudy you to Maya'. She will bear your very consequence.
On her face, is the 'state of her heart'; a state 'bare and blissful'. On her very eyes is "assurance".
Alas, her assurance isn't for 'a Chioma' alone neither is it one of rigmarole. "Trudy-backed", her assurance is sufficient for you, me and 'generations yet born'.
Forget 'cat-walks', Miss Trudy 'wode-walks' and that's semi-secondary; for she 'trudy-walks' too. Her hips have those particular breed of hinges. She is woman!
"Many times, we tend to jump onto the 'nth complexest solutions' first. Many times, answers lie in the first simplest obviousest solutions". @surpassinggoogle
If you haven't managed to appeal to 'Wode Maya's soft-spot yet in your efforts to contact him, appeal to Trudy's then.
Visit with Miss Trudy now and appeal to her, to deliver your message to Wode Maya.
---
---
'Dads'! Where are you? 'Great men', where are you?
'There is a growing rarity in the 'great men' industry'! Dads, where are you?
How do we surpass google then? How do we abate the rarity in the 'great men' industry then? How do we shine your lights forth? How do we play our role in ascertaining that 'your suffering has essence'?
Help!
---
---
How did you sit on that chair and orchestrate affairs? Without google, with phones, without 911, how did you manage to reach the masses and leave "Baba Wode" or "Papa Terry" on their lips?
Spiritual!
How can you have endured life's cruelty and become 'extremely loving'? How could you have stayed "an African man" in a painted world or 'king-like, dream-lord, human' in the midst of mountainous odds?
Why are we too weak these days? Where are your clothes that we may cut from it? Why do we just want to eat, drink and slave these days?
How did we 'have our genes bought' so much? Daddy, please give us some of your 'stubborn genes'. Dear dad, help us shine your light forth, for 'where today's world is headed is scary'.
They call you 'Papa Terry' till date. I carry your dreams and mine. It is heavy. May 'Terry' have back for it.
They call you 'Baba Wode' till date. He carries your dreams and his. It is heavy. May he have back for it.
---
I am currently running a kickstarter (crowdfunding) directly on Facebook, whereupon you can support this endeavor with a donation. To become a donor: https://bit.ly/macrohard
---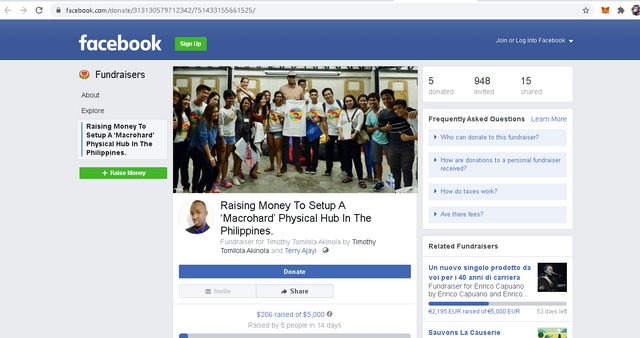 ---