Dear Hivers,
In our private marketing group, we have a copywriter from Romania. He is one of the best in the industry who writes record-breaking sales pages.
And he taught me something profound: Everybody can write.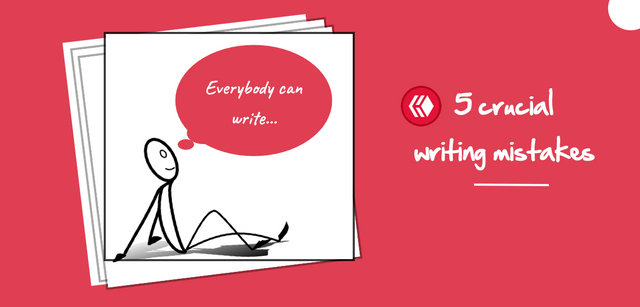 It doesn't matter our culture, experience, or even our past. All of us can write — and we get better with time. Now writing doesn't mean fixing your eyes on grammar. No. No. No.
In fact, most hotshot copywriters like the Romanian dude don't believe in grammar. Writing is more than just grammar. That is why we won't be discussing about nouns and verbs. Or even punctuations. We will leave them out of the door. And then, we will lock this door to discuss something incredibly important.
In this article, I would like to share 5 writing mistakes that goes beyond grammar — writing mistakes that are crucial and can be easily fixed. I have picked them up from my 3 months of observation on Hive.
Again, some of the mistakes are common and I was making all of them. (Human here). So if you can relate to any of these mistakes, then try to fix it in your next Hive post.
---

---
Most people try to write, edit, and format together. It simply consumes more time. Maybe even frustrates you. Think about it. If you do everything together, what happens to your mind?
Your mind starts wandering:
"Maybe I should change this. Wait. I can't think of that word. Let me go back and delete this word. Oh, why not add an image here? Hmm… let me make this thing bold."
Let's admit this: we do this all the time!
But over the years, I have learned to separate the process. Writing is different. Editing is different. And formatting is different. This way, our brain can focus on ONE process at a time.

Let me explain this:
Step 1: First, I write. I write without worrying about the typo, the sentences, or even the words. Once done, I take a 5 minute break.
Step 2: I come back to edit. When I am editing, I make sure the idea is clear. I add stories or fix them. Then I look for typos. Then I fix sentences. Once done, I take another 5 minute break.
Step 3: I come back again to format the content. I pick up the post and paste it on @Peakd. Then I start adding images. Then tags. All the other tiny formatting details are considered. Once done, I hit Publish.
So here's what you can do: As you are writing your article, don't edit. Don't format. Just write. For however long you are comfortable with. Next, take a few minutes break. Come back to edit the article. Take another break. And finally format. Publish.
---

---
Five years ago, I started practicing headlines. I took every best headline in the world and started writing them on paper.
Why?
Because a good headline is the single most important part of your article. Everything starts with a good headline. In fact, as per several advertising stats, 80% of the creative focus should be on the headline.
Your headline shouldn't be fancy or clickbait. Just a simple and clear headline will do the trick. I can only give examples of the headlines I have been using on Hive. Check it out: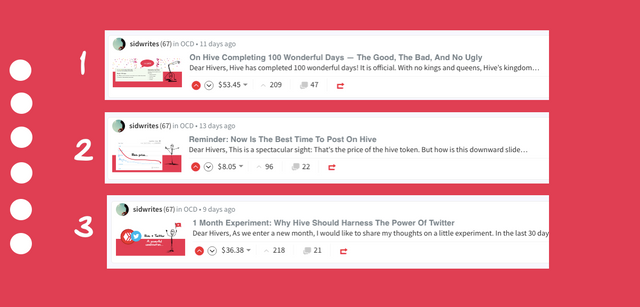 Each one will tell you what the entire article has to offer, isn't it?
Tip: I am sharing the world's best headlines here. Check out 350 of them (PDF). Here are another 100 (with summary) headlines. You can glance through these headlines and produce your own version.
The goal is to make your headline clear and simple.
---

---
Avoid run-on sentences. These are never-ending sentences that goes on and on. The solution is simple:
Make long sentences shorter. Like this.

You see, the above paragraph has two sentences. Was it easy to read? You know it.
The bottomline: As you read this, I want you to think about sentences. I want you to pick your long sentences and break them down into two pieces. Then three. And sometimes even four.
Important: You can't continue using short sentences all the time. It will make reading predictable. So what's the solution?
The solution is to use a mix of both long and short sentences that keeps the reader guessing. They don't know what is next — so you continue to fire bullets of long and short sentences. This loads them with curiosity.
(I hope you can see the mix of short and long sentence I am using in this article.)
---

---
If you are actually using long paragraphs, then break it down into short ones. Just like we saw in #3. Give space between your paragraphs.
I call it Paragraph Breathing. You should allow your paragraphs to breathe — and be generous with the spacing. Take a look at the image below as an example: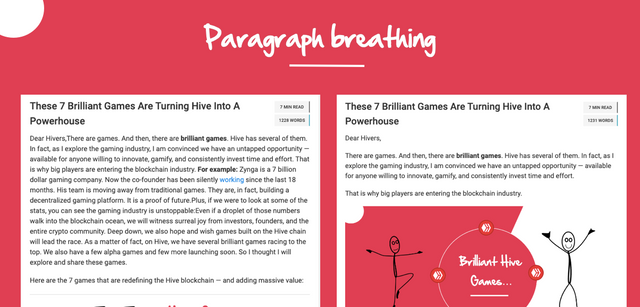 It is the same article. On the left, I didn't give enough space for the paragraph to breathe. I made it into The Great Wall of Text. No one likes it, right?
Tip: Preferably, make sure your each paragraph is less than 5 lines. That's how I like it. Sometimes a paragraph is just a single sentence. And it works beautifully. The trick here is to vary.
---

---
Start using subheads. This is extremely important for long-form articles. If you have been following me, you know my articles are long and I use multiple subheads.
That's because I know we have two types of readers. One who actually reads everything. And the other who scans — glances — and skims through the content. They are called skimmers.
Example: You can check out the 7 Hive blockchain article. I have used 7 subheads for people who want to skim.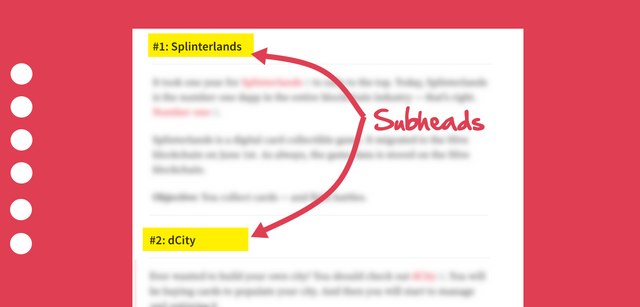 Our job as content creator is to appeal to everyone. One who wants to read will be going through clear headlines, short sentences, and short paragraphs. Other who wants to skim will be scanning through the subheads.
---

---
There you have it — 5 crucial writing mistakes that can be easily avoided. There are more. But for now, we will stick with these five basic mistakes…
To recap:
Don't write, edit, and format together. Treat each one as a separate process. Dedicate time to each progress.

Convert your unclear headline into a clear headline.

Found long sentences? Then make them shorter.

Use the paragraph breathing technique — and break down your paragraphs into few lines. Maximum five lines.

You have two types of readers: one who reads and the other who skims. To appeal to skimmers, use subheads.
And with this, I hope and wish you found this article useful. If you knew all of them, treat this article as a refresher. If you found a couple of them useful — then apply them in your next article.
Do let me know your thoughts in the comment section. I would love to hear from you. As always, continue writing — implementing — and learning with a smile on your face. Like I am having one right now as I complete this article.
Cheers,
Sid
---
If you liked this article? Feel free to comment and upvote and reblog.