A lot of people have fallen victims of both Pyramid schemes and Ponzi Schemes as this two schemes gives a lot of promises. Also, so many people cannot differentiate between a Pyramid Scheme and a Ponzi scheme, so what are the both schemes?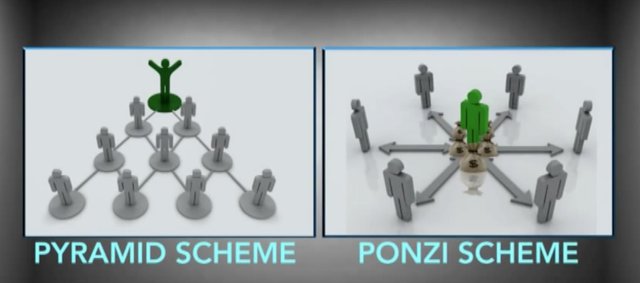 Source
A Ponzi scheme is a scheme whereby the founder recruits people to invest into a business they do not see promising the investors large return within a short period of time. The returns for older investor is gotten from newer investors who will be fooled into believing that they are investing into one business. People who invest in Ponzi schemes are asked to get referrals and make more money as they refer more people who invest but the basic truth is they are rubbing the newcomers to pay the people who have been there before. In Ponzi scheme, once there is less money coming to what is going out, then it crashes.
Pyramid Scheme on the other hand involves purchasing a product and referring people to purchase the product under you. In most cases, this products are often irrelevant and do not perform the way they are expected to. With pyramid scheme, there is always someone at the top making the money and selling to product to several down lines who won't be able to sell the products in most cases.
Most pyramid scheme always have to recruit an average of 6 people and this six people would be required to recruit six people who would still recruit six people. From one person, it becomes 6 people and then 36 people, then 216 people and so on. This down lines always have to recruit new people into the scheme and when there people are so many people, it becomes difficult to recruit more people. So many pyramid schemes come in form of Multi-Level Marketing (MLM), Investing group, and sales company and so on. In most cases it is very difficult to differentiate between a true MLM and a pyramid scheme but we should understand that MLMs pay participant incentives on selling products while pyramid scheme pays participant majorly for recruiting more people but it is often difficult to differentiate pyramid schemes in disguise as an MLM and a real MLM as they sell products to cover their doings.
There are a few things to look into when involved in a Ponzi or Pyramid scheme and one of them is Time. A Ponzi scheme promises you too good to be true returns within a short period of time while a pyramid scheme asks you to bring referrals within a particular period of time. If time is involved and it is being pressured around the business, sales or investment, then it is surely not a good thing to go into.