We wanted to share some important updates regarding both the Delegator Bot, as well as our $HUSTLERM miner token bot. Some changes were just implemented, which we'll be sharing on Hive in a more detailed post, but here's the quick rundown: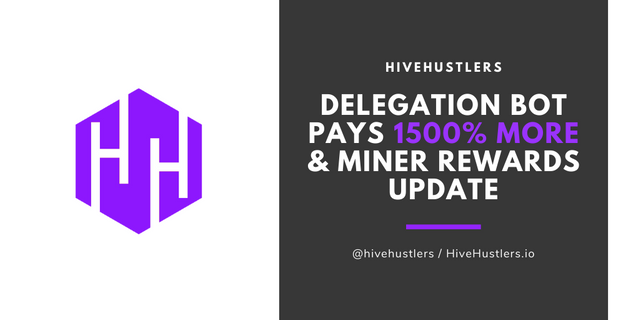 Delegation Bot Update:
Payouts have been increased
Payouts have been DRAMATICALLY increased for those that delegate Hive Power to the community HiveHustlers account.
Previously:
For every 1xHP Delegated, you'd earn 0.325 $HUSTLER per day.
Meaning if you delegated 100HP, you'd earn 32.5 $HUSTLER tokens a day.
Now:
We've bumped this up by a factor of 15x - for every 1HP delegated, you now earn 4.875 $HUSTLER per day. Delegating 100HP now yields 487.5 $HUSTLER tokens per day.
This is a MASSIVE increase in rewards, as they were very low before and thus not as beneficial for members. We're looking at a 1500% increase in delegation rewards now.
Hopefully, this helps members realize that delegating to our account can be an extremely lucrative way to earn more $HUSTLER tokens, in addition to your miners.
$HUSTLERM Miner Token Update:
The way rewards payout have been adjusted
Previously, miner tokens were paying members daily with liquid $HUSTLER tokens. This has, unfortunately, had the negative effect of flooding the market with a large amount of fresh $HUSTLER tokens daily, contributing to the price tanking.
Of course, we are working as fast as possible to launch our projects that aim to provide an immediate use for $HUSTLER tokens, building a payment and exchange ecosystem for them.
Therefore, daily miner token payouts of $HUSTLER will be automatically staked, instead of distributed in a liquid form.
Final Thoughts
We are really looking for more people to delegate HP to the community account so that we have much larger votes to pass out to members that are active. We believe that the Delegation Bot distribution change will have a great impact on this.
Please consider delegating Hive Power to the official @HiveHustlers account - you'll now also earn a LOT more rewards for doing so!
$HUSTLERM miner tokens - https://hive-engine.com/?p=market&t=HUSTLERM
$HUSTLER tokens - https://hive-engine.com/?p=market&t=HUSTLER