Hey Hustlers! Huge news today:
We are hosting the 2nd presale for $HUSTLERM tokens (only, not $HUSTLER) -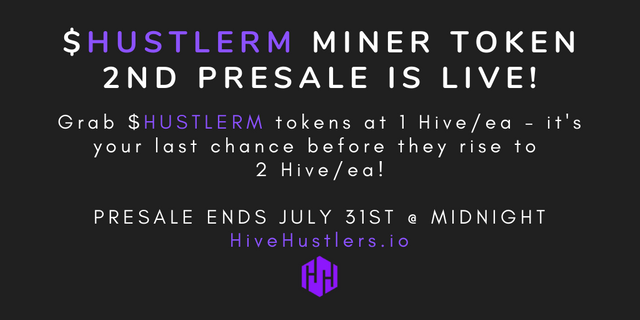 Our reasoning for this is simple - we are looking to increase the market pricing of our $HUSTLERM miner tokens to a top-end of 2 Hive each, aligning with other miner prices on the market.
The presale will run until midnight on July 31st - at which point, all miners listed on the market/available from HiveHustlers will be raised to 2 Hive each without deviating from that (with the exception of PowerUp Sundays, which will be adjusted to reflect the new rates).
What does this mean? Simple!
Everyone that's already bought miners - it's your lucky day! Miners you've bought during our original presale (at 0.65 Hive/ea) will rise in price to 2 Hive/ea in just a few short weeks.
Our presale miners will be going for 1 Hive/ea directly from the HiveHustlers account - I'm sure other people will be selling some miners on the open market @ cheaper rates, so, to incentivize buying directly & supporting the HiveHustlers community, we're also including a 15% token bonus for ALL MINERS PURCHASED from us during this 2nd presale event (distributed after presale ends).

There will be no other sales in the future, so this is the last opportunity to grab miners at discounted rates directly from us - otherwise, you'll have to grab them from the market moving forward.
This also should have another added benefit of continuing to help the $HUSTLER token price surge upwards, especially as we draw closer to launching HiveBay.io. Another benefit is also building up our fund for developers so that we can release our new value-adding projects to the community faster and at larger scale/scope.
The new HiveHustlers website will reflect this presale and stats, but will also include information such as a complete roadmap for the community and our efforts.
We are also going to launch a taskboard that will be shared in our Discord - this will provide transparency to all members by being able to see exactly what projects are in the pipeline, and what's to come in realtime.
You will be able to purchase $HUSTLERM with the following:
Hive, HBD, ETH, BTC.
Hive and HBD can be sent directly to the @HiveHustlers account, or you can purchase miners through Hive-Engine (they have to be purchased from the community account - purchasing from other sellers will NOT enable you to earn the bonus 15% after the sale ends).
Hive / HBD / Hive.Swap can be sent to:
ETH can be sent to:
hivehustlers.eth / 0x6733bb7E72d3D3E11AB734dCa56c1562C3bD0C5d
BTC can be sent to:
3KnxCQVg9fxtJh4d1Rmo7jS6tcbuDTarqT
When purchasing, please either leave a memo in the transaction or contact us directly here/on Discord to confirm your TXID and where the miners should be sent.
Don't forget - this presale ends July 31st at midnight, so it's your last chance to grab miners before they double in price on the market!