Growing up, I had a huge love and adoration for Magic: The Gathering. My Dad and I would go to the flea markets on the weekends, and scalp cards from the dealers - buying packs, eagerly peeling them open in hopes of finding the hidden gems we were looking for (which changed from week to week, of course).
So when I stumbled upon MythicMarkets.com a few months back and saw an opportunity to invest in 5 Sealed 1994 Magic: The Gathering Booster Boxes, you bet your ass I jumped on it!
In their words, "Mythic Markets is the investing platform to buy, sell and trade fractional shares in rare pop culture collectibles."
Interesting concept, for sure!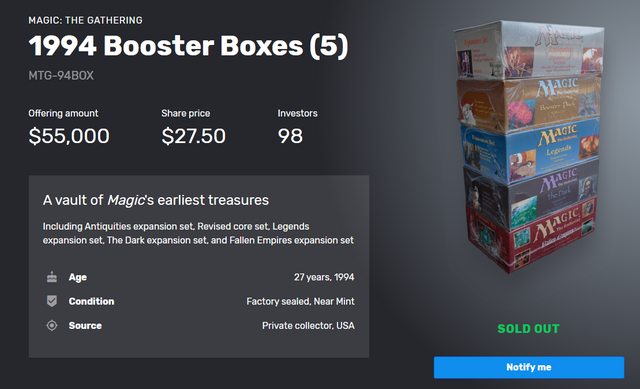 They offered to send whoever bought at least 5 or more "shares" a special collectors pin (which I haven't gotten just yet), along with official certificates that will finalize the investment. If you bought 20, they'd also send you a "binder" that you could use to stash all of your collectible pins. Neat gimmick IMO.

So of course, I pulled the trigger on 5 shares - I mean c'mon, how freaking cool is that!
They shared a chart with historical data about the boosters and their value over the years: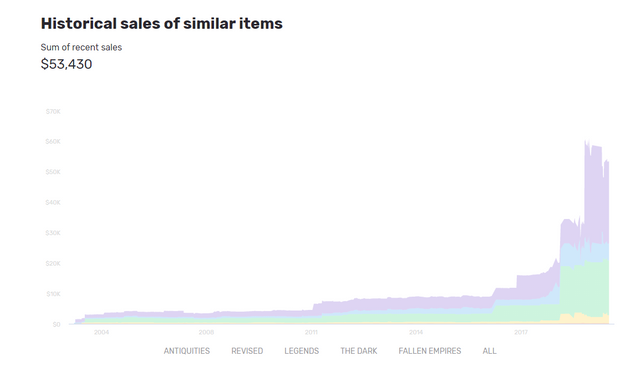 What really lured me in, though, was seeing their very first offering on the site ever: An ALPHA Black Lotus for $90,000. I would've jumped on this in a heartbeat had I known - this card will only continue to skyrocket in value over time.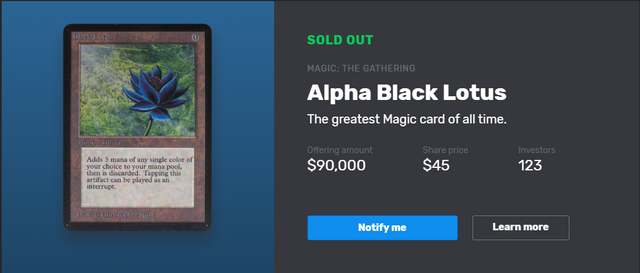 Currently, they have some other stuff up available for investment - personally, I'm holding off for another great find (Like an Alpha Lotus), but I really enjoy the idea of having an alternative market/avenue to invest, especially in things that have personal meaning/history to me. Magic was a part of my life for years - it only felt right to own a little piece of it again.
If you want to check out Mythic Markets for yourself, please consider signing up with my referral link: it costs you nothing but helps get me a little closer to a free T-Shirt / Hat (I love free swag!) I only need like 3 or 4 more people to join :)