In June 2011, the UN issued a statement listing "Internet Access" as a Humanity right.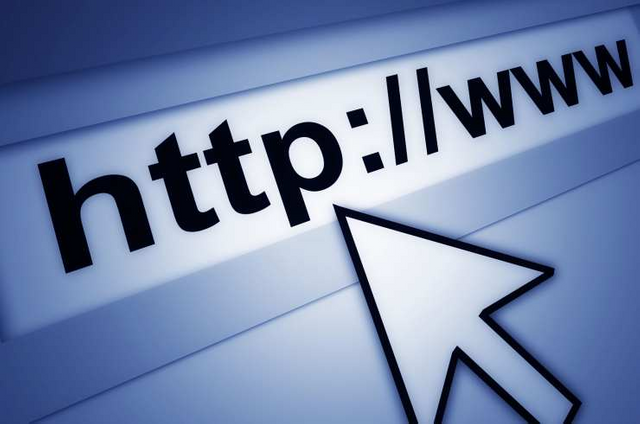 The United Nations will condemn countries that filter or block content on the Internet, as this would prevent individuals from exercising their right to express their opinions and express (and in many cases, dissent) by using the Internet as a tool that promotes social progress.
"Ensuring universal internet access must be a priority for everyone..." said UN rapporteur Frank La Rue in a public statement.

You may already know NetBlocks. This is a civil association in charge of monitoring internet access activity in the world.
NetBlocks is a civil society group that works at the intersection of digital rights, cybersecurity and internet governance. Independent and nonpartisan, NetBlocks strives for an open and inclusive digital future for all.
Let's see this Tweet from the official Netblocks account dated 11-23-2019: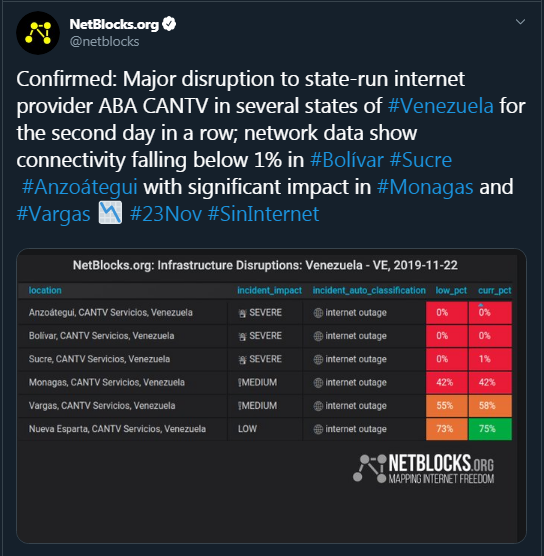 (https://twitter.com/netblocks/status/1198269535016628226?s=20)
CANTV, "Compañía Anónima Nacional Teléfonos de Venezuela" (Acronym in Spanish): As the name implies, this is the Venezuelan national agency responsible for managing all public telephone service, both residential and mobile landlines. ABA is the Internet access service provided by CANTV.
These service interruptions in Venezuela no longer surprise anyone. Sadly, Venezuelans have become accustomed to lacking access to the Internet in random periods, without prior notice.
To this we must add the interruptions in the Electric Energy service.
As we can see in the image, this time the interruption affected 6 states. This went on for more than 20 hours.

Do these Internet service interruptions also occur in your country?
How would you feel and what actions would you take if you were a victim of these negligent acts?

---
---
Partners supporting my work:

Project Hope Venezuela is an initiative created to grow.
You See more about it at:
@project.hope - PROJECT #HOPE - PASSIVE INCOME
Please Visit Our Website

Join Our Telegram Channel

Join Our Discord Channel

---
Opinión sobre Tecnología, Finanzas y Emprendimiento.
Venezuela, Colombia y Latinoamérica
Cripto en Español
---
You can also benefit from the experience of using the Brave browser.
Here I leave my personal link so you can download it: https://brave.com/jua900
Check out the full list of features here: https://brave.com/features/
FAQ: https://basicattentiontoken.org/faq/#meaning