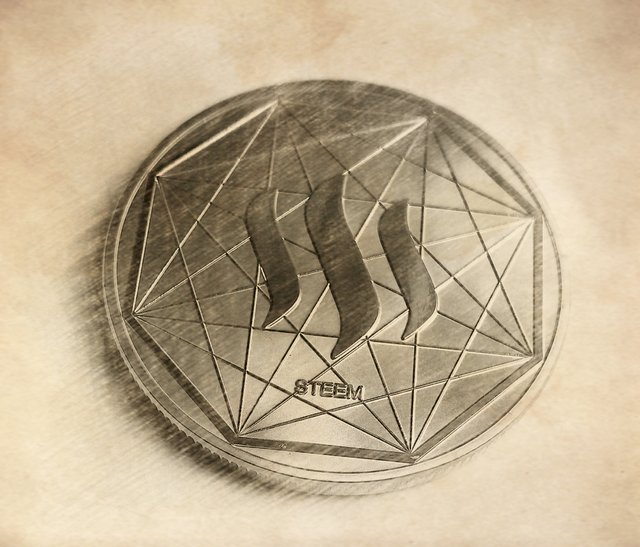 Hi, I'm on vacations but I make a quick post to explain something many people don't seem to understand. The question is simple, where is sooo much money on the trending page going to? Are bidbot users very rich? See my example. See the content of my "pocket".
The real numbers
On a list made by @whatsup I'm on place 7 with 1186 STU (SBD?) rewards in one month. Where was all this amount gone? Let's suppose all is from bots and vote-buying. (In reality, there are also organic votes, but I make it simple for you.)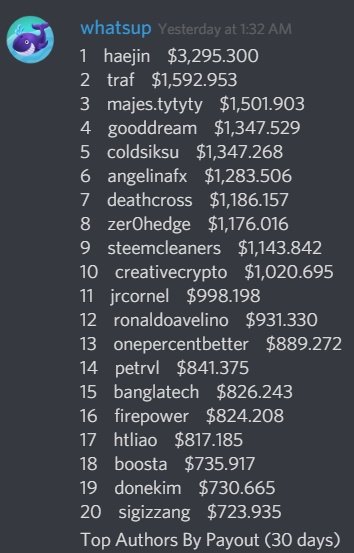 Approximately 25 percent gone to curators. There are also some greater bots but most of them are small Steemians. You see this on the number of voters, mostly many hundreds, also between 1000 and 2000 sometimes. Bidbots are also accepting delegations from many people. We can say, simplified, this money goes all to other Steemians.
To buy votes for 1186 STU, you pay approximately, by my rough estimate 1186/1.45=818 SBD. (Worst case scenario, see later.) Most of this also goes to vote-sellers and Steem Power-delegators, with one word: Other Steemians. You can hate me if you want but "The Biggest Beneficiaries Of All Times" are the vote-sellers and the delegators. Profiting without working.
Some percent, I don't know exactly how much, goes to voting service organizers and bidbot-owners. I suppose they only earn 1-2 percent of the votes, but I'm not sure. Let this be part of the 818 SBD mentioned above.
Some percent goes to Steem dApps "benefactors". I'm a fan of dPolls and in last weeks, also SteemPeak. I supported dPoll with daily polls (before vacations) and also with upvotes. Knowing they have a relatively high benefactor reward of 5+5=10 percent. For Steempeak I donated only one percent at the beginning, planning to lift it later.
Difficult to calculate how much I donated to these services, I assume 45 STU. Maybe 5-10 dollars less. (DPoll has nothing to do with all this, it was completely my own decision.)
Worst-case scenario:
So the calculation is:
+1186
– 297 (Steemians, 25% curation reward)
– 818 (Steemians, price of vote selling-delegations + service providers)
– 45 (dApp benefactors)
= 26 SBD (or STU, I never know really).
I counted 40 posts between 7/27/2019 and 8/27/2019, that is far less than normal, but it was summertime and HF21-time. (SBD 29.65 per post.) By this calculation, I earned 26/40=0.26. But I told you, it was the worst-case scenario, and maybe I'm wrong with the price of the upvotes. By another scenario, the "ROI" (return on investment) is higher, maybe near 15 percent, so I divide the total upvotes by 1.5 (not 1.45):
Best-case scenario
+1186
– 297 (Steemians, curation reward)
– 791 (Steemians, vote selling-delegating price + service providers)
– 45 (dApp benefactors)
= 53 SBD (or STU, I never know really).
53/40=1.325 SBD per post. If you take into account that I slowed down in the last week and bought fewer votes, maybe it would also reach 2-3 SBD/per post in other circumstances. What a horn of plenty (cornucopia). I make simple polls, complicated polls and longer analysis with many charts or tables. See below, my "Series Steem-Engine tokens reports", for example.
My pockets
If you want to see in my pockets: I don't have 10,000 Steem power because of the bidbots. I have it because I invested at least 4000 USD. Worth the half today, of course. It is transparent, make a query from the blockchain. (And 40, or 60 posts, not-shitposts mean, I worked a lot. But I know nobody cares about this.)
I'm not completely agreed with @katharsisdrill and his downvoting service but it is almost reasonable and calm, decent, so I cite it:
Remember that it should only be used when people are buying votes from bidbots, and please be fair and respectful. The Bidbottophant is not meant for flag wars, harassing and the like. People who use bidbots are not bad people. Bidbots are just bad for Steemit is all.
Make rules, not war
I think newcomers have two choices here: Stay "organic", and don't use bit bots, but then, stay 1-3 years invisible. Or use them. I selected the second option. Some bloody-eyed, downvote-hungry people are talking about crime and police. But they forget that bidbots aren't a crime and they aren't the police.
Don't make anarchy and war, give me the clear rules and I adapt. If I can't earn here, not even something symbolic, like before, maybe I'll go to another site and use my Steem blog only as a secondary placement. It is not the strongest, and especially not the loudest, who are survivors of the world today, but the one who is thinking and adapting.
xxxxxxxxxxxxxxxxxxxxxxxxxxxxxxxx
Original post:
This post intends to be a catalogue of my posts. It will be actualized in the future. – Este post tiene la intención de ofrecer un catálogo de mis artículos anteriores. Será actualizado en en futuro.
Series Steem-Engine tokens reports
11. Token Price History Is Finally Here!
10. A Quick Time Travel
9. More Tribes, More Tokens, Lower Prices
8. Light At The End Of The Tunnel?
7. Are Tokens Underperforming? Introducing The SETX Index
6. Losses, Losses, And More Losses
5. How To Be Rich, Quickly!
4. A Costly Hobby For Rich People?
3. Which Was The Most Traded Coin?
2. Which Token Fell 80 Percent In A Single Day?
1. Do You Still Believe In Your Tokens?
The series "Chart Of The Day"
The last ones:
Older ones:
Introcuction – Introducción:
What Am I Doing Here? – ¿Qué estoy haciendo aquí?
Older posts – My themes – Mis temas
Cryptocurrency investments – Inversiones en criptomonedas
And The Real Steem Inflation Rate In The Last 365 Days Was…
More Coins In The Crypto Crypt – I Invite You To A Time Travel
Steem vs. Dogecoin – Is It Possible To Kill A Cryptocurrency?
Why you should never gamble – and how you still can
All about Steem, Steemit – Todo sobre Steem, Steemit
How To Calculate Your Own Steem Wealth?
Does Steem inflation push the price down?
How Could We Enjoy More Readability On Steemit?
Do you know how much you pay using Steem dApps?
How to monetize Steem Power
How much should good bloggers earn?
How The Ancient Vote Selling Worked
Lifehacking, learning, languages – Lifehacking, aprendizaje, idiomas
Why I Love Tomatoes And Hate Eisenhower?
Lifehacking: Extending The ABC Method
Why Do We Need Life Hacking?
Don't Make This Error, Save Your Data
My posts about Trello and productivity tools:
How Can Trello Help You With Steemit And Blogging?
8 Handy Trello Tips For Bloggers
4 Large And Some Small Disadvantages Of Trello
My posts about blogging and writing:
1. Do You Want To Be A Brilliant Blogger or Journalist?
2. The Sexual Life Of The Wandering Ants
3. The Attack Of The Lesbian Nazi Zombie Vampires
4. The Sexual Life Of The Wandering Ants
5. Hack Your Profession With Blogging, Or Hack Your Blog With Your Profession
Making polls, asking questions – Haciendo encuestas, haciendo preguntas
My last polls – Mis últimas encuestas
High risk traditional investments – Inversiones tradicionales de alto riesgo
Tales Of Wheat, Corn, Golden Cross And Deathcross
Carmageddon Or Tesla Miracle?
Coffee, Sweet Coffee, Make Me Rich
History and society – Historia y sociedad
Why Did Socialism Fail. Everywhere., ¿Por qué fracasó el socialismo en todas partes?
Are you on the back of this elephant?
Travel photography – Fotografía de viajes
Slow down, tourist – Three Kings instead of Santa
How To Be A Winter Tourist – Especially Where You Shouldn't (More links at the end of this post.)
Object photography, mostly cryptocurrency commemorative coins – Fotografía de objetos, en su mayoría monedas conmemorativas de criptomonedas
Pictures Of Steem And Its Competitors (More links at the end of this post.)
5+1 words in English every day (learning series, closed) – 5 + 1 palabras en inglés todos los días (serie de aprendizaje, cerrado)
Introduction, Final post, Index of "5 + 1 Words In English" – Índice de la serie "5 + 1 palabras en inglés"
Economy (educational) – Economía (educacional)
Secrets About Inflation Everyone Should Know
---
(Cover Photo: own work)