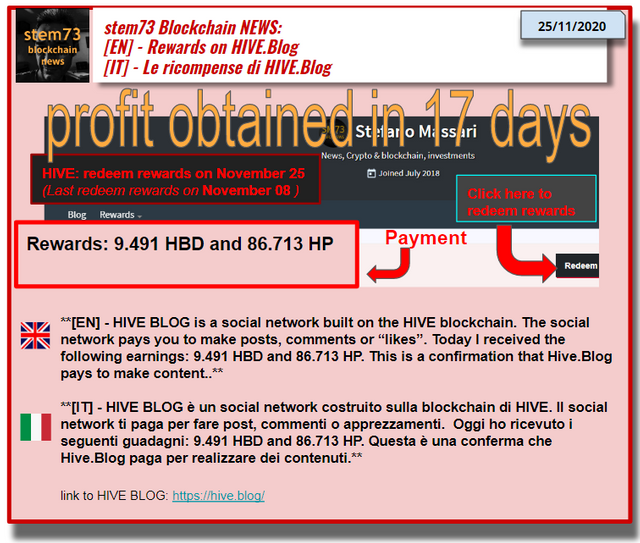 [EN] - HIVE BLOG is a social network built on the HIVE blockchain. The social network pays you to make posts, comments or "likes". Today I received the following earnings: 9.491 HBD and 86.713 HP. This is a confirmation that Hive.Blog pays to make content..
[IT] - HIVE BLOG è un social network costruito sulla blockchain di HIVE. Il social network ti paga per fare post, commenti o apprezzamenti. Oggi ho ricevuto i seguenti guadagni: 9.491 HBD and 86.713 HP. Questa è una conferma che Hive.Blog paga per realizzare dei contenuti.
link to HIVE BLOG: https://hive.blog/
[EN] - My opinion
In my opinion HIVE is today the most complete blockchain platform dedicated to Social Media. It has some good apps for blogging, some good apps for sharing videos and it also has several interesting games running on them.
[IT] - Considerazioni personali
Secondo me HIVE ad oggi è la più completa piattaforma blockchain dedicata ai Social Media. Ha delle buone applicazioni per il blogging, delle buone applicazioni per condividere video ed ha anche diversi giochi interessanti che girano su du esse.