Hey Jessavers
We're living in interesting times, the great nap has come to an end and the idea of saving in your local currency and taking out debt to live is no longer going to be the order of the day. We're going to have to rethink a lot of the ways we do things and one of them is challenging old cliches.
I'm sure you've heard the saying
Cash is King
It's been around for ages in pop culture and media and is a saying that has gone unchallenged until now. In more developed nations it hasn't been questioned but I think the fact that I live in a country with a highly mismanaged economy has given me a healthy scepticism of cash and local currency.
The fact is with all this quantitative easing and government relief programs pumping debt-based cash into the system, cash is no longer king. The lockdown and the monetary policies supporting it will drive deflation in certain markets and inflation in other markets and if you're not on the right side of those changes you will be hurt financially.
I've personally kept a large chunk of my net worth in cash as I look for opportunities to speculate, I know not all of us want to do this but if you don't speculate, someone will speculate for you.
Keeping all your money in cash, means you're interesting your wealth in the monetary policy of your government, do you really think that's a good idea?
Cash is an asset class
Cash is just another form of storing wealth and since its the most liquid its the most subject to debasement which is why you need to look at other forms of wealth storage. This could be bonds, stocks, real estate, precious metals, cryptocurrency, pension funds, money markets, other fiat currency, ETFs and more.
They all have their pros and cons and you'll have to research each one to see what kind of risk you want to take and what kind of returns you feel you need from your wealth.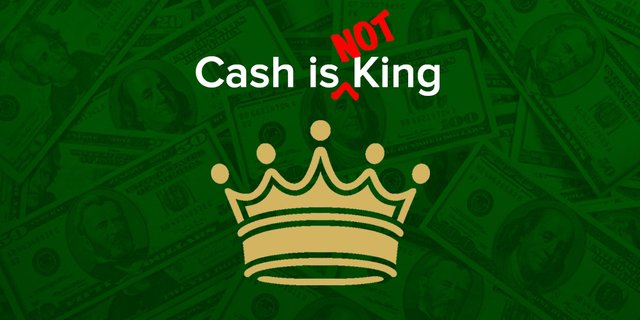 Image source: - landlordology.com
When is cash king?
Cash is king when it comes to living expenses and I encourage everyone to have a few months of cash to cover basic expenses and anything that you may need quick cash for, this could be 3 months or more, it really is up to how comfortable you feel, how much risk you want to take and how your finances are looking.
Most retailers will accept cash so in this regard it is king, other than that, I would cash out and cash up!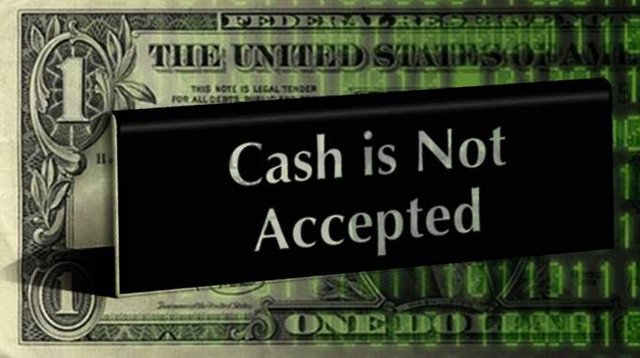 Image source: - consciouslifenews.com
Safeguarding counterparty risk
Even if you don't want to be an investor I think its always good to own different forms of money. I own US Dollars, Euros and cryptocurrency in case my local currency goes bust.
I also own some stable coins because it provides me with the ability to get forex exposure but also get favourable interest rates from custodial services.
I know custodial services are risky, I know holding foreign currency is risky, but I know that only holding Sout African Rands is FAR riskier.
Cash is not the enemy, governments abuse of it is, we shouldn't blame the tool for the misuse by the powers that be, cash has brought us great prosperity and if it was managed properly it could have brought along even more prosperity.
However, now that we do have an exit, we may see cash collapse to be reborn into something else, who knows? For now, we still have to deal with filthy fiat as you Bitcoin maximalists like to call it.
Have your say
What do you good people of HIVE think? Is Cash still king to you? Are you spreading your risk?
So have at it my Jessies! If you don't have something to comment, comment "I am a Jessie."
Let's connect
If you liked this post sprinkle it with an upvote or esteem and if you don't already, consider following me @chekohler and subscribe to my fanbase
| Browse & Earn Crypto | Donate LikeCoin For Free | Earn Interest On Crypto |
| --- | --- | --- |
| | | |
---