I was checking out @steevc HIVE page earlier and found a post of his guitar collection. It reminded me to get working on a cigar box build I started a couple months back. I ordered the parts , mostly from China right before the pandemic hit. I order a lot of stuff from Ali Express because I don't mind waiting and if you take your time and research what your buying you can generally find some top notch kit for pennies on the dollar.
TOTALLY BACKFIRED ON ME THIS TIME! I researched everything and placed my order within a few days of the start of the pandemic panic. The Chinese were all starting to get really freaked out and we were just getting the news that drastic measures might be taken here too in the U.S.
A few weeks went by and a couple sellers contacted me and told me the orders would be filled but please be patient as they went into the lockdown.
Fair enough I wasn't in a rush anyway. I literally got the last of the parts I ordered a few weeks back. By that time I had completely lost interest in the project, and was still waiting on some humbucker pickups I ordered from a Russian supplier. I checked on the status of those and discovered the seller cancelled the order. I'm guessing the price was a typo because the pickups were fantastic and only like $9.00 FOR THE SET!
So I have everything to start the project with the exception of some pickups, wiring, and the patch cord plug. Frankly, there should be enough here to start the project while I find some inexpensive pickups for it. Worst case scenario, I have an acoustic cigar box for a bit until I find the perfect pickups.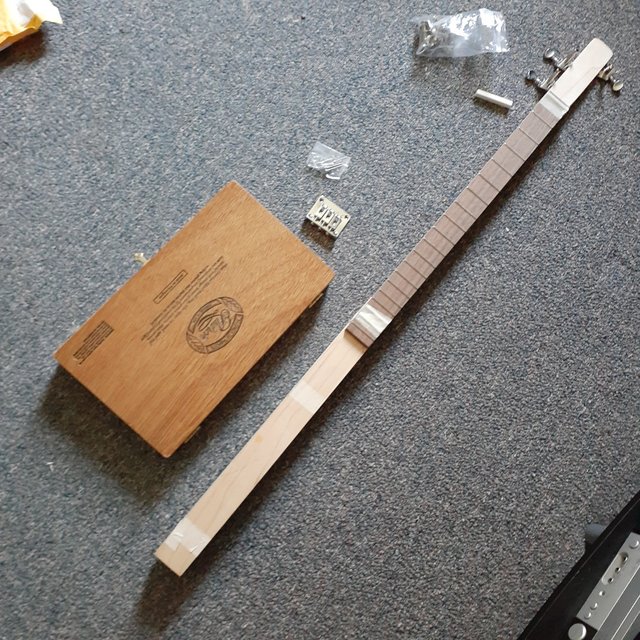 Considering this is my first ever build from almost scratch, I'll probably screw up a couple times and make several changes as I go.
This was the first kit I bought, and what got me back into playing guitar after a 20 year break. That and the fact that there was a pandemic and nobody really knew how long we'd be in lockdown. Figured I better take up some hobbies and quick! This kit was really simple to put together. You pretty much just threw some strings on it, placed the bolt in the neck for the nut (that's the bar going across the top of the neck just below the tuning pegs.) place the other nut for a bridge and string it up. Easy peasy and best $20 I ever spent on Amazon! I had played this for couple months and realized playing slide didn't bother my arthritis at all. Wish I would of figured that out 15 or 20 years ago when I stopped playing. Unfortunately, regular guitar playing still agrivates it, but the pain is worth the enjoyment I get. I just can't play all day anymore.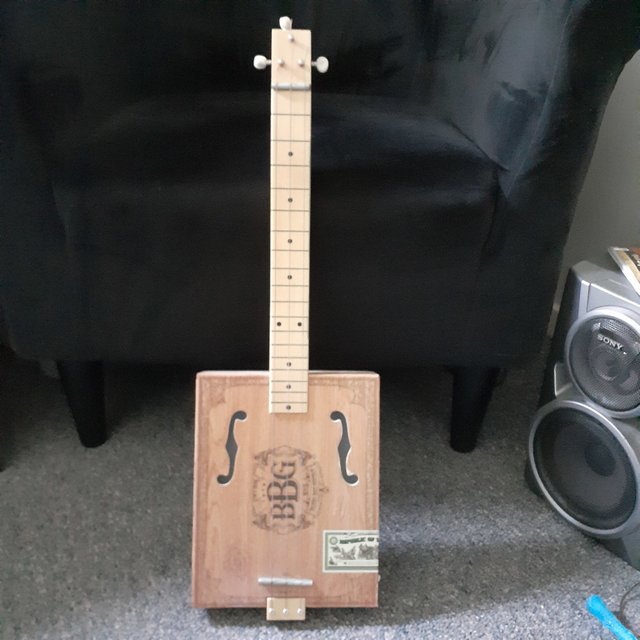 I went with a vintage Padron cigar box because I heard they were really easy to work with it. I'm still debating how I want to do the bridge. For now I've got a 3 string bridge that I'm planning on using. Bridge placement decides how the guitar will sound and stay in tune. Or at least plays a big factor in that.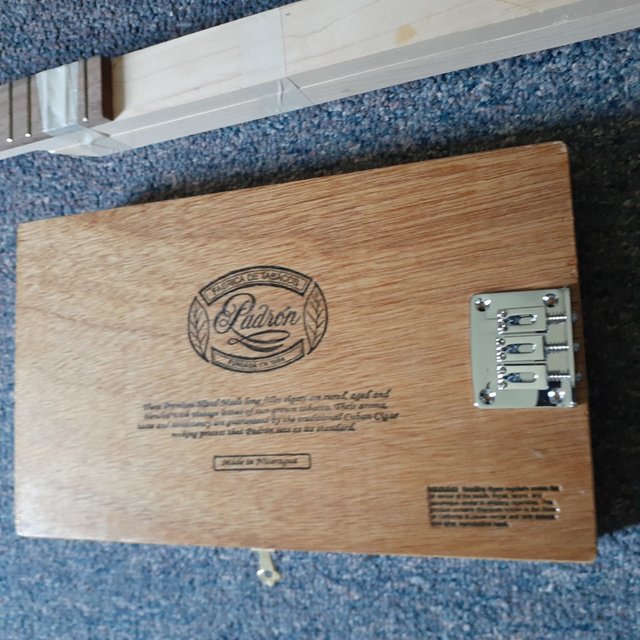 Here are the tuning pegs. The white thing that looks like chalk is actually a really nice bone nut. I have to shape it myself. Bone nuts are usually really expensive and I found that super cheap. For now I'll probably stick with the bolt that is taped already to the top of the neck. I'll show that more in my next post after I start the build.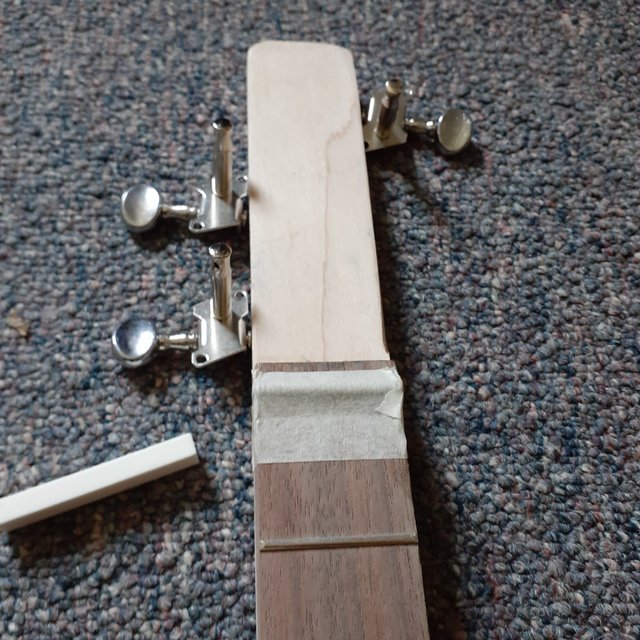 I considered building my own neck, but I've never done fretwork before. I found this neck and it looked great, price was right so I went for it.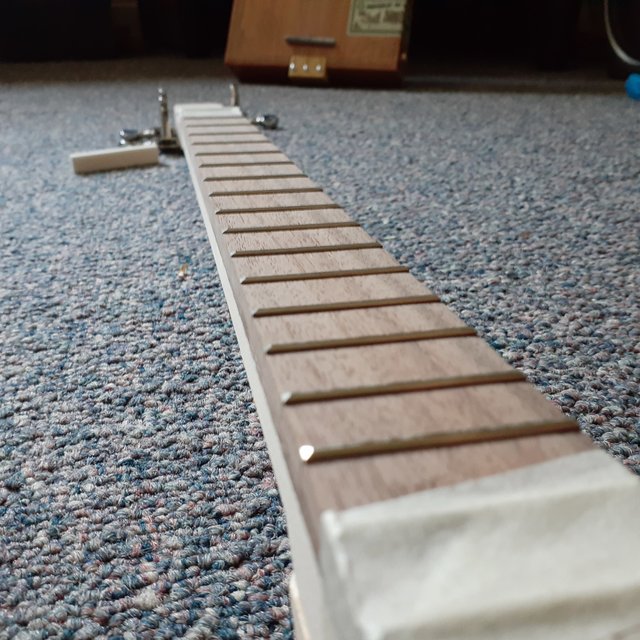 I found the neck on Ebay and heard other players on YouTube have had great luck with this brand. It was only $19 and seemed practical for my first attempt at making a cigar box guitar. If this build works out, I may try another and build my own neck. I'm currently limited with my woodworking tools though which was another reason I decided to order one pre-made.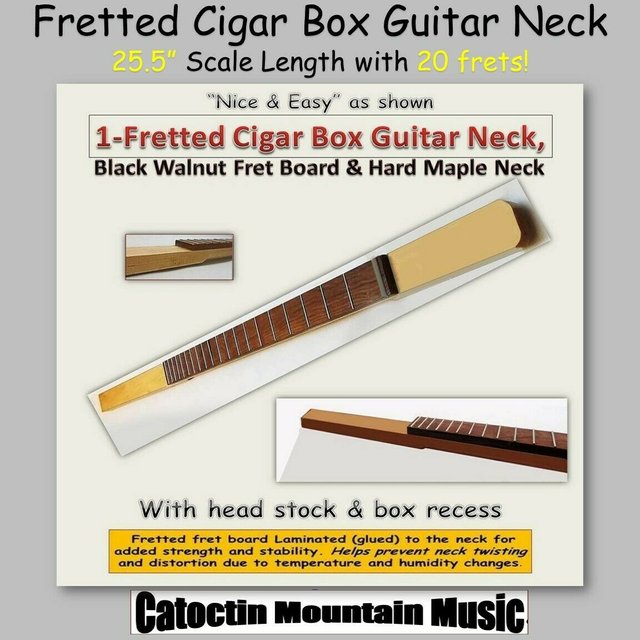 For now I've been storing all the parts in the cigar box. That's Buddy my cat investigating, he's always a curious little guy.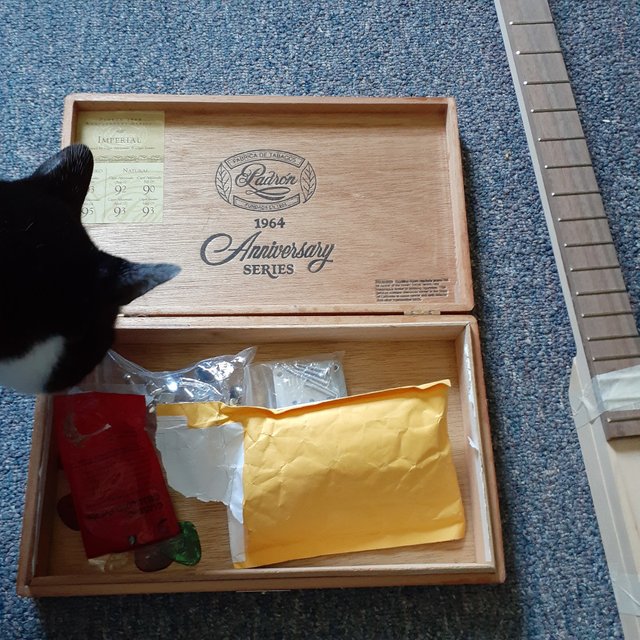 This is my current collection of guitars and 1 ukulele. The acoustic is a Jasmine. I ordered that right after I discovered it was going to be months before I received my cigar box parts. For the most part I'm incredibly happy with it.
The ukulele is a BWS and I absolutely love the way it plays. Great little ukulele if you can find one. I rarely play it though.
The electric is a Squire Strat from early 80's. It's made in Japan under the Fender name. I'm told they're actually collectible. I got it for my 12th birthday and played all the time into my early 20's then lost interest but still picked it up from time to time. I started playing again in my late 20s and stopped in my early 30s due to arthritis in my hand. It needs a little work, and after the cigar box build I'm going to rewire it. It plays fine but the toggle switch breaks up. I seen a couple tutorials, should be easy enough to fix. I currently use it to play slide, (poorly I might add) 😆
Next to the Strat is the BBG or Blues Box Guitar kit. It's fretless and lot of fun to play. Again, I play slide on it, and haven't played it much since the acoustic arrived. I play that poorly as well.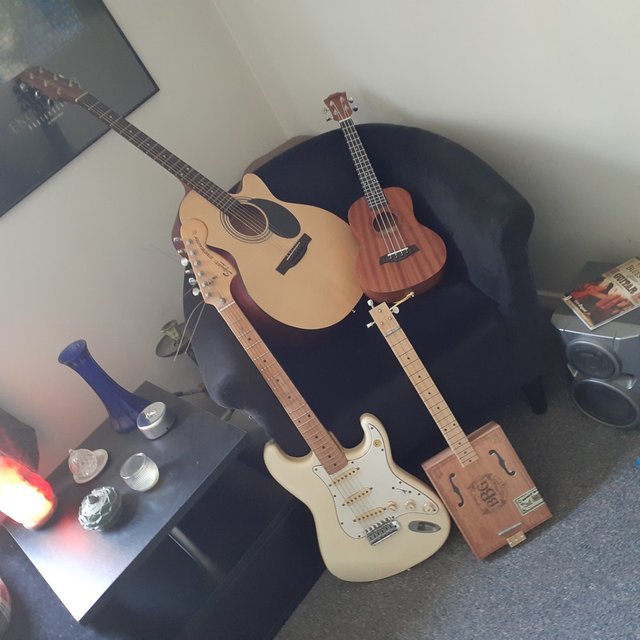 After a 20 year break, I'm slowly getting some of my skill back. I have such a long way to go. I stopped playing because of arthritis in my hands, and as long as I don't overdue it I've been able to keep it in check. Sometimes I need to take a break for a day, but for the most part I manage to practice daily.
Pretty soon I'll man up and post some stuff to 3speak I just haven't played anything really share worthy in my opinion yet.
I'll post an update to the cigar build next month. I'm hoping I'll have a working CBG (cigar box guitar) by December to add to my collection. I'll definitely post a video of that when it's done!
Here's a couple videos I found of people playing cigar box guitars. I always try 3speak first and found this guy playing some awesome sitar style playing. I absolutely love this!
https://3speak.co/watch?v=sketch.and.jam/kolblfbs
This next video is a tutorial from one of my favorite guitar players on YouTube. This is the style I'm currently trying to play on all my guitars.
Well that's it for now! Rock on HIVE community!