What is Coronavirus?
We have all heard the story. WHO is ringing alarm bells, people are getting quarantined but there isn't enough panic yet. For understanding what the virus, here is WHO. I am no expert on viruses so reading the above should give anyone a fair understanding of what it is.
Why does it matter?
From the point of view of how scary is the virus, this chart is interesting -


Image source
In fact, the Image source also shows some other interesting stats. Since the virus was identified, there have been around 1,100 plus deaths and around 44,000 plus infected. That is more than SARs.
WHO, Governments, and even Central banks have all raised alarm bells over the virus.
The country largest impacted by this is China, registering the most number of infections and deaths, followed by neighboring South Asian nations.
Why does China matter?
Due to the spread of the virus, China has taken strong action. There has been criticism about China locking down an entire city but it's China and they can do that. Flights aren't going into China, many are pulling out of Mobile World Congress, and there is panic in China as Shanghai and Beijing have turned to ghost towns.
China also happens to be a pretty big economy and consumer of base metals. It's economy is about US$12 trillion. And consumption? Have a look below -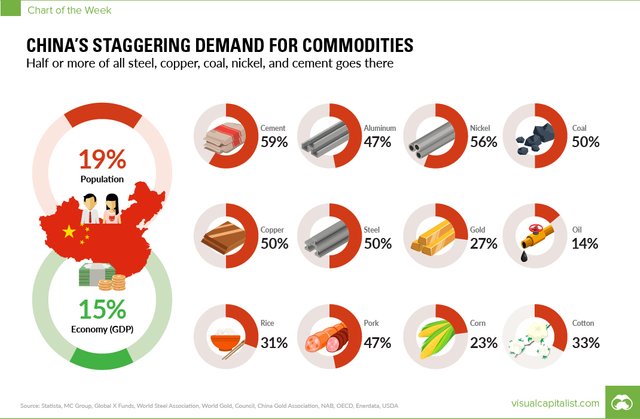 Image source
An old chart but helps paint the picture well
With China under lock-down, one can expect a gigantic supply shock, and also a demand shock. This article mentions just one story. However, think of any other industry and China will be big part of that industry's supply chain.
With all that is going on, and what I believe is a seriously serious situation, how are markets doing?
Here are a few charts -
Commodities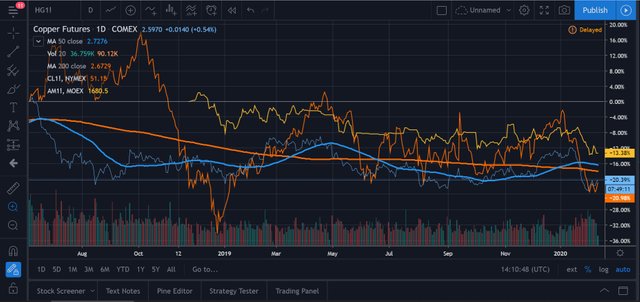 All have fallen sharply during the last few months
Precious metals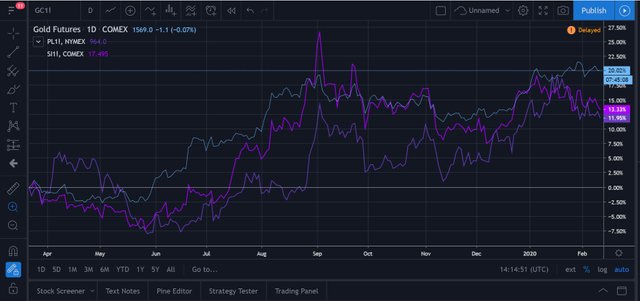 Doesn't show any safe haven demand, albeit Gold has rallied a bit after the scare. However, no as sharply as the correction witnessed in Commodities
Other Safe Haven assets - UST, JGB
US 10Y yields have fallen from ~1.9% to ~1.6%, showing increased demand for safety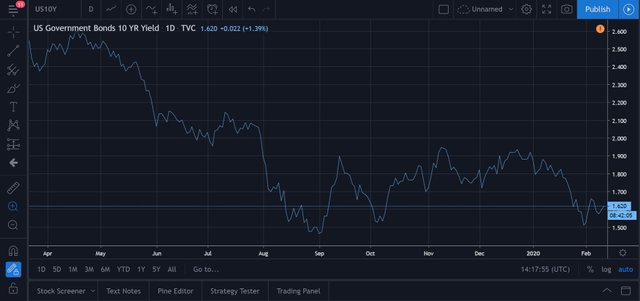 So have JP 10Y yields -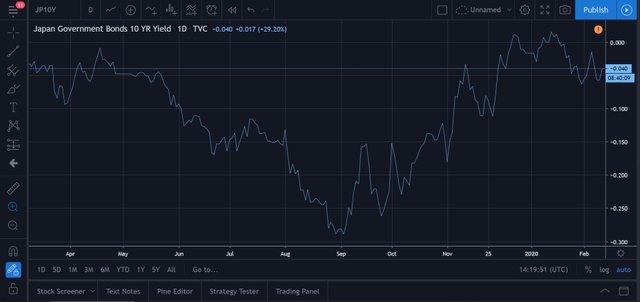 And what are Equities doing?
I do not need a chart here but SP500 is at ATH! There is enough risk-off being demonstrated by commodity and bond markets, but equities don't seem to care. It's like when a kid finds candy and eats it until he/she is sick. That is the thing with Central Bank liquidity and Equities.
I'll throw in a chart anyway. Look at S&P mini futures and the recovery in Shanghai Composite after China decided to inject liquidity -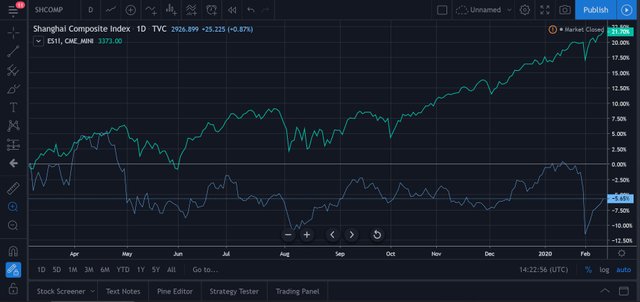 Now, Coronavirus is new. Trump did mention, what some Chinese official also said that the virus should be OK by April. We are in February. Can cities remain in lockdown for another two months? I don't know. But I think the economic impact of that is going to be massive. With no cure till now, and the virus spreading at the pace of a BTC rally, or rapidly, can the world afford an economic shock in China? This article says that Moody's and Barclays expect that global growth will take ~0.4% hit due to the virus. Look at it further, and you will see that estimates also include a 0% growth in China's GDP in March quarter. Frankly, it is impossible to assess. However, markets do not yet seem to be in panic because of this.
I think they will be in panic. For most in the financial world, this is still China's problem. When they realize it is a global problem, media will wake up and that will be followed by frenzy. Typically, risk off begins like this. Commodities - bonds - FX - then equities. Europe is already struggling. US is running a near 5% fiscal deficit when unemployment is at record lows. India is going through economic slowdown. China has been hit by Coronavirus and the impact of that hasn't been felt yet. Moreover given China's position in the global supply chain and it's position as a consumer of goods being the world's second largest economy and the most populated one, I think this rise in S&P and equities is ludicrous. One cannot short it because fighting Central Bank liquidity is impossible. However, for me, this quarter I think I will be long bonds, long duration, long precious metals, and long bitcoin.
Are you re-positioning your portfolio? Let me know in comments below
Posted via Steemleo