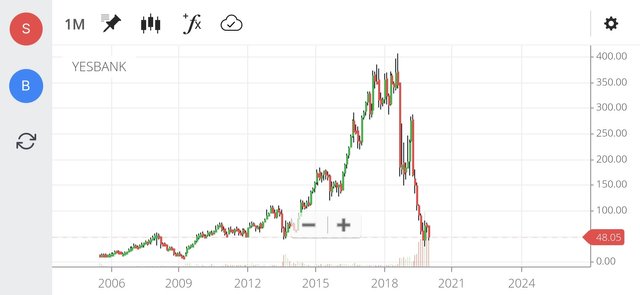 Stock Ticker: YESBANK.IN
Name: Yes Bank Ltd.
Disclosure: I own a position in the stock and my post is not a recommendation to buy or sell the stock.
Listed Companies are required to periodically file annual reports in which they talk about the company's performance during a year/quarter. The financial numbers give the investors/market an insight into the financial health of the company and also on its strategy. Marketing is what helps sell products and annual reports are what help sell a company's shares. I consider Annual Reports to also be a form of investor marketing. Therefore, it is extremely important that a company gets its communication right. If they do, the stock will either find more buyers or nothing will happen. If they get it wrong, the stock can tank disproportionately.
The reason for that can be the nature of investors in the markets - value investors, technical traders and the herd. The herd is the worst. With little fundamental or technical analysis done on their own, such class of stock buyers depend on sell-side research, word on the street and bias/gut feel to invest in a stock. They panic the most and the earliest and are often the reason for exaggerated response to a company's stock price based on news.
I want to highlight a classic case of corporate communication gone wrong. The company in question is Yes Bank Ltd. - a large private sector bank in India, that recently saw its share price drop 90% from ATH, and is desperately looking to do a capital raise. @leo.syndication recently shared a post on Yes Bank. The article is very detailed and I recommend reading it to get a full understanding on what has happened to Yes Bank during the last one year and it's share price.
For the purpose this article, let me share a few exhibits first (all exhibits are taken from bseindia.com)
Exhibit 1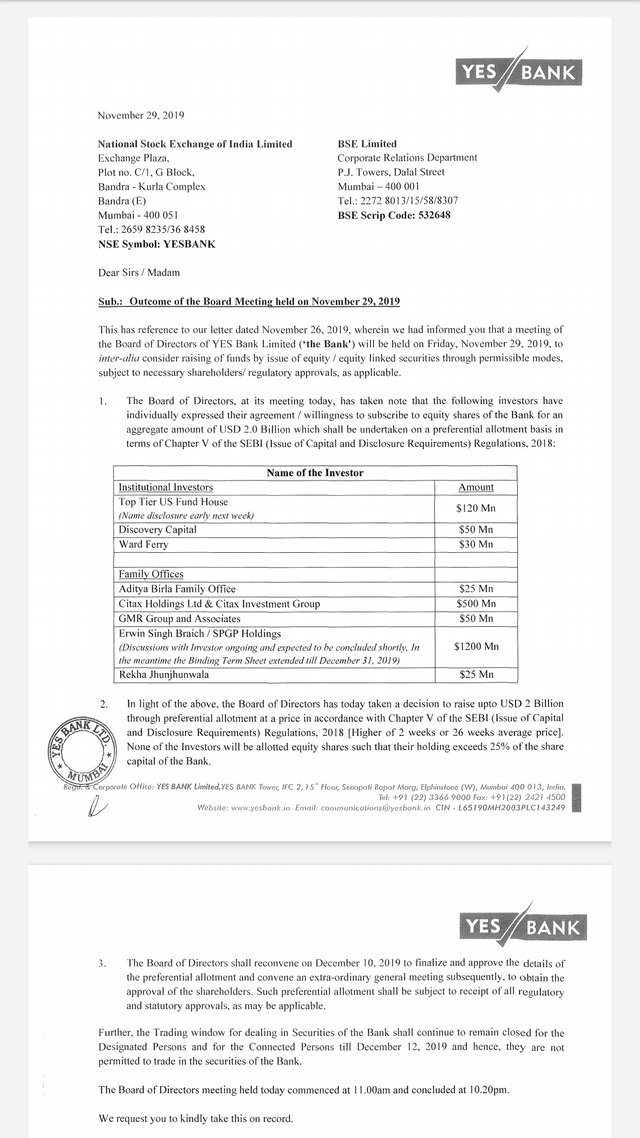 Exhibit 2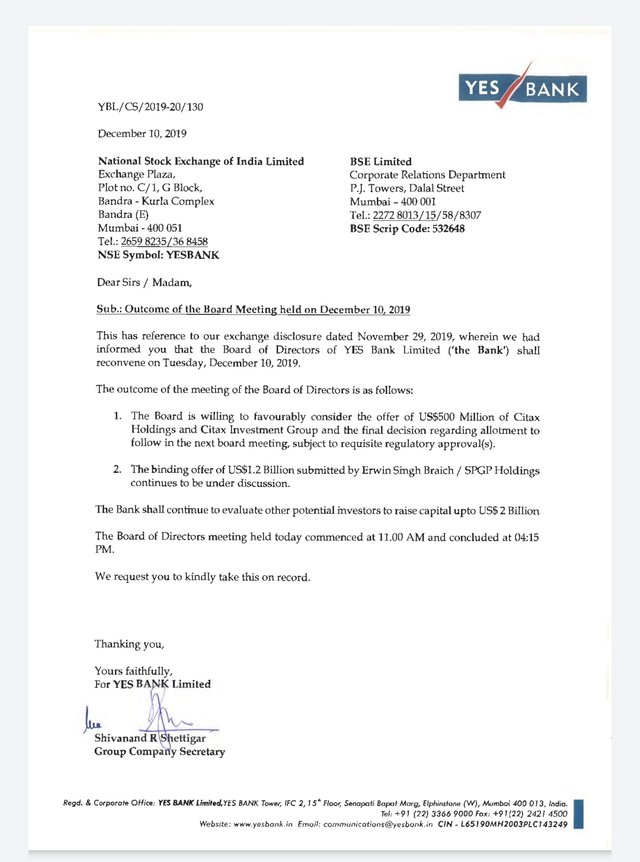 The first exhibit is the first communication that came out of Yes Bank following its much anticipated board meet to decide on capital raise. In it, the Bank mentioned the names of investors, and the potential amount they were looking to invest. Interestingly, they also mentioned that a final decision will be announced on Dec 10, 2019. The meeting last nearly 12 hours during which the company also decided to increase the target fund raise from $1.2 billion to $2.0 billion.
All good with Exhibit 1? Let's look at it in a bit more in detail. I'm sure all of you have been in meetings. Now meetings are generally useless but if a meeting lasts for 12 hours, then investors would expect the board to discuss more than names, amount that each investor is willing to invest, and that the company is willing to raise as much money as the expressions of interest it has received. This came out on a Friday, and Yes Bank had been under immense market scrutiny following the departure of a high profile founder, questions on asset quality and rating downgrades. The very next day investors began to do research on Erwin Singh Braich/SPGP and Citax - 85% of total expressions received. Little was to be found and the the stock tanked from ~INR 70 to ~INR 55 till the next board meeting.
Multiple reports kept coming on media outlets about the quality of investors highlighted by the bank. Brokerages wrote off the list of investors saying they will not get central bank approval. Before Dec 10, media also got hold of Erwin Singh Braich. The article below is an interview from him, and he sounds plain ridiculous.
This guys doesn't look like he has $1,200, forget $1.2 billion -


(Image source: WhatsApp)
Some of the commentary shared with me on WhatsApp is below -
While the USD 180m is from well regarded investors, we believe the two largest bidders SPGP and Citax may not pass the fit and proper requirement of RBI.
SPGP is an HK based fund that could not pay up earnest money in the Reid and Taylor bid under NCLT. Erwin Singh Braich backing SPGP has been involved in a few law suits, one against the Canadian government.
On the earnings call mgmt had indicated that private equity investors had shown interest in putting capital into YES Bank. Media reports carried the names of PEs like Carlyle and investors like Munjals, Vikram Pandit and Hemendra Kothari. Against these high expectations, the list of potential investors does not carry any of these names which is disappointing.
It should be evident to the board of a bank that was once valued at $10 billion that releasing a shoddy unknown list of investors is retarted as hell. My assumption was that in 11 hours of discussion, the board would have satisfied itself on the investor due diligence done by the bank, and then decided to release the names. But no, because that's what makes Exhibit 2 look even more stupid.
The media before the board meeting already stated that the board will reject Erwin Singh Braich's offer. Guess what? As shown in Exhibit 2, the bank's board, after meeting for 05 hours, kept the largest offer of investment on hold and decided to "favourably" consider expression of interest from Citax. What that means, only the board knows. No decision was taken, as claimed in the first meeting as per Exhibit 1 and they just decided to put things on hold till the next meeting, date not communicated. How could a board release an investor list without seeking some comfort from central bank, and did they not understand the impact of such poor communication on the share price? The stock fell from ~INR 55 to ~INR 40 post this communication.
The point that I'm trying to make, was also well understood by the CEO later and I'll end my post with a pic of that -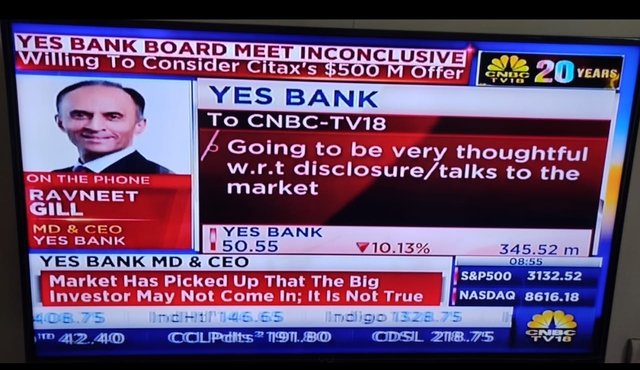 ---
Posted via Steemleo | A Decentralized Community for Investors