I do not get time to write as much as I would want to, but sometimes, a topic is so interesting that I have to make time and share my thoughts. Something really interesting is happening in Indian Financial markets right now and I have to write about it because I feel the government, the central bank and everyone else wants the public to lap up some BS and whatever is happening makes no goddamn bloody sense! I understand most readers on steemleo are not from India but I saw @culgin tweet about it and I am sure many from Indian crypto community have compared YES.B stock to a shitcoin, so I am sure this may be of interest to a few. So here goes.
People forced to queue up outside Yes Bank branches and some even crying on camera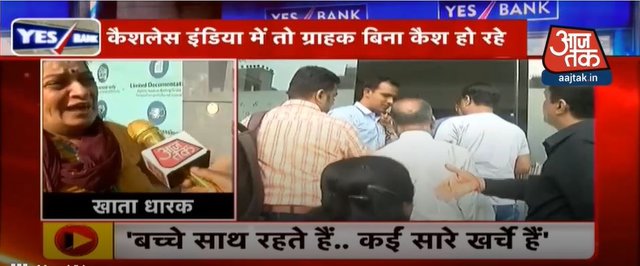 Image Source
Yes Bank is the fourth largest private sector bank in India in terms of total assets. In fact India has way to many banks (40 in total) - In terms of total asset size, public sector banks such as SBI, PNB and BoB are giants, whereas private sector banks HDFCB, ICICI and Kotak are market cap leaders. Yes Bank comes behind HDFCB, ICICI and Axis Bank in terms of Asset size and well market cap wise, the bank is nowhere because in the last one year, the stock has lost more than 90% of its value.
Top public sector banks by Total Assets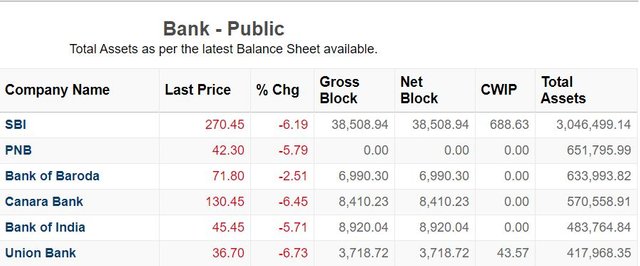 Top private sector banks by Total Assets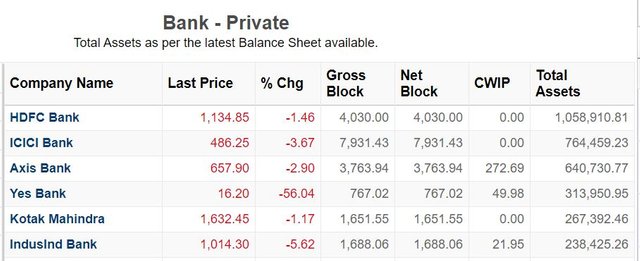 Top public sector banks by Market Cap

Top private sector banks by Market Cap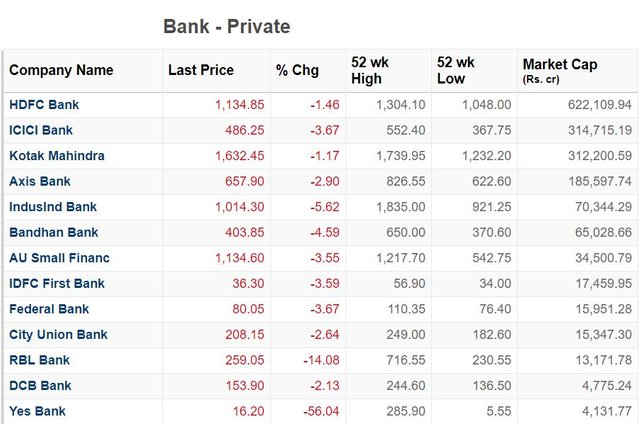 Image source for all 4 tables
Here is a weekly chart of Yes Bank's share price -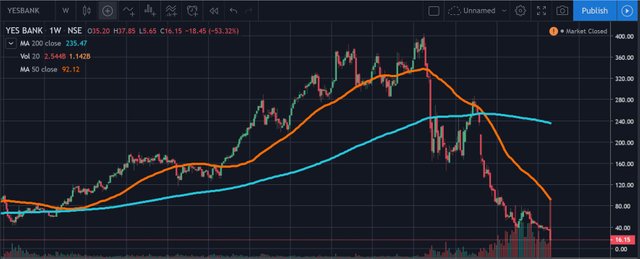 Image source
A bit of history for those who do not know the bank well - What led to the downfall of Yes Bank. If I write about the history, then this lengthy article will get even more lengthy. However, to cut the story short, the bank had been in dire need of capital and had been knocking on doors of domestic and international investors off late. Most recently it appointed Cantor Fitzgerald to find international PE players. On the business side of things, the bank was doing fine. Yes it was capital constrained to expand its loan book, but it had enough capital and was accruing capital to sustain and make provisions for bad loans in its book. There was no fear amongst depositors to withdraw their money from Yes Bank after a sharp fall in price. In fact retail ownership of Yes Bank shares hit a record ~62% as per the latest shareholding report publishes by the bank. Retail Depositors in fact were happy with the attractive savings rates given by the bank, as evidenced by strong growth in retail deposits.
On the night of Thursday, 05 March, something unexpected happened. News broke out that RBI was placing the bank under moratorium and was limiting withdrawals for all individual saving and business current accounts to INR 50k for a month. INR 50k (~ US$672) may be a reasonable sum of money for retail depositors but for Business accounts, that is a fucking nightmare! Also, the news of placing a bank that hasn't seen a run on itself, and hasn't been cut-off from banks seems too drastic a step. The shockwaves that spread through the market and public was huge. The very next morning, people started queuing up outside branches to withdraw money as it felt the bank went under. By evening that day, after market closed, the central bank of India, Reserve Bank of India (RBI), came with a clear restructuring plan to save the bank. India's largest bank by total assets, State Bank of India (SBI), was part of the plan to rescue Yes Bank. Today, Rajnish Kumar also gave an interview to the media (clip below) and yesterday, the Finance Minister spoke to the media to update the markets and public (link below).
Chairman of SBI speaks to media

Finance Minister addressing media

Now, that's a summary of events that transpired since Thursday night. It seems like a bank was saved by some quick decision making by the government and Central Bank and a public sector bank also stepped in to save India's financial ecosystem. However, there is more that happened, which is now being overlooked, and because of which I smell something fishy. Here is my conspiracy theory.
Conspiracy Theory explaining what actually is going on behind the scenes
First and foremost I do not think that government stepped in quickly to do anything. I believe things have been in the works for a long time. I would like to share this news that came out 4 days ago, that unfortunately no one really seemed to pick up (I'll come back to it later). First, remember Cantor Fitzgerald? After they were appointed, or well the news of them being appointed came out, very quickly 3 US PE players were identified who had shown keen interest in buying a stake in Yes Bank. This news came out on 13 Feb, that is just 3 weeks ago! JC flowers, Tilden Park Capital and Silver Point Capital, as part of a consortium has expressed a non-binding interest in buying a stake in Yes Bank. Most banks in India trade at a premium to their book value. Yes bank is trading at 0.15 its book value. If capital is all that is needed to make the bank trade at at least its book value, then after proper due diligence and assessing the book, this should be a solid investment opportunity for any firm that specializes in Stressed Assets. It's a no-brainer for me and even after 90% erosion in stock price, any dilution of share capital, even 50%, should re-rate the stock overnight. Why, because the bank has equity to provide for all bad loans and can start lending from a clean slate to focus on growth and quality lending.
Anyway, 4 days ago, news came out (I've shared the link above), that the consortium of 3 players wants a sovereign bank to invest in Yes Bank to prevent any run on the bank. I do not know about a run on the bank. However, the part about a sovereign bank makes sense. It assures the investors that the government will not let the bank fail. And all this happened just 4 days ago! My gut feel says that these investors had already been mentioned to RBI by Yes Bank and would have approached RBI as well to get approved as per a fit and proper test, before investing in the Bank. And all the fiasco that has happened since Thursday, is buffoonery, because it was needed to let SBI invest in Yes Bank.
Yes Bank did not fail and was not going to fail. It has the capital it needed to survive. RBI had more than enough tools at it's disposal to ensure that the bank sustains - such as PCA or providing a line of credit, or ensuring depositors by simply saying that no bank in India will be allowed to fail. However, on Thursday afternoon, really dodgy piece of news started flowing in and Yes Bank shares had an intra-day jump of ~26%. After market hours, RBI placed the bank under moratorium. I mean WTF! How can a responsible Central Bank not be aware that it needs to quash any BS news that leads to a jump in the stock price of a company by 26%, specially when sources are being said to be from the Central Bank. Next day the stock tanked 56%, intraday it dropped to as low as INR 5 or 6 from a close of INR 36 the previous day. What is going on? I think insider trading by those privy to confidential information and a favour being done to those close to the government (However, this is extreme conspiracy theory, so one can ignore). Also, during the evening, no clarification came that a moratorium was necessary as per law to allow SBI to acquire a stake in Yes Bank at a price below market price. It was as if everything was being done to create panic and show that a failed bank is being rescued! Then overnight a draft reconstruction scheme also came for the bank in which shareholding of SBI, and price were all decided. Since when did governments and central banks become this quick?! In a crisis may be, but this is no crisis!
Another interesting part of the draft reconstruction is that SBI will not reduce it's stake for another 3 years such that the ownership falls below 26%. Can someone tell me why? I think this is because the 3 PE investors outlined above want that. Surety from a government owned bank because it has skin in the game. That is what this is all about.
Other political events and economic factors in the country also make it necessary for the government to show how they are ready to save financial system. The capital city recently saw the most drastic riots since 1984. The country is divided because of a contentious bill/act formed on religious lines. The economy is in really bad shape, not because of Coronavirus, but because of stupid decisions by the government. So this episode with Yes Bank is excellent to collect brownie points and have something positive to say. The media is lapping it up really well because it makes for sensational news. I think what has happened is disgraceful. Retail investors lost money on Thursday and Friday, and stood in queues on Friday and today.
As far as Yes Bank as an investment is concerned, I think it is a fucking STRONG BUY! India's government is behind it, the capital will be in place next week and with a clean book and capital to grow, the stock will re-rate sharply in one year. PLEASE DO NOT TREAT THIS AS INVESTMENT ADVICE! It is what I feel.
Do let me know what you think, I know it is a lengthy article but the whole story has got me pretty excited and I hope you feel a little bit of the same after reading this post (if you invest in Indian stock market i.e.)
I am also setting @ph-fund as a 20% beneficiary of what I earn from this post, an initiative by @project.hope. Check out the community to understand them better.
Posted via Steemleo