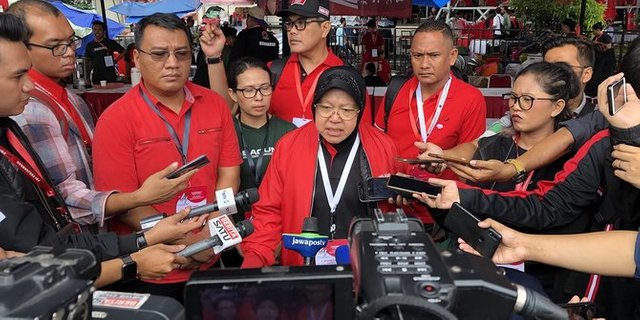 ---
Surabaya mayor Tri Rismaharini, or Risma soon will be retired at the end of 2020. Many predict he will be prepared to compete in Pilkada DKI Jakarta 2022. When confirmed, Risma said surrender completely to the Lord will be his fate.
"Later that God will set my path in life. I all leave it to God. As I say, I don't want to then, I had a lust. Sorry in it there is a lust for power. That's what I don't want to, because it's heavy. So, I don't want to think, anyone who asked, me laugh and you're off," said Risma in the arena of the rakernas pdi-p in JI Expo, Kemayoran, Jakarta, Saturday (11/1).
He added, didn't think to grab the position. Let alone ask for it. "Because, for me, I abstinence ask the post. Because in the post it always contained the risk of where I should be fair, trustworthy. If in religion fatonah and so on. So it's heavy. Because of that I never imagined," said Risma.
Hence, he doesn't want to catch the signal do compliment the Chairman of the PDIP Megawati Sukarnoputri in the opening of the Congress I Friday 10 January 2020 yesterday. "I am grateful the Mother praised. It means they have already received what I'm trying to do in Surabaya," said Risma.
He had indeed often heard, if it is to be the Guardian of the City, and rose to become the Governor. Then, after being Governor so to the President.
"For me what I could lift (up). To what I the Governor, for what I so the President, for example. But the citizens are poor (in surabaya) stay there. Baseball is of no use to me. That's what I always emphasize. It was on myself so that I don't change," said Risma.
"Sometimes, if there are reports, Yes Lord, I've been looking up everywhere, people have a problem, suppose baseball can school. Why there's still continue every day. It just means I don't rest on the laurels of the results," he continued.
According to him, what to do in Surabaya, don't be seen only his physical development alone. Human should also be taken care of.
"For what I make of the city was nice, for what build the city then the residents can't school, unemployed. For what? Nah no point do we wake it up. That's why I always say, our education budget by 30 percent," said Risma.
He also hoped, status no more slums in Surabaya not be the reason, the people keep silent. Should be thought of also in order to get welfare.
"So it's heavy to manage. So, I do not dare to ask for even thinking about other positions," he said.
---