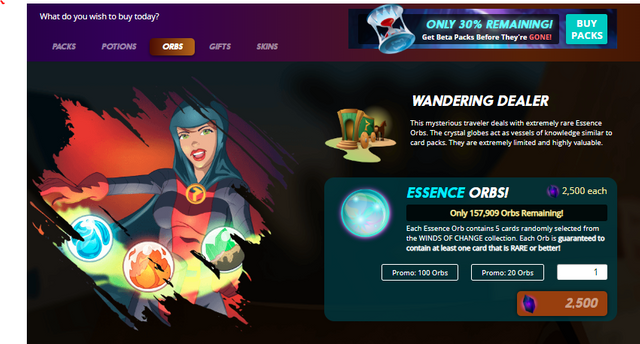 I like to play the edge a bit sometimes and see if the ROI is worth the risk.
It sounds a bit risky, but like all investments, only play with what you can afford to lose.
Here are few assumptions I used - and may have made a simple mistake. Please tell me in the comments if I did not factor something in.
I assume I can immediately sell every card for the lowest listed BCX with no loss of exchange rates. I am also ignoring and exchange fees that may occur for buying DEC.
I do factor in the 5% loss of card value. When you sell 5% goes the market that sold the card to help support the hosts. This analysis is for only 8 ORB's since it is all that I have bought. I will update as time tells, but the sample size is small.
Below are the values and prices for the analysis.
STEEM is $0.272
DEC is $0.001
Molten Ogre $0.071
Gold Foil Molten Ogre $1.944
Enchagned Defender $0.100
Gold Foil Enchagned Defender $2.100
Dwarven Wizard $3.494
Goblin Chef $0.125
Undead Archer $0.300
Mermaid healer $2.595
Eletric Eels $0.370
Armorsmith $0.220
Establishing a cost
Each Orb costs 2500 DEC, so each card you open is 500 DEC, and at the this conversion rate each card costs $0.50. Not too bad, but if each Orb is $2.50
I then compare each card I have opened in 8 packs so far and compare the lowest listed BCX on the market. and subtract the initial "investment"
Gain Loss by ORB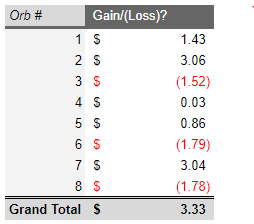 Gain Loss By Card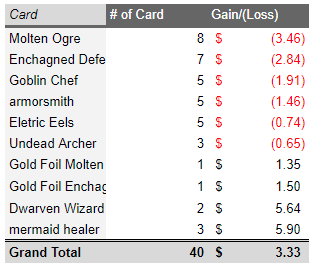 Total Purchase Price in STEEM for the ORBS: 73.52941176
Total Profit/(Loss) STEEM: 12.25
ROI in STEEM: 16.66%
Thoughts
Wow - that is better than I thought. I wonder if I am doing something wrong......I think they might be a few factors. I have gotten some really really good cards, and I am not sure that can continue. The promo cards have really strong pricing, and it only seems to keep going up. I need to acquire a lot of them just to make them playable for me. If the pricing continues.
This could be a great investment and way to generate more STEEM, but I doubt I will pursue it. I know I am a splinterlands junkie who manually plays multiple accounts. If I got good cards, I would not sell, I would combine and play them. If I got gold legendary, I might sell it, but the rest are all going to be held like the rest of my cards...
Its bad when you know you can make an investment and turn a profit, but I know I will get high on my own supply. I would just end up spending all my liquid STEEM to support my habit. It is already hard enough to level up slowly considering how expensive cards are getting. I might have to start to look at leasing!!.
The only way I would do this is to run this with someone I trust go partner. That way they are not my cards - but a true investment that can have a big return.
If I knew the drop rates, I might be able to do all the math on the average expected return, but I am not clear on Gold, and Legendary, and Gold Legendary etc.
Side note, what we will use DEC for once all the ORBs are gone?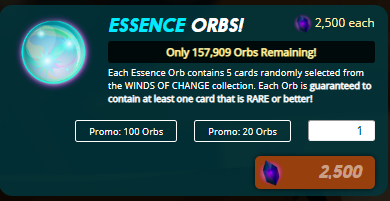 I only need 394,772,500 more DEC (or $394K) to buy them out Who is with me to make a move and buy up all the cards!!!
Holy Crap Beta is low too!!

I will be screwed with like level 8 cards in Beta and have to convert them down a level, or rent them out and start fresh. Ugh.
Game on!! ~Senstless~

Follow me on Weku
Follow me on Steemit
Follow me on Whaleshares
Follow me on Trybe
Follow me on Narrative