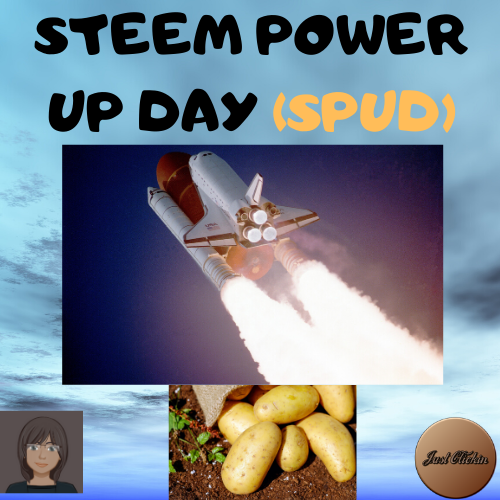 Source 1
Steemians, To Your STEEM POWER UP Battle Positions, SPUD XI is INCOMING! [steem] [blockchain] [community]


This is my second month participating in the Steem Power Up Day (SPUD). Last month, I placed 7th. Since this was my first time joining in this initiative, I wasn't disappointed I didn't place higher. Numerous Steemians entered to support this initiative. It was a fun experience for me.
I'm back again for the March 1, 2020 SPUD XI. I've reviewed the rules for entry into the SPUD XI. This blog announcing my intentions to power up on March 1st will meet the third criteria.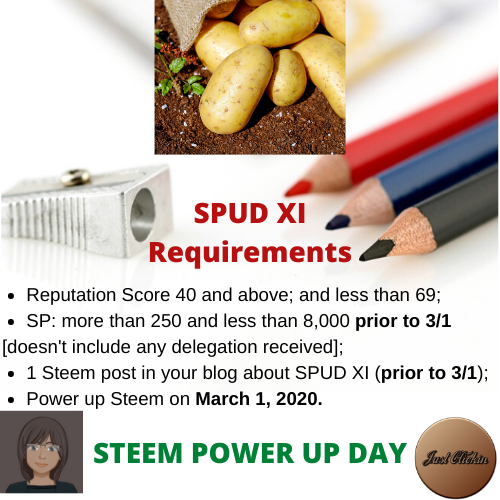 As with anything new, the first time is a learning curve. On power up day, I forgot to capture one of the screenshots. Finding the information I needed in order to post my blog in time to qualify took me longer. I felt as if it were the 11th hour before I finally posted my blog after powering up. Having now gone through the procedure, I'm hoping to have a smoother transaction in March.
My war chest is full of available Steem. I've visited the infirmary where my new knees, ankle, and back braces were tightly secured. I've now been declared fit for duty. I'm ready to power up.
My countdown has begun.

What is SPUD and How Will It Help?
@streetstyle states in his post cited above:
SPUD stands for STEEM POWER UP DAY, (SPUD) takes place the first day of every month.
On this day:
• We ask that Steemians that are able, to POWER UP any amount of STEEM they have on SPUD day.
• We ask Steemians that are currently Powering Down, to put a Stop on Powering Down for that Day, and if desired to commence the Power Down the following day.
• We ask that those that trade or sell Steem to Not Sell or Trade Steem on SPUD Day, but to do it the day before or after if possible. Also, to cancel any type of Sell Order on the Exchanges.
Please visit @streetstyle's blog for specific instructions, rules, and prizes before entering SPUD XI. The link to his contest is cited above.

Thanks,
@justclickindiva
Happy rest of the week everyone with whatever your endeavors.
---
SOURCES:
a) JustClickin's personalized PHC signature created by and purchased from PHC.
b) SPUD logo created at Canva by @justclickindiva
c) Unless otherwise noted, all photos taken by me with my (i) Samsung Galaxy 10" Tablet, (ii) Samsung Phone, & (iii) FUJI FinePix S3380 - 14 Mega Pixels Digital Camera
d) Purple Butterfly part of purchased set of Spiritual Clip Art for my Personal Use
e) Separator Lines Free ClipArt Belt from Public Domain Vectors & ShadedLine from ClipArt-Library
f) All Tribe logos used with permission of Tribe Discord Channel admins.





I SUPPORT THE FOLLOWING GROUPS: