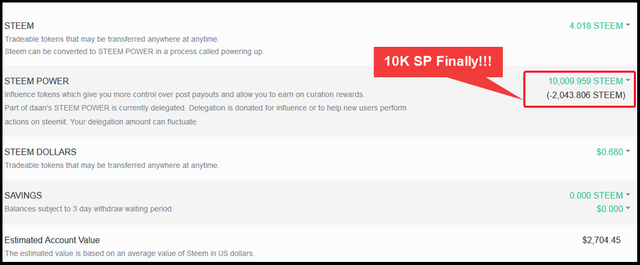 ---
So, I've been buying a bit of Steem here and there and I've finally managed to reach the magic number of 10,000 SP in my account. Despite the Steem price being truly atrocious, I'm actually quite happy at the moment. The majority of Steem I bought was pretty cheap, say around 0.30 USD per Steem, and I reckon we'll see an increase in price in a couple of months.
---
Why I'm positive about Steem
Look, I went through my share of negative thoughts about the Steem platform and Steem price. Heck, in the past I'd even written a blog post about thinking of leaving this platform. Not my finest moment, I admit, that bit of writing cost me a lot of support here and I've not been able to recover from it since.
That said, I'd write another blog post like that if that was how I truly felt. I'm not someone who'd just write positive blabber just to appease my followers.
Now, the reason why I'm positive about Steem is because the the recent improvements I've seen, since @elipowell took charge as Managing Director. Firstly, there's her blog post about Steemit Inc.'s finances. There she talks about how Steem is actually making more money than it spends, purely from fine-tuning their advertising strategies.
This graph really says it all:
---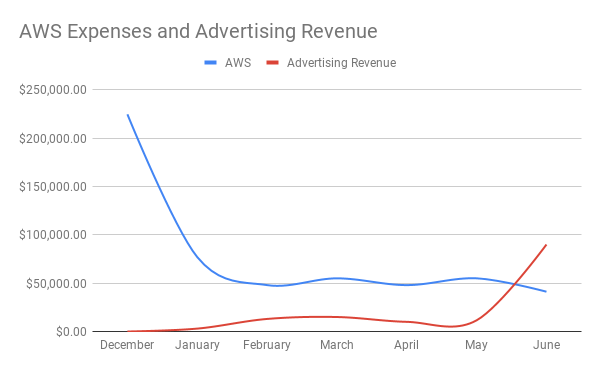 Source: Steemit, Inc. Financial Update
---
Well, this bit in that particular post really grabbed my attention:
In order to not programmatically sell Steem each month, we need to bring in enough ad dollars to not only cover expenses, but make enough profit to ensure future stability. Obviously the sooner this happens the better so we can slow down the programmatic selling and ultimately stop it altogether. That has always been the plan and like I said, we are working hard every day to make this happen.
I know there's really no such thing as 'insider trading' in cryptocurrency, but if there was, then this little bit of information would be as close to 'insider trading' as you could get. Except, it's not really for insiders... It's all public information in a public blog post, most people just do not pay attention to this!
I'm confident that Steemit Inc. will stop selling their Steem as soon as they have all their finances in order. By the looks of it, that will happen pretty soon. What will happen once they stop automatically selling their Steem on the exchanges? Well, I can only make an educated guess, but I reckon that the price will start moving upwards again.
Improved Social Media Presence!
Since @elipowell took charge, I definitely noticed an increase in Steemit Inc's activity on Twitter. I've been getting notifications from the official Steemit Twitter accounts every day and they've been sending out some great tweets!
---
Source: Steemit on Twitter & SteemNetwork on Twitter
---
Check the dates on those tweets, they're all sent out on the same date (July 12th). I just love the fact that they're even re-tweeting prominent Steemians such as @theycallmedan. To me, this shows that they're finally starting to engage with the community. I mean, they have been engaging for a while now, but I'm pleased that they're keeping it up, also outside their own platform!
---
My Ongoing Commitment to Steem
When processing all this information regarding the future of Steem, I can only come to one conclusion. That it's a good idea to start investing more before Steemit Inc. stops their automated selling of Steem. This, combined with their increased presence on social media, makes me think that it's very likely for the Steem price to go up.
I'm also in talks with my company to secure a rather large investment into Steem, because I'm certain that I can offer them a great APR, while having their investment principal retain its value, if not increase it over time. This would be an investment to the tune of around $25,000!
In the meantime, I'm still buying bits of Steem every week, slowly increasing my own stake here. While I can't exactly spend thousands of dollars every week, I do make sure that I buy at least some Steem every week, even if it's just a couple of hundred dollars worth.
I hope that my post has brought some positivity your way. When you look at the big picture, there's a lot to be excited about! It's time that we start spending our money as if that were indeed the case.