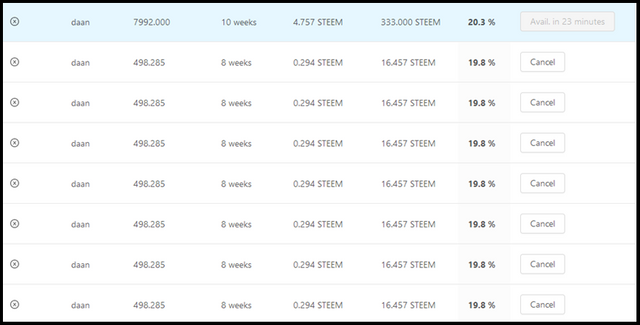 ---
I had noticed that the average APR on Dlease was a bit lower than I was used to seeing. The highest APR rates were around 18% and I thought it was time to put some better offers in.
So, I've decided to try and lease 30.000 Steem Power for some additional curation effort in the next coming weeks. Luckily, Dlease allows you to split these huge lease requests up into multiple smaller requests. I've added a ton of 500 SP lease requests, offering around 20% APR, which is pretty generous compared to other lease requests.
Aside from that, I've also mistakenly added a 7000 SP requests, because I'd forgotten to split it up. I'll leave that one up till tomorrow, in case a whale sees this and doesn't want to spend half an hour clicking ;)
This is just a short post to inform everyone that you can lease your SP to me, if you want an ethical investment. Sure, part of my upvotes are made through Steemauto, but I make sure that I also manually curate a lot. I do not tend to upvote my own posts a lot, it happens occasionally, but not often.
Now that bid bot investments aren't an option anymore for most people, I think this could be a pretty great alternative!