It's a been awhile since I've watched STEEM spike.
Admittedly, there hasn't been much movement for months, other than mostly sideways and trending down, with the occasional drop.
Over the last few days, however, some minor pumps and dumps began, and then STEEM moved from the upper $0.12 USD into the $0.14s. There it stayed for roughly three days until this morning, when some bigger movement began.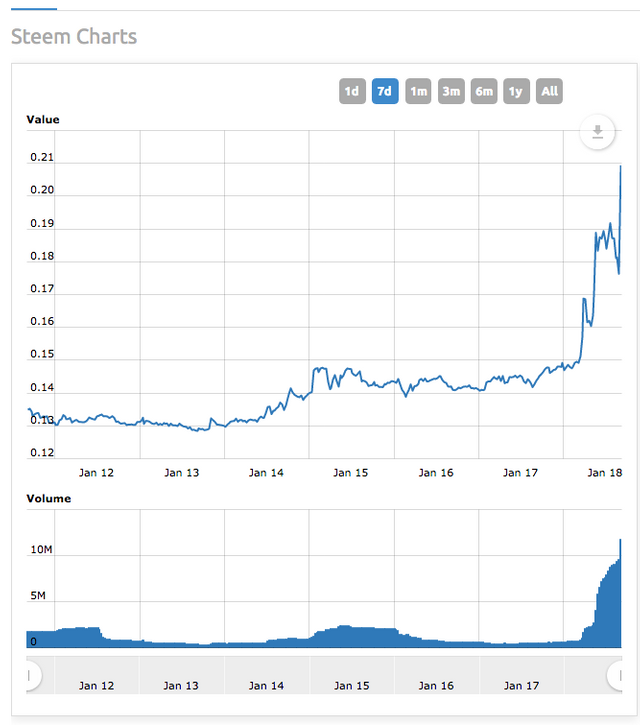 As of this moment, STEEM is up to $0.2168 USD, an increase of 47.25% within the last 24 hours, according to World Coin Index. Most of the volume is on Bithumb, which has been known for driving prices up, but in this case, Binance, Houbi, Bittrex and Hitbtc are going with them. Only Upbit is trading lower at 0.175% USD.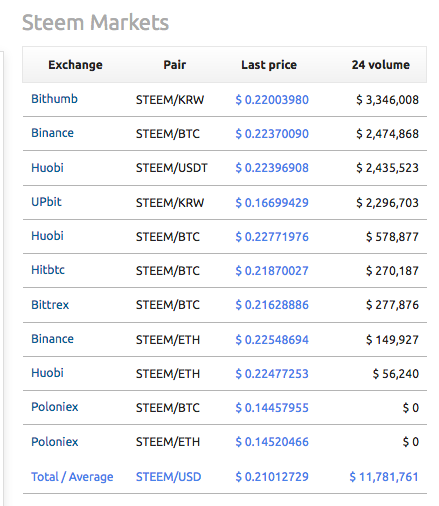 At the moment, it's tough to tell just what might be driving STEEMs surge, as the percent of increase/decrease among the six tokens I follow on Coinbase are somewhat all over the place at present. None are rising like STEEM, but most are in the green, with LiteCoin and EOS being the current exceptions.

Current candle action according to Coingecko looks like this (see image below), for those who know how to read them. Seems a little early yet, regardless, to know where this is going, but in my mind, this is the most action of any kind we've had in a long while and it's cool to see the upward motion even if it turns out to be short lived.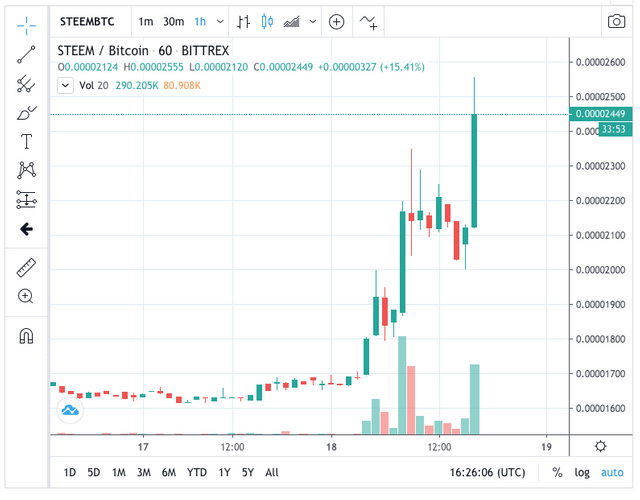 For those hoping to see an increase in USD value in their STEEM wallets, though, it's not likely to happen unless this jump actually does hold. As it is, the Internal Median Price of STEEM, according to STEEMWorld, has been hovering around $0.196 USD, even with market value fluctuating between $0.12-$0.14 USD.
If prices stay above that median over the course of the next 3.5 days, we'll see the rise in USD value.
Why The Surge?
Hopefully someone reading this will have stumbled upon some news, either pertaining to STEEM or cryptodom as a whole, but the only thing I've been able to locate in a Google News search that is recent is that NFTs are now live on STEEM-Engine from a Slugfeed post yesterday (Friday, January 17).
Chinese New Year is coming up on Saturday, January 25, which has caused some movement in the past. In a previous recent post I stated that I thought we would know more about where STEEM is headed in 2020 after the Chinese New Year, but more or less by the end of Spring, when things like SMTs for STEEM and the Bitcoin halving for crypto in general are supposed to take place.
However, I am not an expert, and don't pretend to be one. It's just fun to finally do some speculating when there's some actual upward movement taking place.
I do find it slightly annoying that now that I have some money waiting to buy STEEM at what was roughly $0.14 USD, that the price has jumped. I wanted to get to 12,000 SP by the end of January.
Truth be told, that's the real reason STEEM is going up.
Not.
I do have to say, though, it's nice to see some kind of interest in STEEM. It would be cool for those who have been sticking things out to finally see our patience, stubbornness, don't know when to quit—whatever—rewarded.
Already Dropping
As I've been writing this, the price has dropped from a high of $0.218 USD to $0.198 USD. That's been happening over the last several hours, though, spiking and then dropping before the new spike, so as I said, it's still a little early to know where this might be going.
Any Guesses About The Price Spike?
Feel free to enlighten us in the comments if you like.
Images sources—worldcoinindex, coinbase, coingecko