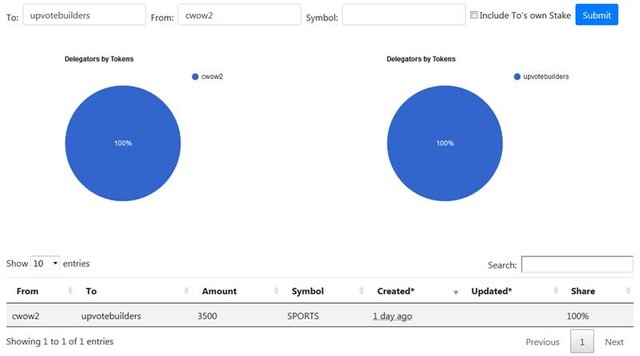 Keeping track of your investment is very important unfortunately currently on the Steem-Engine UI there is currently no way to see who you delegated your tribe tokens to, at least I haven't discovered that yet and believe me I have checked.
So one of our community members at @upvotebuilders that goes by the name @cwow2 delegated 3500 Sports token to the community so that members of the community and its' members will be receiving Sports token curation when the community upvotes them. Unfortunately there was no way of us seeing it as it wasn't showing in our wallet nor was the transaction showing on his wallet too.
Solution Finally
Thanks to @CADawg who developed a tool for viewing our tribe token delegation on Steem-Engine. Simply visit the website below:
https://steem.tools/steemengine/index.php
The website has the following features:
Delegation Viewer
• View Percentage shares of Token Power
• Include your own power in the percentages
• Search on To, From and Symbol
• Charts showing token distribution
• Search The Table Easily
Undelegation Viewer
• View User, Amount, Symbol and Time Till Returned
• Search on Account and Symbol
• Search function on any field in table.
@CADawg has really done a great job for which he should be commended as he has made tracking our delegated investment possible.
Thanks for reading my post, like I always say, upvote it if you liked it I'll truly appreciate that. Keep your comments coming and follow me if you have not already done that. Again, thanks a lot for your support to me always.

If you are a good content creator and post daily wouldn't you like to earn more rewards via the upvotes you receive? Here is introducing @upvotebuilders!!! A delegation based community. You can join any membership level you want based on your delegation to the community pool. You can check out our latest report below:
Join Partiko And Earn Free Points
I'm using Partiko to make friends and have fun on the Steem blockchain while also earning points which can be exchanged for upvotes. You should as well! Here's my invite link:
https://partiko.app/referral/ketcom
You will get 1000 Partiko Points for sign up bonus, and you can exchange them into Steem token!
You Need To Join Qurator
Are you a good high quality and original content writer? Then you really need to join Qurator, they have a lot of benefits that will help build your account, improve your writing skills, increase your understanding of the project and they have a lot of weekly competition going on. There are also many opportunities to earn more once you become a member of the community. You can check out my post about how to be a member and other ways of taking advantage of what the project has to offer here.
Join Actifit
Actifit: An innovative dapp that rewards your everyday activity! Why not click here (my affiliate link) and join today so that you start earning (AFIT) tokens and STEEM rewards via upvotes on your Steem posts. Please join using my referral link below:
https://actifit.io/signup?referrer=ketcom