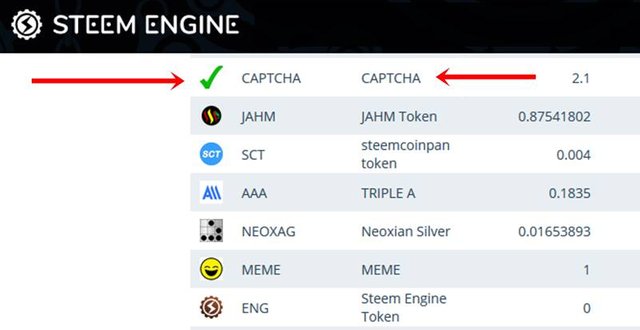 This morning I visited my Steem-Engine wallet to see if there was any surprise as we have been seeing latterly. I did see one free token landing in my wallet and it was + 0.1 of CAPTCHA . It gave me a $0.00 balance which meant the 0.1 Captcha was valued less than $0.00. Yeepee! They've made my day. Lol.
Out of curiosity I investigated to learn more about the token and it turns out the issuer is @heimindanger and the website address is https://captcha.steemwhales.com/. The description of the token states:
Earn +1 CAPTCHA on your account for each passed captcha on the website! Website earnings will be used to rebuy the CAPTCHA tokens and burn them!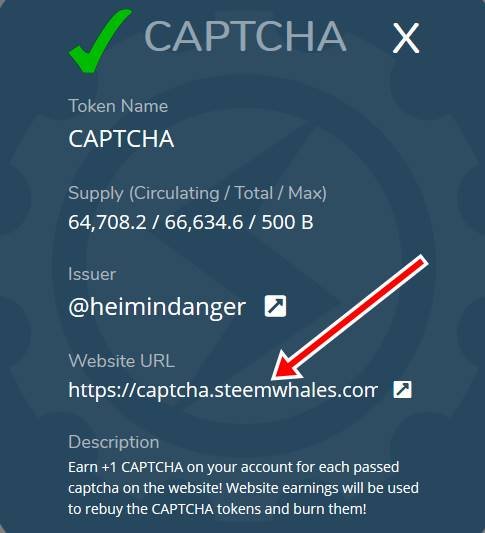 Captcha are very common things we see on websites that have that extra layer of security on them. You've got to get pass them sometimes before gaining access to some websites. Since I wasn't so busy at the time I saw the token I decided to visit the website and give it a go to see how it works and what type of returns one would get.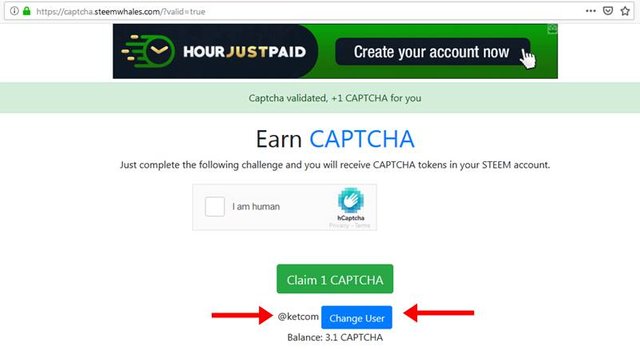 The first thing you need to do when you visit the website and want to earn some CAPTCHA tokens is to change the user to your own username on Steem. You can do that by clicking Change User.

Next thing you do is click on the I am human and solve the Captcha by selecting the images which contains at least one complete letter, number or punctuation and the click on the check button.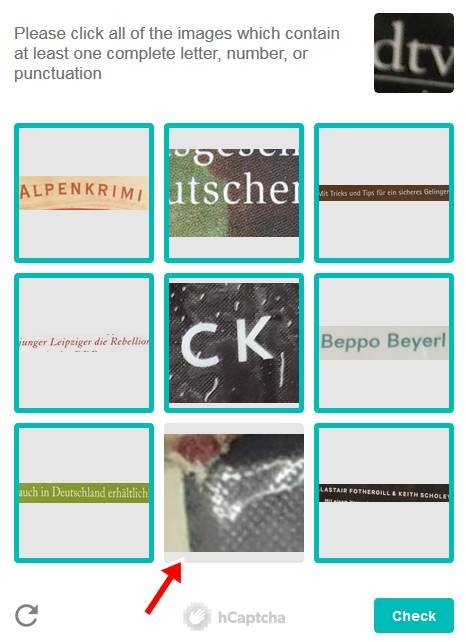 Once it confirms you're a human, you can then click on the Claim 1 Captcha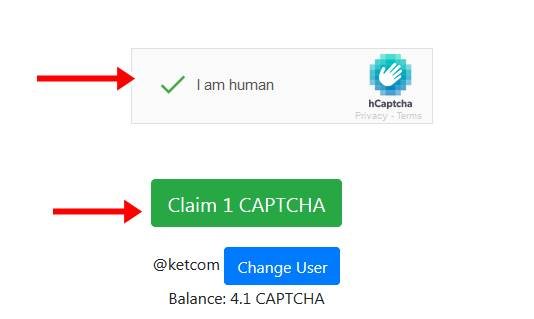 Once the claim is done a new page appears for you to start again, you'll see your new balance below. You can also see your balance when you visit your Steem-Engine wallet.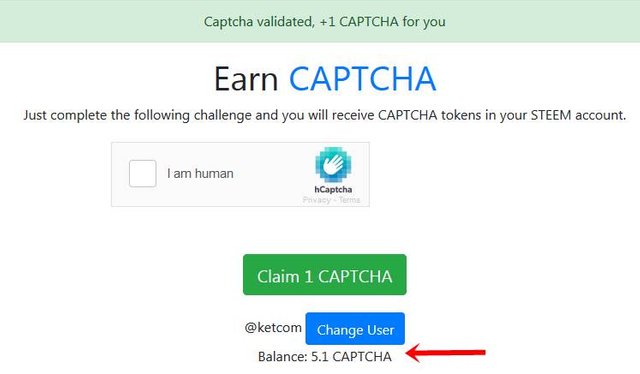 I noticed that when I had claimed 8 Captcha token it showed that the value was $0.01

and when I claimed 24 Captcha it showed the value had gone up to $0.02.

I decided to check how many Captcha would give me 1 Steem and it turned out that I needed about 253 Captcha token which showed me $0.25 on the Steem-Engine wallet balance gave me 1.0124 Steem as at the time of completing the experiment. Getting 253 Captcha took me about 2 hours of interrupted claiming time, yes interrupted because I wasn't focused on it alone, it doesn't really take time to finish one, probably less than 15 to 20 seconds, so if one was to focus only on doing it you'll earn the 253 Captcha in less than 1 hour.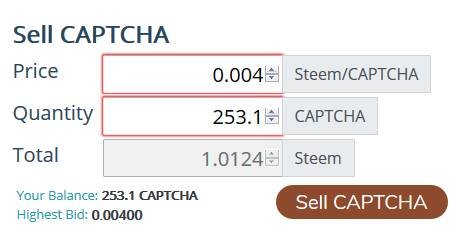 In conclusion, I think it is great that one has an additional method of earning Steem, the way I look at it, there are people who spend over an hour to create a content which will end up earning less than 0.10 cents on payout day, this could be another easy way to Steem. If you have loads of free time on your hands and need something to while away your time and earn something while at it, Captcha token claim could also flow for you.
However, if you're already a high earner or you're a very busy person then this may not be your thing. I did it because I really wanted to be able to do a true review of the Captcha token.
Thanks for reading my post, like I always say, upvote it if you liked it I'll truly appreciate that. Keep your comments coming and follow me if you have not already done that. Again, thanks a lot for your support to me always.

If you are a good content creator and post daily wouldn't you like to earn more rewards via the upvotes you receive? Here is introducing @upvotebuilders!!! A delegation based community. You can join any membership level you want based on your delegation to the community pool. You can check out our latest report below:
Join Partiko And Earn Free Points
I'm using Partiko to make friends and have fun on the Steem blockchain while also earning points which can be exchanged for upvotes. You should as well! Here's my invite link:
https://partiko.app/referral/ketcom
You will get 1000 Partiko Points for sign up bonus, and you can exchange them into Steem token!
You Need To Join Qurator
Are you a good high quality and original content writer? Then you really need to join Qurator, they have a lot of benefits that will help build your account, improve your writing skills, increase your understanding of the project and they have a lot of weekly competition going on. There are also many opportunities to earn more once you become a member of the community. You can check out my post about how to be a member and other ways of taking advantage of what the project has to offer here.
Join Actifit
Actifit: An innovative dapp that rewards your everyday activity! Why not click here (my affiliate link) and join today so that you start earning (AFIT) tokens and STEEM rewards via upvotes on your Steem posts. Please join using my referral link below:
https://actifit.io/signup?referrer=ketcom