Most of the legitimately profitable companies have dropped out from the Facebook-led Libra Association due to pressure from regulators and general fear of the project spawned by, what else?, Facebook's shady privacy practices.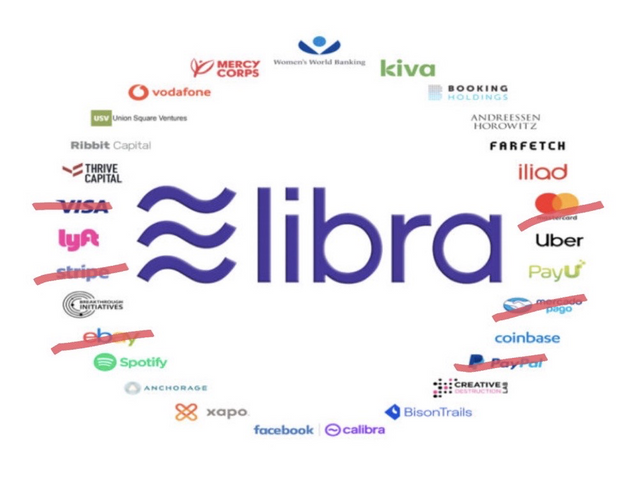 I doubt Zuck really cares, though. Facebook (FB) stock is up almost $60 billion in market cap value since the publication of the Libra whitepaper almost 4 months ago. That pretty much smashes the funding record set by EOS last year of $4 billion for their ICO. So I guess you could say that, even though Libra is looking more and more like it is going to be a stillborn, it is in fact the most successful ICO ever!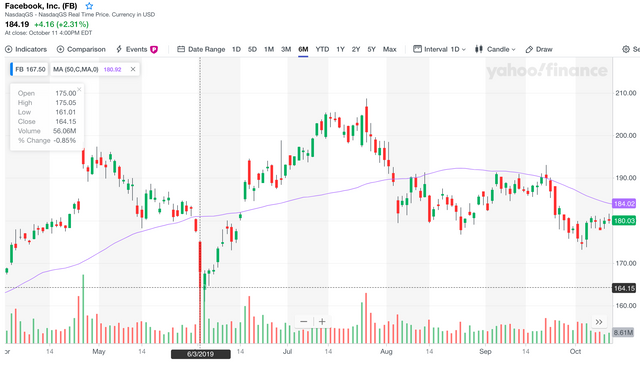 You can see the recent lows in the stock around the low $160s highlighted here from June 3. Libramania then hit and it was off to the races for the once moribund stock that had been struggling due to the Cambridge Analytica scandal and associated CEO grilling in Washington.
Paypal dropped out more than a week ago. Recent drop outs include Visa, Mastercard, Stripe, eBay, and Mercado Pago. That means that the only profitable non-crypto company left in the association is Vodafone. Let us countdown the days until they announce they are leaving. I'd be surprised to see them last beyond October.
The mass exodus of legit companies from the Libra Association can be explained by a few items. First, these companies have bigger legal teams. Second, they just have more to lose in general. In fact, Senators Brian Schatz and Sherrod Brown sent threatening letters to all of the Libra Association members that may be sensitive to such attacks. Their letter to Stripe, at least, stated:
If you take this on, you can expect a high level of scrutiny from regulators not only on Libra-related payment activities, but on all payment activities.
Seems like mafia-style coercion to me, especially when you consider that Schatz has been bankrolled by Google the past few election cycles. Keep in mind Schatz is the congressional representative of Hawaii, not California where Google is based. Oh boy, you gotta love American politics.
Lastly, it never really made sense to me why Visa, Mastercard, Paypal and other payment solutions were in the Libra Association in the first place. Why not make your own corporate stablecoin (CSC) and build up a cryptographically protected ecosystem that benefits you and not The Social Network? Honestly, maybe the folks from the Strategy Departments of these companies are finally realizing that themselves.
Like I stated in this Finance Magnates interview with Rachel McIntosh I think a WalmartCoin just makes so much more sense than a FB Coin. Here's a little picture from Walmart's announcement of this potential project.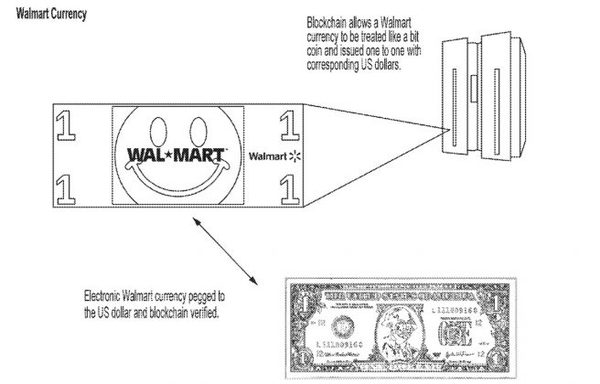 Color me stupid but I'm just gonna go ahead and quote myself here because, well, this is my blog and it just makes so much sense not to reinvent the wheel:
"I'm really waiting to see what Walmart does with their proposed stablecoin," Krapels said. "This is a company from the Heart of America, a true epitome of the American Dream, not some evil Silicon Valley geek corp like Facebook, that is proposing this high-tech concept that is hard-to-understand for many of the hoi polloi."

"If Walmart keeps pushing this, it could receive a much warmer reception by regulators. Yeah, maybe because FB has primed them to be ready for such a thing, but also because a WalmartCoin just seems like a much more palatable concept."

Additionally, "Walmart already has a pretty robust financial infrastructure with numerous in-store MoneyGram and Coinstar outlets that are already specifically purposed to 'banking the unbanked,'" Krapels pointed outside.

"Walmart [also] has 2m+ employess that could potentially be paid every 2 weeks, [and] for the vast majority of America, Walmart is THE place to shop… for everything. Domestic revenue was $332B last year (up 50% since the 2008 financial crisis), while international revenues have remained flat for almost a decade at ~ $120B."

"For mainstreaming bitcoin and its alt brothers, the WalmartCoin seems to me to be a much bigger deal, if it ever moves past the concept stage."
If you want another company that seems to me to be to be light years ahead of Facebook in terms of crypto, look no further than Jack Dorsey's "other" company Square, which is 10% owned by Visa. Square has built a crypto team while Visa is investing in crypto infrastructure project Anchorage. To me, something like Visa and Square teaming up to make their own Bitcoin "layer 2" payments solution is way more interesting than anything that FB/Libra has talked about doing so far.
One thing we do know, though. The cat's out of the bag now.
Cryptofied corporations are coming to an app on your phone soon.