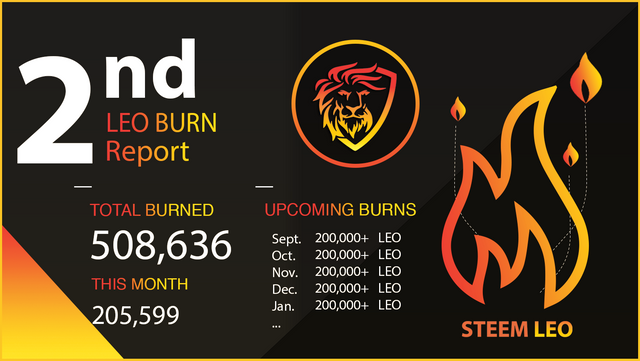 It's already time for the 2nd monthly LEO burn report!?
Time is flying by and so are LEO tokens.. They're flying straight into our growing bonfire of tokens and the circulating supply is continually being reduced.
Since we posted the last burn report, a lot of interesting stuff has happened. One change that is very relevant to burning tokens is the addition of a statistics sidebar to the https://steemleo.com interface. If you go there and look on the right side of the page, you'll see a real-time counter for tokens burned and staked.
In total, we've burned 508,636 LEO tokens (10.91% of the total supply).
This month, we've burned 205,599 LEO tokens (4.41% of the total supply).
LEO Sinks:
Our list of sinks for the LEO token continues to grow at a rapid pace. We've added several to the list since the last burn report.
1). We added the Crypto Fantasy League game to our discord channel. This game is far more about having fun than really burning tokens, but it still burns a small amount of tokens each week and also gives users a way to spend their LEO on something that's enjoyable.
2). The Steemleo LABS Project. We actually haven't even announced the LABS project officially, but you may have seen the recent launch of the #lifestyle tribe. This tribe was launched through Steemleo LABS. Think of it like a startup incubator. Tribes/token creators/aspiring business creators can come to Steemleo LABS for assistance & funding to get their project off the ground. In exchange, we ask the project to burn LEO tokens. @one.life (founders of #lifestyle) are set to buy about 10,000 LEO off the market and burn them. Official numbers and details about LABS will be posted soon.
3). We're burning all of the LEO posting/curation rewards earned by our main @steem.leo account (so upvoting any post made by @steem.leo is effectively earning you curation rewards but then burning our author rewards and depleting the supply of LEO — also referred to as a "burn post")
4). The @leo.voter is the Steemleo community voting bot. Send LEO to it and it distributes a portion of the bids to delegators and burns the rest. The voting account is already at 100k SP and is burning (at the current rate) about 100+ LEO a day!
5). The Steemleo Weekly Writing Contest. We've run 1 Steemleo writing contest and decided to go back to the drawing board to make the contest better. The weekly writing contests will resume this week. Content creators can submit an article each week for our weekly writing contest and to submit, you have to pay a small (10 LEO currently) LEO fee… We burn 100% of the LEO submitted, creating another sustainable sink for LEO tokens
6). Burn LEO to promote your post on the Steemleo.com interface --> if you send LEO to @null with your post link in the memo field, then your post will appear as promoted and those tokens are permanently removed from the supply
7). Ads on Condenser (coming soon). You may have seen Aggroed's post about SE adding the ability for tribes to have ads on condenser that will result in the buying & burning of tokens from the market. This one should be live within the next month or so.
8). Ad Spots on the Steemleo Show Podcast (potential sink). The Steemleo podcast audience is growing steadily. We already have a large enough listenership to sign up with an ad network that would run before and after each podcast episode which would work similarly to ads on condenser by burning tokens from the market.
9). Top Secret. We've got another sink in the works, but we'll keep this one to ourselves for now because we don't have a clue when it will be ready due to its complexity.
Amount of Staked LEO is Almost 90%!?
The amount of staked LEO is currently: 2,242,795.82 LEO.
That's 54.01% of the circulating supply if you factor in the sell wall.
Technically, the sell wall doesn't really count as those tokens will likely never see the light of day. So if you remove the 1.6M tokens still remaining in the wall (which will be completely burned in 8 months), then the actual staked number looks more like this:
2,242,795.82 LEO staked = 88% of circulating supply (when excluding the Sell wall from the circulating supply)
Changing Rewards From 100% Liquid to 50/50
You may have noticed that pretty much all of the other tribes are changing their rewards from 100% liquid to being 50/50 liquid and staked payouts.
We've been discussing this quite a bit in the LEO discord and have decided not to change to 50/50 anytime soon. We may continue to poll the community as time goes on, but it seems pretty clear that liquid payouts are the way of the future.
If you look at the statistics, most people who are earning LEO rewards are actually going out and just staking them all anyways. We'd rather give you the choice to do what you please with your rewards.
We've also looked at this from the point of view of content creators. One of our driving missions is to bring in new content creators through the Leo Syndication Strategy and other methods. When you consider an outsider coming into Steem, think about how they're used to getting their rewards from content --> Sponsorship deals don't have vesting periods... YouTube doesn't tell creators that they have to "power down" illiquid rewards...
So from our perspective, it's far more attractive to bring in content creators and show them liquid payouts that just arrive in their wallet rather than confuse them with 50/50. Also see @threespeak as another example: they're using the @likwid service as the default setting to reward video creators in liquid STEEM payouts rather than hold them to the 50/50 split.
More Ways to Spend & Burn LEO
Instead of locking in LEO rewards by auto staking them, we're going to focus on creating more sinks and more ways to spend LEO.
There are limitless ideas out there and all it takes is the right execution. If you've got some ideas for ways to spend/burn LEO, then hit us up in discord and let's make them a reality!
We've also got a few Leo Syndicators on the team already but are looking to expand it. If you're interested in the position, then contact @khaleelkazi on discord for more details.

All LEO Author Rewards On this Post Will Be Burned
#steemleo - A Next-Generation Community for Investors


Steemleo -- Blogging Platform
LeoTube -- Video Platform
LeoPeak -- All-In-One Interface
Join us On Discord --> Steemleo Discord