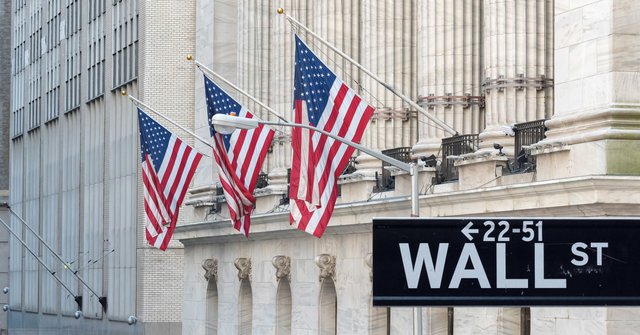 Source
Wall Street is going to start shaking in their boots. They are under attack and it is going to be fierce.
Decentralization is going to upend the world of finance to a degree we never saw before. DeFi is just getting started but it is something that will gain steam over the next half decade.
Rarely does a behemoth like Wall Street get taken down by a single attack. Instead, it is more of the "death by a thousand paper cuts" variety.
Today, we see entrepreneurs and technology innovators creating start ups designed to replace the existing financial structure. It is a trickle right now yet it is growing.
There are a few reasons why this situation is taking place. To start, the money we are talking about his huge. There are literally trillions of dollars at stake. At the same time, Wall Street institutions make a lot of money simply "moving things around". These entities are the epitome of third party trust providers. They spent decades establishing themselves as such and we, the population, simply accepts it.
Since they had no competition, the entire system is basically one that is rigged for their benefit while being riddled with inefficiencies. The cost to transfer money is atrocious. Of course, that is only outdone by the time it takes to settle transactions. Instead of minutes, we are talking days.
I came across an interesting experiment that totaled $217. Most would look at such a small amount and laugh. How could that signify anything?
When looking at a proof of concept, the monetary value is secondary to the process. What took place last month could be the signal of Wall Street's demise.
There are roughly $400B worth of S&P options traded each day. This is a rather large market that provides Wall Street firms with a great deal of revenue. Like most aspects of finance, the fees charged are high compared to those seen in the cryptocurrency world. At the same time, settlement take days to occur.
Ultimately, this markets shows what is wrong with the present financial system.
The solution, according to a London based start up, is to trade these options on blockchain.
And that is exactly what Emmanuel Goh, the CEO of Skew, did. He sent an options trade across the Bitcoin network, since he felt it the most secure network.
Here is how the deal went down:
So on Sept. 6, Goh says, he took some British pounds from an in-house research-and-development fund at skew. converted those into bitcoin, and then used the proceeds to buy 10 S&P 500 call spreads – a popular type of option – from Crypto Garage, all under a new smart contract, with terms agreed to by both counterparties in minutes. The expiration date for the options was set for the third Friday of the month, similar to the standard practice on many exchanges.
At the outset, Skew. paid an option premium of 0.0202 bitcoin ($217 at the time) via the smart contract, and Crypto Garage posted 0.04667 bitcoin as collateral.
On Sept. 20, the expiration date, the smart contract automatically used a price feed from Atlanta-based Intercontinental Exchange (parent company of the New York Stock Exchange) to establish the final price for the S&P 500.
The trade went in skew.'s favor, resulting in a payout of 0.036 bitcoin ($365 at the time). Crypto Garage got 0.01 bitcoin of its collateral back. (Skew later sent some money back to Crypto Garage, as a true-up.)

Goh further went on to explain the benefits.
"The trade settlement took 45 minutes to process, with total transaction costs equal to a few U.S. dollars," he said. "The smart contract knows exactly how much the parties will get back."
In theory, he says, the cost would have remained the same even if the notional amount of the trade had stretched into the millions or billions of dollars.
The important part, he says, is that "you don't have all the intermediaries."
https://www.coindesk.com/tiny-217-options-trade-on-bitcoin-blockchain-could-be-wall-streets-death-knell
When we see the term "intermediaries", we can replace it with Wall Street firms.
This is the threat that is posed. How much in fees are lost by these institutions each day if even 10% of the $400B is traded in this manner? The numbers are simply mind boggling.
Keep in mind this is only one market. There are many others around the world, all adding up to an obscene amount of money traded.
This is why Wall Street is under heavy attack. The money is simply too attractive to those who are looking to disrupt things.
As for the "shaking in their boots", there is good reason for that. Wall Street simply cannot compete long term. It is an outdated model. The firms that are presently involved are geared to maximize profits in any manner possible. While they will cut to remain competitive, they simply cannot reach the levels of a decentralized system.
The Internet is a powerful tool. We saw what it did to newspapers, magazines, and record companies. In each of these industries, there were powerhouses that were in full control. Yet, somehow, the Internet came along and obliterated each of these industries.
Web 3.0 is even a more powerful version of what took place in the 1990s and early 2000s. This means we are going to see even greater impact on a much larger scale. Information suddenly because plentiful and inexpensive, the same is going to happen with financial products.
Each time we see an experiment like the one done by Skew, it places another dagger in the body of Wall Street. I expect this to continue over the next 5-7 years until there is little left that resembles what is in place today.
This process is not going away.
---
If you found this article informative, please give an upvote and resteem.