Earning DEC and buying ORB's - Whats not to love.
I am still going down the road of splitting my DEC between ORB's and cashing out to powerup. Powerup to date is 30k DEC for 75 SP, a little left over for a few new cards. To bad for me on the buying card portion, it appears these cards have gone way WAY up recently. A flesh golem is over $0.30.. and I need a lot to move from level 6 to 8. Putting a serious hurt on my progress. I bought another ORB and opened it up Here is what I got..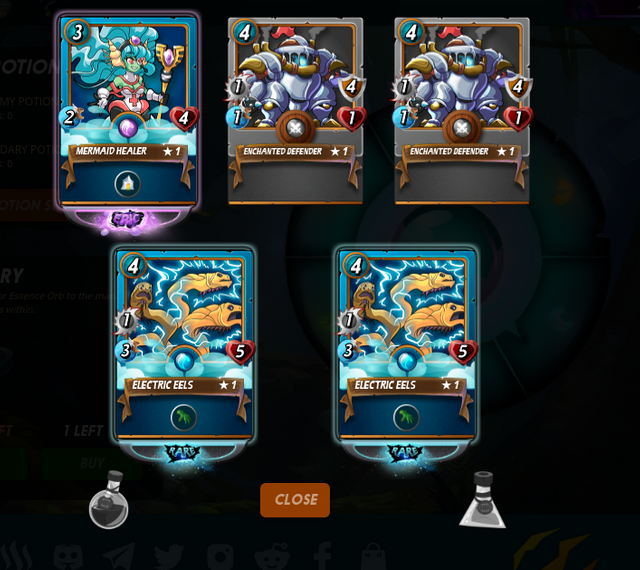 Pack Total $3.934
Mermaid Healer $3.08
Enchanted Defender $0.089
Enchanted Defender $0.089
Eletric Eels $0.338
Eletric Eels $0.338
Great ORBs of fire
I think that is a great result. I needed all the cards I got - and who doesnt love pulling a mermaid healer. Can be a real asset when my Ruler of the Seas gets hit with reflect damage! This orb was pure profit, at of a cost of about 6.5 STEEM or $2.50 USD
I decided to follow that up with a few beta packs. Since so many cards have gone up 3x or more ( I am looking at you Green and Neutral!!) why not take a gamble and buy a few packs
Pack 1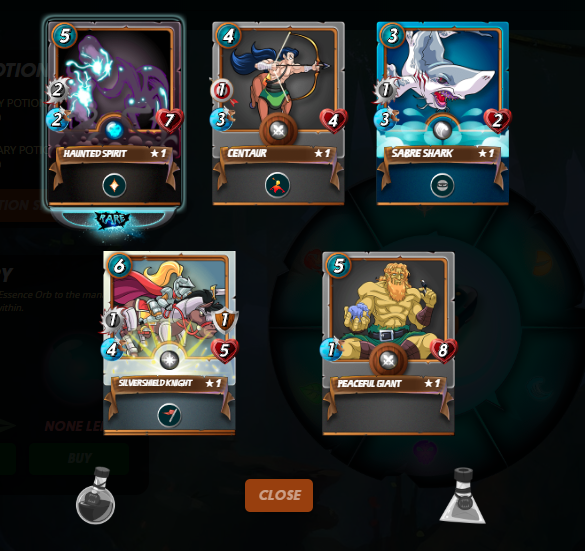 Pack Total $0.86
Haunted Spirit $0.18
Centaur $0.44
Sabre Shark $0.05
Silvershield Knight $0.03
Peaceful Giant $0.16
Solid Meh
Yup - I needed three of the cards, but I will say losing more than 50% reminds me why I so often just buy the cards I need and not gamble on buying packs.
Pack 2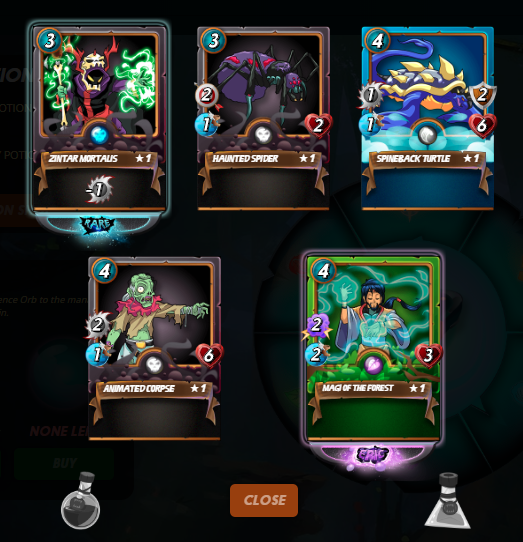 Pack Total $2.32
Zintar Mortaus $0.79
Haunted Spider $0.038
Spidenback Turtle $0.058
Animated Corps $0.024
Magi of the Forest $1.41
Profit - Epic card saves me!
Well, I can always use more summoners, especially for Death, my only level 5 summoner left. The three commons sucked - While I could level them up - I rarely use the Spineback Turtle to justify the 100 more cards I need to get it to level 8.
Magi of of the Forest - Whew - what a great hit! In the top 3 for value of EPIC beta cards. This makes my 3rd beta - since I am playing a level 3 Alpha Magi I snagged what too cheap prior to DEC.. If only I had gotten more pre DEC cards. I swear we will talk about the good ol days of Pre DEC and Post DEC... Pros and Cons.
I hoard all EPIC and Legendary cards, and even some Rare cards. I see no need to sell that this point - I will just see where this all goes down the road.
Thats it - Happy 4th of July
I got nothing else, I have 7000 DEC sitting on Steem-Engine ready to cash out to power up, way faster than I expected, but I am going to really focus on pushing for the full DEC earnings this 4 day weekend and see just how much I can earn!!
Stack on!! ~Senstless~

Follow me on Weku
Follow me on Steemit
Follow me on Whaleshares
Follow me on Trybe
Follow me on Narrative