Summary
We strive to recommend sources of maximum SAFE income and potentially great long-term total returns.
Occidental made its final $57 billion (including debt) offer for Anadarko on May 6, and since then the stock has crashed 27%.
Occidental's risky acquisition is likely to pay off, making it a potentially attractive high-yield deep value stock.
This idea was discussed in more depth with members of my private investing community, iREIT on Alpha. Get started today »
This article was co-produced with Dividend Sensai.
As you know, we frequently provide readers with "Real Asset" articles that include REITs, MLPs, yield-cos, and infrastructure. We also plan to enhance coverage on private equity firms such as Blackrock (NYSE:BX) and KKR (NYSE:KKR).
Our motto is "quality first, valuation second and proper risk management always." We strive to recommend sources of maximum SAFE income and potentially great long-term total returns.
We strive to recommend sources of maximum SAFE income and potentially great long-term total returns. Yield and value traps are to be avoided like the plague, which brings me to the issue of battered oil producer Occidental Petroleum (OXY).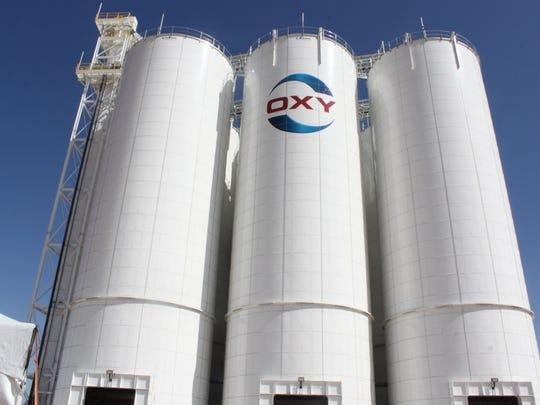 [Photo Source](https://www.currentargus.com/story/news/local/2019/05/01/warren-buffet-invest-10-billion-occidental-buy-anadarko-oil-company-chevron/3640634002/
We've gotten several requests to analyze this company from readers and members who want to know if that 7.4% yield is safe.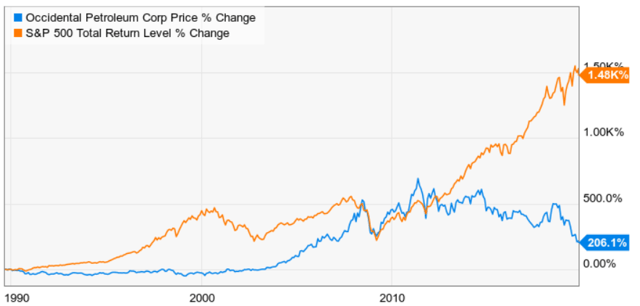 Occidental's share price peaked at about $110 in 2011, a full eight years ago, and has since fallen 61%. Even factoring in dividends, which have grown every year since then, investors who bought at the top are sitting on -47% total returns.
Occidental's yield recently hit a 29-year high, only being eclipsed by the 1990 yield that came right before it's 40% dividend cut.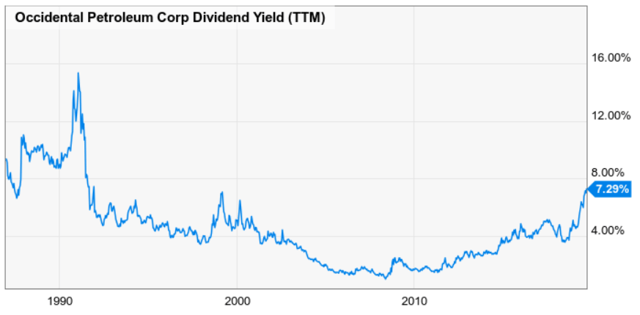 (Source: Ycharts)
The share price is now trading at a 13-year low, despite management vowing to continue the 17-year dividend growth streak. In other words, the market is pricing in A LOT of fear, uncertainty, and doubt regarding this company.
However, the market often grossly overreacts to perceived risks, creating potentially attractive high-yield, deep value opportunities for patient income investors who use proper risk management.
So let's take a look at why the market hates Occidental, including the risks and potential rewards of the $57 billion (including debt) Anadarko (NYSE:APC) acquisition. Most importantly we'll examine its dividend safety, and whether or not this company is a potentially great deep value stock or a value trap to avoid.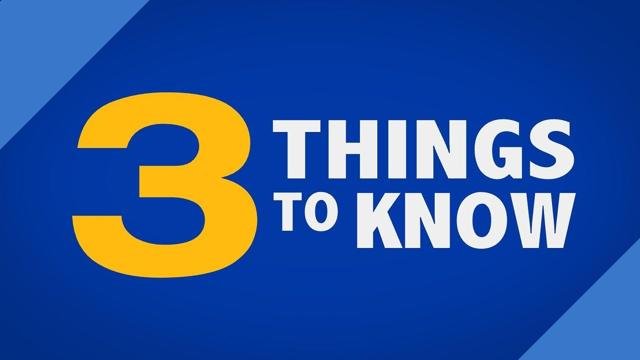 Fact 1: Why Occidental Is Taking Such A Big Risk With Buying Anadarko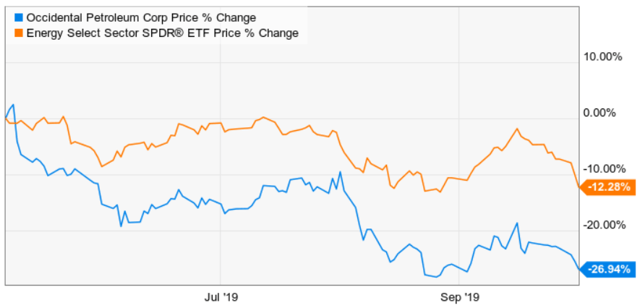 (Source: Ycharts)
Occidental made its final $57 billion (including debt) offer for Anadarko on May 6, and since then the stock has crashed 27%, far worse than the broader energy sector.
Wall Street is understandably skeptical of big M&A, especially debt-funded deals. That's because, according to the Harvard Business Review, about 80% of such deals fail to deliver long-term shareholder value. That's especially true if a company overpays for assets, which some analysts believe OXY did with Anadarko.
Evercore ISI says the deal "destroys value" and JPMorgan downgraded the stock as well, concerned about the dividend's sustainability in the face of so much extra debt (Occidental roughly doubled its enterprise value with this acquisition).
On May 16 Argus analyst Bill Selesky downgraded the company, saying he's skeptical of the $3.5 billion in expected synergies and that raising its bid to $76 per Anadarko share vs. $65 from Chevron (NYSE:CVX) will end up badly given that Anadarko's LNG and Gulf of Mexico operations aren't a good fit for the company's mostly US shale focused business model.
It doesn't help that famous activist hedge fund investor Carl Icahn who owns 5% of OXY launched a proxy fight in July that's trying to replace four Occidental board members and change the bylaws to prevent future such deals, which was structured to avoid an OXY shareholder vote. Icahn's criticism of Occidental has been rather severe, with the hedge fund billionaire saying "This performance record alone should give stockholders the chills."
Specifically, Mr. Icahn believes the rapid asset sales to deleverage the balance sheet (more on this in a moment) is an example of terrible capital allocation and was done so that no one would buy Occidental. Basically Icahn has claimed this deal is "extremely risky" and was done so OXY management could protect their jobs ahead of possible M&A activity among major oil companies.
In fairness to Occidental, management expects (and analysts agree) that the Anadarko deal will be highly accretive to FCF/share, even before $3.5 billion in planned synergies and cost reductions.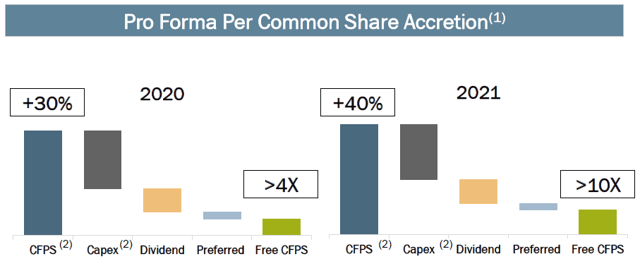 (Source: investor presentation)
By 2021, assuming $60 US oil, management expects this deal alone, not counting planned production growth, would boost cash flow per share by 40%. Factoring in current long-term oil forecasts, and Occidental's 5% long-term production growth plans, here is the current analyst consensus according to FactSet.
---
Author Bio:

Steem Account: @bradthomas
Twitter Account: rbradthomas
Steem Account Status: Unclaimed
Are you Brad Thomas? If so, you have a Steem account that is unclaimed with pending cryptocurrency rewards sitting in it from your content. Your account was reserved by the Steemleo team and is receiving the rewards of all posts syndicated from your content on other sites.
If you want to claim this account and the rewards that it has been collecting, please contact the Steemleo team via twitter or discord to claim the account. You can also view the rewards currently sitting in the account by visiting the wallet page for this account.
What is Steemleo Content Syndication?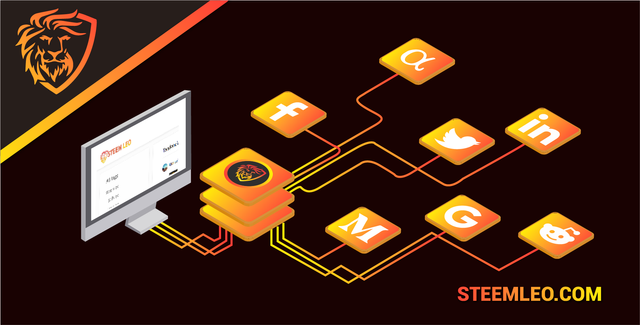 The Steemleo community is syndicating high-quality financial content from across the internet. We're also creating free Steem accounts for the authors of that content who have not yet discovered the Steem blockchain as a means to monetizing their content and we're listing those accounts as the 100% beneficiaries to all the rewards. If you want to learn more about Steemleo's content syndication strategy, click here.