Gold – The Ultimate Charting Market. Post 1: 1975 - 1983**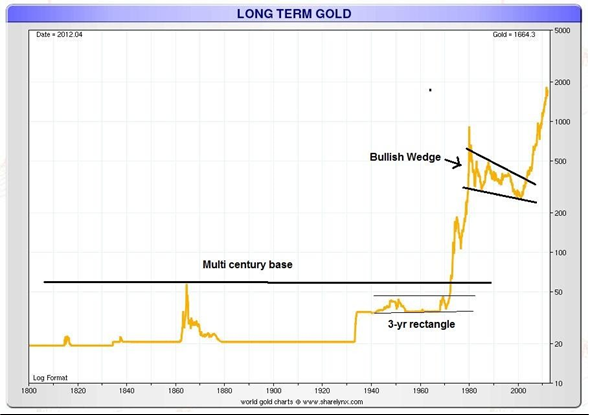 Source of these Images:
Weekly chart – 1975 through 1979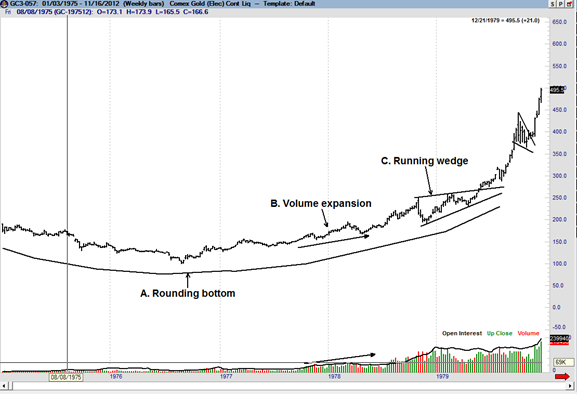 Major chart construction
A. Rounding bottom from 1975 through Jul 1978 (labeled A). This rare chart pattern predicted a grand bull market cycle ahead.
B. Expanding volume throughout 1978 (labeled B) confirmed that the bull market ahead would be one for the ages
C. A running wedge (labeled C) will often "sling-shot" a bull trend into a period of price acceleration
Daily chart – April 1975 through August 1976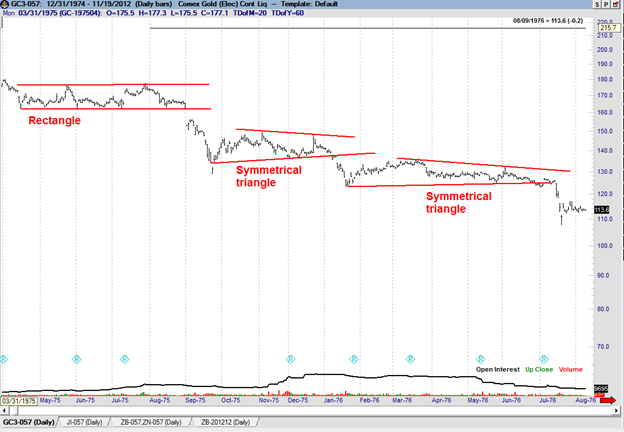 Key features
All the below took place in the final declining phase of the rounding bottom during the correction in Gold from $194 to $100
Rectangle completed in early Sep 1975
Symmetrical triangle completed in early Jan 1976
Symmetrical triangle completed in mid Jul 1976
Daily chart – July 1976 through May 1978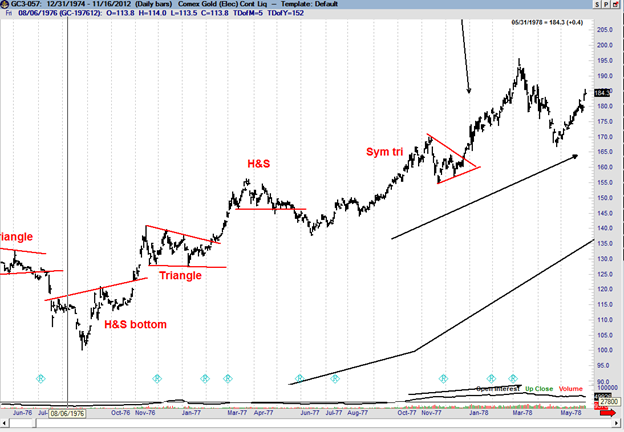 Key features
Head and shoulders bottom completed in late Oct 1976. This was the orthodox low of the rounding bottom on the weekly graph.
Symmetrical triangle completed in late Feb 1977
H&S top completed in May 1977. Once the target was met the major bull trend continued. This pattern needed to be understood within the context of the major rounding bottom.
Symmetrical triangle completed in late Dec 1977
Daily chart – September 1977 through August 1979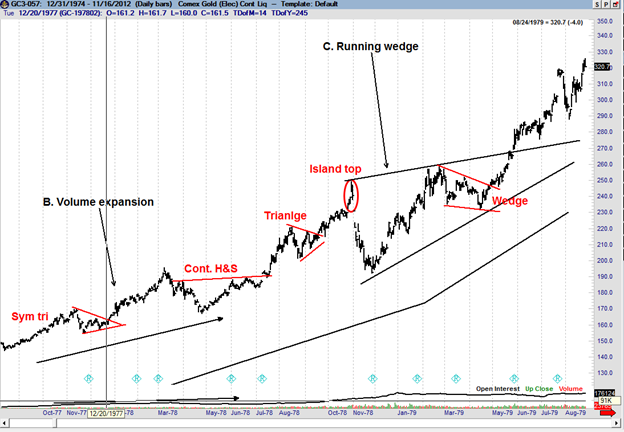 Key features
Continuation H&S completed in mid-Jul 1978. This pattern propelled Gold prices into new all- time record highs.
Symmetrical triangle completed in mid-Sep 1978
Island exhaustion top in late Oct 1978 – indicated the market needed a pause
Wedge completed in late Apr 1979
Major running wedge (labeled C) completed in late May 1979
Daily chart – May 1979 through December 1979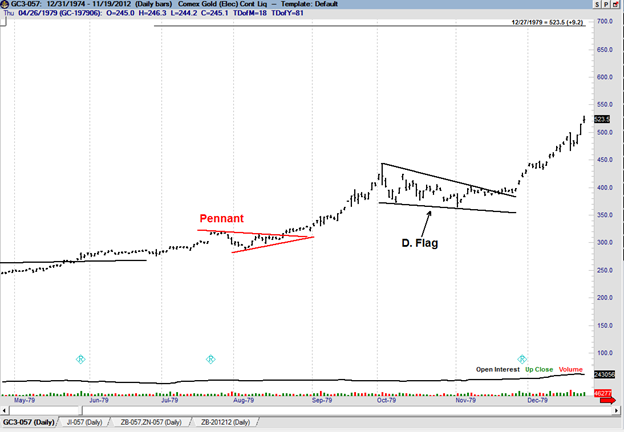 Weekly chart – Late 1979 through early 1984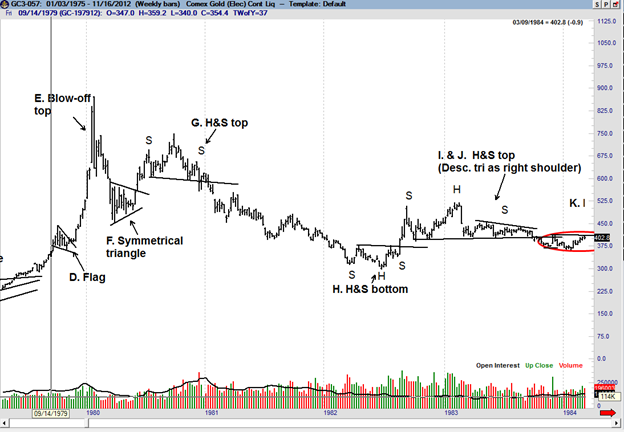 Major chart construction
D. Flag (see previous section)
E. Blow-off top
F. Symmetrical triangle bottom
G. H&S top
H. H&S bottom
I. H&S top
J. Descending triangle (as right shoulder of H&S top).
Daily chart – September 1979 through June 1980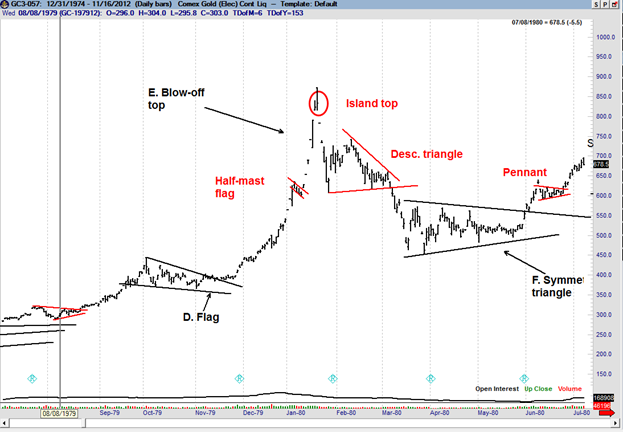 Key features
Flag (labeled D) completed in Nov 1979 – see previous section
Half-mast flat completed in Jan 1980 (labeled E). This flag launched the final phase of the 1970s bull market.
Island top in mid Jan 1980
Descending triangle completed in early Mar 1980
Symmetrical triangle bottom (labeled F)
Pennant completed in late Jun 1980
Daily chart – June 1980 through August 1981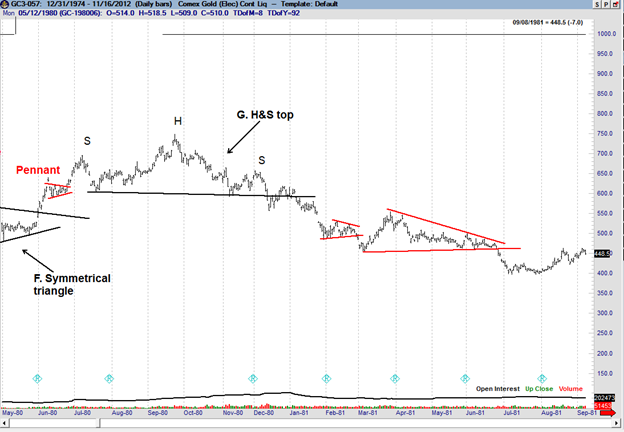 Key features
H&S top (labeled G) completed in Dec 1980. This was the cap to the first big rally during the 1980 to 1999 bear market
Symmetrical triangle completed Jun 25, 1981
Daily chart – May 1981 through July 1982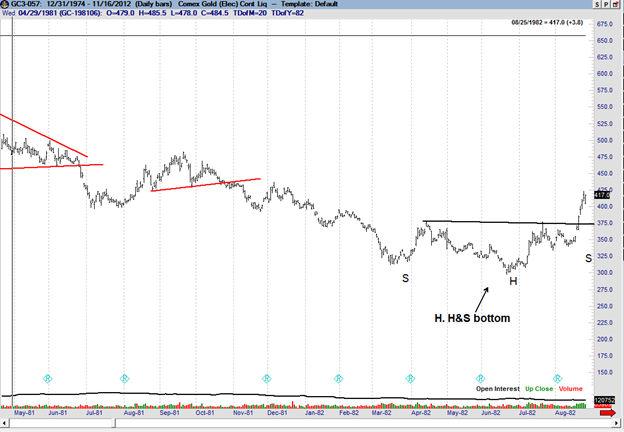 Key features
Continuation H&S top completed early Nov 1981
Major H&S bottom completed in mid Aug 1982 (labeled H)
Daily chart – July 1982 through August 1983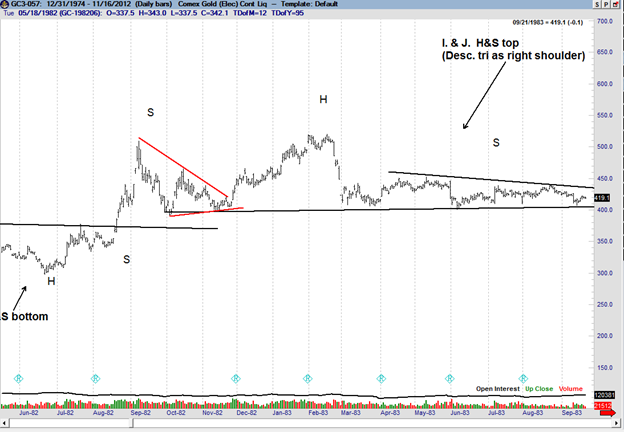 Major features
Completion of major H&S bottom in Aug 1982
Symmetrical triangle completed in late Nov 1982
Major 13- month H&S top (labeled I)
Descending triangle (labeled J)
It will continue...
Article Syndicated by @yuriitonkov
Author Bio:

This article was written by Peter Brandt. An author, financial blogger and commodities trader.
Steem Account: @peterlbrandt
Twitter Account: PeterLBrandt
Learn more about Peter Brandt on his website
Steem Account Status: Unclaimed
Are you Peter Brand? If so, you have a Steem account that is unclaimed with pending cryptocurrency rewards sitting in it from your content. Your account was reserved by the Steemleo team and is receiving the rewards of all posts syndicated from your content on other sites.
If you want to claim this account and the rewards that it has been collecting, please contact the Steemleo team via twitter or discord to claim the account. You can also view the rewards currently sitting in the account by visiting the wallet page for this account.
What is Steemleo Content Syndication?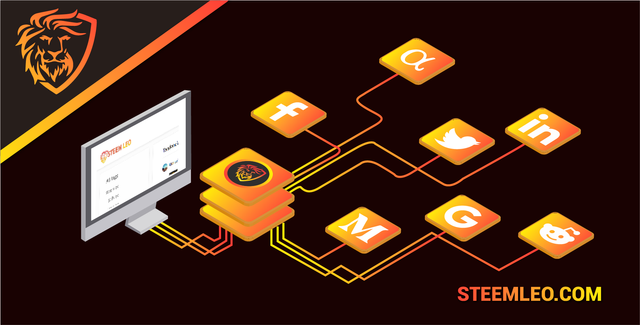 The Steemleo team is syndicating high-quality financial content from across the internet. We're also creating free Steem accounts for the authors of that content who have not yet discovered the Steem blockchain as a means to monetizing their content and we're listing those accounts as the 100% beneficiaries to all the rewards. If you want to learn more about Steemleo's content syndication strategy, click here.